National Museum of African American History and Culture Hosts "Recovering the Bones"
Panel Discussions and Activities To Explore Black Faith Traditions and Objects
October 25, 2017
News Release
Addthis Share Tools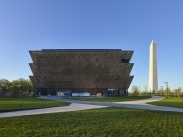 The Smithsonian's National Museum of African American History and Culture will host "Recovering the Bones: African American Material Religion and Religious Memory," a two-day conference that will explore the relationship between black faith traditions and material objects. The conference, led by the museum's Center for the Study of African American Religious Life, takes place Friday, Oct. 27, and Saturday, Oct. 28, in the Oprah Winfrey Theater. Registration is required at nmaahc.si.edu/calendar.
The conference brings together scholars from a variety of academic disciplines, including folklore studies, archeology, religious history, literature, philosophy, anthropology, art history, ethnomusicology and religious studies for a series of academic panel discussions examining contemporary and traditional views on religion. Panel discussions will explore how these beliefs, illustrated through religious objects and religious memory, have helped shape African American history and culture. Objects to be examined include clothing, art, sacred texts, musical instruments and other objects appropriated from the natural world, and embodied religious practices. The full conference schedule is available at nmaahc.si.edu/recovering-bones.
Media wishing to cover any part of the conference can register by contacting the names above.
About the National Museum of African American History and Culture
The National Museum of African American History and Culture opened Sept. 24, 2016, on the National Mall in Washington, D.C. Occupying a prominent location next to the Washington Monument, the nearly 400,000-square-foot museum is the nation's largest and most comprehensive cultural destination devoted exclusively to exploring, documenting and showcasing the African American story and its impact on American and world history. For more information about the museum, visit nmaahc.si.edu, follow @NMAAHC on Twitter, Facebook, Instagram and Snapchat—or call Smithsonian information at (202) 633-1000.
# # #
SI-608-2017