National Air and Space Museum's Trophy Awarded to Michael Suffredini and the International Space Station Program Office and George Mueller
April 5, 2011
News Release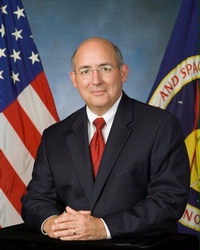 The 2011 Smithsonian's National Air and Space Museum Trophy will be awarded this year to Michael Suffredini and the International Space Station Program Office, and George Mueller, head of the Office of Manned Space Flight for NASA during the Apollo program. Suffredini and the International Space Station Program Office will receive the Trophy for Current Achievement and Mueller will receive it for Lifetime Achievement. They will be presented their awards April 27 at a black-tie dinner in Washington, D.C.
Established in 1985, the award recognizes outstanding achievements in the fields of aerospace science and technology and their history. As in past years, Trophy winners receive a miniature version of "The Web of Space," a sculpture by artist John Safer.
"The winners of the 2011 Trophy Awards demonstrate that the most complex and extraordinary achievements are possible with great leadership and teamwork," said Gen. J.R. "Jack" Dailey, director of the museum. "Lifetime Achievement winner George Mueller led the program that put humans on the moon. Mr. Suffredini and his colleagues, the Current Achievement winners, successfully directed completion of the International Space Station, which has made living and working in space a reality."
2011 Trophy Award Winners and Categories
The International Space Station is recognized as the most complex feat ever attempted in Earth orbit and the largest peacetime technological endeavor in space history. The 10-year construction project involved 16 nations, more than 40 assembly and supply missions, massive components, rotating crews, various contractors and a multibillion dollar budget. The now-completed space station—the size of a football field—is the orbital home and workplace for six-person crews.
Aerospace engineer Suffredini of NASA's Johnson Space Center has managed parts of this effort since 1995 and became manager of the entire program in 2005. Suffredini and the International Space Station Program Office are honored for the successful completion in 2010 of this ambitious orbital research center—a testament to global partnership in human spaceflight and knowledge gained through living and working in space.
As head of NASA's human spaceflight program from 1963 to 1969, Mueller led the Apollo program to the successful landing of astronauts on the moon in July 1969, one of the greatest engineering achievements in human history. He developed his talents for outstanding aerospace managerial leadership at Bell Telephone Laboratories, the Ohio State University and Ramo-Wooldridge Corp., and after leaving NASA, applied them again in corporate leadership positions at General Dynamics, System Development Corp., Burroughs and Kistler Aerospace. He has been recognized with many awards, most notably the National Medal of Science presented by President Richard Nixon in 1970 for his innovative leadership of the Apollo program.
More information about the National Air and Space Museum Trophy and a complete list of past winners are available at http://www.nasm.si.edu/research/aero/trophy/nasm.cfm.
The National Air and Space Museum building on the National Mall in Washington, D.C., is located at Sixth Street and Independence Avenue S.W. The museum's Steven F. Udvar-Hazy Center is located in Chantilly, Va., near Washington Dulles International Airport. Both facilities are open daily from 10 a.m. until 5:30 p.m. (closed Dec. 25). Admission is free, but there is a $15 fee for parking at the Udvar-Hazy Center.
# # #
SI-156-2010