More Than 50 Planes Will Fly to the Steven F. Udvar-Hazy Center Saturday, June 19
June 14, 2010
News Release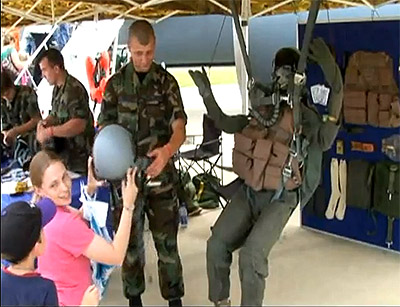 The Smithsonian's National Air and Space Museum presents its 2010 "Become a Pilot" family day and aviation display Saturday, June 19, from 10 a.m. to 3 p.m., at its Udvar-Hazy Center in Chantilly, Va. More than 50 vintage, recreational, military and home-built aircraft—including a 1939 Custom Cabin Waco—will be flown in for the event and displayed outdoors. Appearing with their aircraft parked outside the center's huge Boeing Aviation Hangar, pilots will greet visitors and discuss life in the cockpit. In some cases, pilots will let visitors climb behind the controls. There will also be the on-ground wing-walking demonstrations and the tethered hot-air balloon rides.
Inside the museum, visitors can test flight simulators, take part in educational, hands-on activities for all ages and learn about aviation-related topics. There will also be opportunities to meet authors at several book signings and Flights of Fancy story times for the young pilots in training. The newly released Imax film Legends of Flight will be playing at the Airbus Imax Theater.
The event is free and open to the public; parking is $15. More information is available at http://www.nasm.si.edu/becomeapilot. This event is made possible by the support of the AFCEA-NOVA and WTOP Radio with additional support from other sponsors.
The participation of visiting aircraft in this event is weather contingent. Should inclement weather prevent those aircraft from taking part, family-day activities inside the center will still occur.
The National Air and Space Museum building on the National Mall in Washington, D.C., is located at Sixth Street and Independence Avenue S.W. The museum's Steven F. Udvar-Hazy Center is located in Chantilly, Va., near Washington Dulles International Airport. Both facilities are open daily from 10 a.m. until 5:30 p.m. (closed Dec. 25). Admission is free, but there is a $15 fee for parking at the Udvar-Hazy Center.
# # #
SI-261-2010