Microsoft, the Smithsonian Institution and TakingITGlobal Announce Worldwide Program for Teachers and Students to Use Technology to Address Global Environmental Issues
World's most innovative educators and school leaders gather in South Africa for the Partners in Learning Worldwide Innovative Education Forum
October 28, 2010
News Release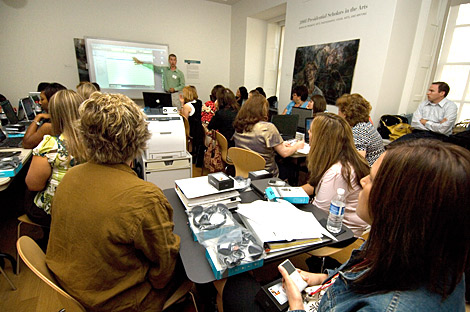 CAPE TOWN, South Africa — Oct. 27, 2010 — Microsoft Corp.'s Partners in Learning today announced a strategic partnership, called Shout, with the Smithsonian Institution and TakingITGlobal at an elite gathering of 500 educators attending the sixth annual Worldwide Innovative Education Forum (IEF). The event, held in Africa for the first time, recognizes educators who creatively and effectively use technology in their curriculum to help improve the way students learn. This worldwide finale is the culmination of a year's worth of country and regional events, during which 125 teacher finalists were selected from more than 200,000 to present their innovative teaching practices at this year's IEF, taking place in Cape Town.
The partnership announced today is designed to encourage teachers to use technology to help students explore, connect and act to address some of the world's most pressing environmental issues, while gaining important skills such as collaboration, critical thinking and social responsibility. Over the partnership's three years, Microsoft and its partners will make a commitment of more than $1 million to engage and empower a global network of millions of teachers and students coming together to address environmental issues affecting land, air and water.
"This partnership is a fantastic way to build connections between teachers and students around the world, and address some of the most critical environmental issues of our time," said Anthony Salcito, vice president of Worldwide Public Sector Education at Microsoft. "Technology is an amazing tool to reach beyond geographic and cultural boundaries and build meaningful, collaborative partnerships. Each year we see what happens when great teachers have access to technology-based tools at the Worldwide Innovative Education Forum. I am excited to see the Shout program expand these opportunities to teachers throughout the world."
A new website for the partnership, http://www.shoutlearning.org, is launching today. Beginning in November, teachers from around the world will find the first Shout challenge and will be encouraged to address issues of deforestation in their classrooms. Each challenge will kick off with an online event featuring Smithsonian scientists put on for teachers and students.
Once a teacher starts a challenge, he or she will be able to connect with millions of other educators, access related curricula and best practices, and connect his or her students to others around the globe. The power of the challenge will be unveiled as students use their creativity to help address critical global environmental issues. Educators are encouraged to return to the Shout page for updates, direct links to the partner sites and new challenges.
"When students and teachers are connected with one another using technology, cultural and language barriers disappear, and a space can be created for deep, meaningful collaboration that helps drive positive social change," said Claudine Brown, director of Education at Smithsonian Institution. "We're pleased to collaborate with Partners in Learning and TakingITGlobal. Shout will harness the power of technology to connect the Smithsonian's vast research and education resources with education leaders."
Shout grew out of a pilot program launched by Microsoft and TakingITGlobal at the Partners in Learning Regional Innovative Education Forum in Singapore earlier this year.
The pilot program, DeforestACTION, connected students across countries including the Philippines, Hong Kong, Sri Lanka and Australia. Students are combining fundraising efforts, working on collaborative projects to build awareness, and developing social action campaigns to support the protection of rainforests in the Asia Pacific region. They even helped create a public service announcement that is playing on national television in Sri Lanka, and are working with a major motion picture production company in Australia to expose the problem of deforestation in a 3-D movie to be released in cinemas worldwide. The first global student challenge in the Shout program will focus on DeforestACTION.
"My sixth-grade class has not only been learning how palm oil production is directly linked to the destruction of the rain forests in Indonesia and Malaysia, but they have been collaborating with classes around the world to teach other kids, reach out to their community and even petition their governments to stop deforestation," said Australian elementary school teacher Emmanuelle Blake. "Our kids are learning how they can work together to make a real difference, and technology is breaking down borders to help them."
Shout will combine action with science to provide a very real learning experience for students around the world. Educators attending the Worldwide Innovative Education Forum in Cape Town yesterday saw this in action at two local schools. Smithsonian researchers demonstrated how they use stainless steel bands to measure the growth of trees over time and to determine how trees respond to changes in climate. The schools — St. Cyprian's and Hout Bay High School — will be the first in the world to participate in this global scientific research project. Teachers and school leaders attending the forum received free tree-banding kits and will also contribute to this research. In January, the Shout partnership will issue a global student challenge to engage hundreds of schools around the world in tree-banding experiments.
"Shout is driven by the concept that students can and should direct their own learning both inside and outside the classroom, with teachers collaborating along the way," said Michael Furdyk, co-founder of TakingITGlobal. "DeforestACTION exemplifies the power of student-centered learning demonstrating that students can be leaders in driving positive change and learn the skills they need to shape a better world."
About Partners in Learning
The Worldwide Innovative Education Forum is the signature program of Microsoft Partners in Learning, to honor innovative teachers and schools, and to showcase how technology can further educational transformation by being appropriately incorporated into curricula, pedagogy and classrooms.
Partners in Learning is the 10-year, nearly $500 million commitment by Microsoft to transform education systems around the world.
Since its inception in 2003, the Partners in Learning program has reached more than 196 million teachers and students in 114 countries.
About Smithsonian Institution
Founded in 1846, the Smithsonian is the world's largest museum and research complex, consisting of 19 museums and galleries, the National Zoological Park and nine research facilities. There are 6,000 Smithsonian employees and 6,500 volunteers. Approximately 30 million people from around the world visited the Smithsonian in 2009, with 188 million visits to the Smithsonian websites. The total number of objects, works of art and specimens at the Smithsonian is estimated at 137 million.
About TakingITGlobal
Launched in 2000, TakingITGlobal (TIG) has a mission of enabling a collaborative learning community which provides youth with access to global opportunities, cross-cultural connections and meaningful participation in decision-making. TIG's award-winning global education platform, www.tigweb.org, has provided over 20 million users with an understanding of pressing global challenges and tools to support meaningful action in their communities, countries, and across the globe.
About Microsoft
Founded in 1975, Microsoft (Nasdaq "MSFT") is the worldwide leader in software, services and solutions that help people and businesses realize their full potential.
Follow the Worldwide Innovative Education Forum on Twitter: #msief
To access images from Cape Town, click here
Note to editors: For more information, news and perspectives from Microsoft, please visit the Microsoft News Center at http://www.microsoft.com/news. Web links, telephone numbers and titles were correct at time of publication, but may have changed. For additional assistance, journalists and analysts may contact Microsoft's Rapid Response Team or other appropriate contacts listed at http://www.microsoft.com/news/contactpr.mspx.
# # #