Melissa Chiu Named Director of the Smithsonian's Hirshhorn Museum and Sculpture Garden
June 5, 2014
News Release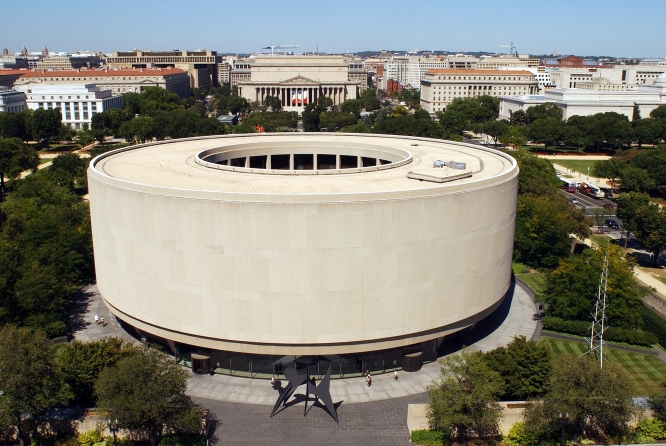 Melissa Chiu, museum director and senior vice president for Global Arts and Cultural Programs for the Asia Society in New York City, has been named director of the Hirshhorn Museum and Sculpture Garden, effective Sept. 29.
Chiu (pronounced CHEW) has served as the director of the Asia Society Museum since 2004 and before that she was the curator for contemporary Asian and Asian American art (2001–2004). She launched a contemporary art collection with a gift of $1.5 million from a single benefactor to complement the museum's John D. Rockefeller 3rd Collection of traditional Asian art. Chiu has focused on expanding the presentation of contemporary art while building a new collection of photography and video, including major acquisitions by Nam June Paik, Yoko Ono, Mariko Mori and Yang Fudong for the Asia Society Museum.
With a staff of more than 100 and an operating budget of $29 million, the museum represents nearly half of the Asia Society's total programming budget. Under Chiu's leadership, the museum has opened up to 10 new exhibitions a year, including timely monographic exhibitions by artists such as Cai Guo-Qiang, Ai Weiwei, Yoshitomo Nara, as well as Sarah Sze, which coincided with the announcement that she would represent the United States at the Venice Biennale.
Chiu also commissioned groundbreaking international loan exhibitions devoted to modern art, including first-time presentations of Iran's pre-revolutionary period "Iran Modern" (2013) and "Art and China's Revolution" (2008), the first exhibition to focus on the art of China's Cultural Revolution.
Chiu led the opening exhibitions and programs for two new Asia Society buildings in Hong Kong and Houston that opened in 2012. Most recently, she created a series of cultural dialogues between museum leaders in China, India and the United States, such as the U.S.- China Museum Directors Forum in Beijing, which resulted in her co-editing the report "Toward a New Phase of U.S.-China Museum Collaborations" (2013).
Chiu has been an executive committee and board member of the Association of Art Museum Directors (2008–2012), a board member of The American Alliance of Museums (2010–2013) and sat on numerous committees, including the U.S. Praemium Imperiale, Academic Committee for the Shanghai Biennale and Bellagio Creative Arts Fellowship for the Rockefeller Foundation.
The Hirshhorn, the Smithsonian's museum of international modern and contemporary art, has had only five directors since its opening 40 years ago: Abram Lerner (1974–1984), James T. Demetrion (1984–2001), Ned Rifkin (2002–2005), Olga M. Viso (2005­–2007) and Richard Koshalek (2009–2013).
"Melissa is an experienced, accomplished and highly respected museum leader, with 20 years of experience in curating exhibitions and managing arts organizations," said Smithsonian Secretary Wayne Clough. "She will bring the right kind of leadership to allow the Hirshhorn to take its place among the best contemporary art museums in the world."
An effective and creative fundraiser, Chiu secured about 80 percent of the Asia Society Museum's budget through gifts from individuals and foundations and new fundraising initiatives such as the Contemporary Art Council, which was established five years ago and now supports the contemporary art exhibition program with funds and donations of artworks.
 "We are thrilled to have one of the museum world's rising stars coming on board to help begin a new chapter of the Hirshhorn," said Peggy Burnet, chair of the Hirshhorn's board of trustees who served on the search committee. "Melissa is a proven leader with a global perspective. As we head into the celebration of our 40th anniversary and look to the future, we believe Melissa has the vision and experience to ensure that the Hirshhorn remains an integral part of the Smithsonian experience on the National Mall and a leader in the field of modern and contemporary art."
Before joining the Asia Society, Chiu was the founding director of the Asia-Australia Arts Centre in Sydney from 1996 until 2001 when she moved to New York. The Centre was housed in a renovated historic building and supported by a combination of private and government funds. Chiu organized exhibits, including displays of newly commissioned works, and created evening programs of video art and performances to attract younger visitors.
From 1993 to 1996, Chiu was the curator for the University of Western Sydney Collection at the University of Western Sydney where she organized exhibitions and built a collection of contemporary Australian art.
"I am honored to have been chosen to lead this modern and contemporary art museum in our nation's capital," said Chiu. "I look forward to working with the Hirshhorn staff as we move forward in this 40th anniversary year."
A native of Australia, Chiu earned her bachelor's degree in 1992 at the University of Western Sydney in art history and criticism and her master's in arts administration in 1994 from the College of Fine Arts at University of New South Wales. She completed her Ph.D. with a dissertation on experimental Chinese art at the University of Western Sydney in 2005. Chiu has authored and edited several books and catalogs on contemporary art, including Contemporary Art in Asia: A Critical Reader (MIT Press, 2010), lectured at Harvard, Yale, Columbia, the Museum of Modern Art and other universities and museums.
Chiu succeeds Koshalek, who was the Hirshhorn's director from 2009 to 2013. Kerry Brougher, deputy director and chief curator of the museum, served as the museum's interim director until May 31 when he relocated to California. Richard Kurin, the Smithsonian's Under Secretary for History, Art, and Culture, will serve as acting director until Chiu arrives. Kurin chaired the search committee that included Burnet; Smithsonian Regent Robert Kogod; Hirshhorn board members Jane Cafritz, Dani Levinas and Dan Sallick; Johnnetta Cole, the director of the Smithsonian's National Museum of African Art; Dorothy Kosinski, the director of the Phillips Collection; and Hirshhorn staff member Susan Lake.
Hirshhorn Museum and Sculpture Garden
The Hirshhorn Museum and Sculpture Garden is one of the world's leading museums of international modern and contemporary art. Located on the National Mall in Washington, D.C., the Hirshhorn is one of 19 Smithsonian Institution museums. The museum opened Oct. 1, 1974, as a result of the efforts and generosity of American entrepreneur and philanthropist Joseph H. Hirshhorn (1899–1981), who donated his collection to the Smithsonian in 1966. Designed by architect Gordon Bunshaft, the museum has 60,000 square feet of exhibition space inside its elevated, circular building and nearly four acres outside in its multilevel Sculpture Garden and Plaza.
The museum has 51 full-time staff members, and its fiscal year 2014 budget was $8 million (amount does not include approximately $10 million in Smithsonian operational support such as security, maintenance and human resources). The museum's collection includes nearly 12,000 paintings, sculptures, photographs, mixed‑media installations, works on paper and new media works. The Hirshhorn has one of the most comprehensive collections of modern sculpture in the world, with many examples on view indoors and in the Sculpture Garden.
In the past decade, the Hirshhorn has organized major exhibitions such as "Doug Aitken: SONG 1" (2012), "Anne Truitt: Perception and Reflection" (2009), "The Cinema Effect: Illusion, Reality, and the Moving Image" (2008), "Visual Music" (2005) and "Ana Mendieta: Earth Body, Sculpture and Performance 1972–1985" (2004), and it has co-organized such exhibitions as "Ai Weiwei: According to What?" (2012, with the Mori Art Museum, Tokyo) and "Yves Klein: With the Void, Full Powers," (2010, with the Walker Art Center).
This roster builds on the Hirshhorn's reputation for groundbreaking thematic and monographic exhibitions, including "Clyfford Still: Paintings 1944–1960" (2001), "Regarding Beauty: A View of the Late Twentieth Century" (1999), "Jean Dubuffet 1943–1963: Paintings, Sculptures, Assemblages" (1993), "Alberto Giacometti 1901–1966" (1988), "Lucian Freud: Paintings" (1987) and "Content: A Contemporary Focus, 1974–1984" (1984).
Two distinctive exhibition series—"Directions," which explores new work by emerging and established artists, and "Black Box," which presents recent moving-image works by a diverse range of emerging international artists—exemplify the Hirshhorn's commitment to bringing the newest and best in contemporary art to the public.
# # #
SI-266-2014