"Markus Lüpertz: Threads of History" at the Hirshhorn Presents Rarely Shown Paintings
First U.S. Exhibition of the Artist's Early Years Opens May 24
April 10, 2017
News Release
Addthis Share Tools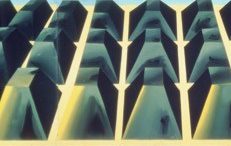 The Smithsonian's Hirshhorn Museum and Sculpture Garden has announced additional details of the museum's forthcoming exhibition of influential German artist Markus Lüpertz. Offering unparalleled insight into the artist's pioneering early practice, "Markus Lüpertz: Threads of History" (May 24–Sept. 10) showcases more than 30 paintings from Lüpertz's formative years in the 1960s and '70s, as he challenged the limits of painting and forged his own style amidst the unrest of postwar Germany.
One of Europe's most prolific postwar painters, Lüpertz rose to international prominence in the 1980s as a leading figure of neo-expressionism, and he has worked across a wide range of media for more than 50 years. This exhibition will offer visitors the first in-depth insight into a groundbreaking but lesser-known time in his career, and it provides critical context to what was often viewed as a provocative use of military images in the years following World War II.
During this period, Lüpertz as a young artist sought to distill abstract expressionism, pop art and German motifs into a unique style that emphasized pure creative expression to become, as he described it, "a painter without responsibilities." Highlights include the monumental 40-foot "Westwall [Siegfried Line]" (1968), which has never been shown in the U.S., "Donald Ducks Hochzeit (Donald Duck's Wedding)" (1963) and "Deutsches Motiv III—dithyrambisch" (1972).
"A prolific painter, sculptor, poet and jazz musician, Lüpertz crafted a unique visual vocabulary out of an alchemy of influences, from the poetry of Friedrich Nietzche to the social and political history of his native Germany," said Hirshhorn Director Melissa Chiu. "We are pleased to present these dynamic works, which offer one artist's striking response to the world around him."
"Markus Lüpertz: Threads of History" is presented in conjunction with a five-decade retrospective of the artist's work at the Phillips Collection (May 27–Sept. 3). Together, the two exhibitions comprise Lüpertz's first major U.S.museum survey. On Thursday, May 23, at 6:30 p.m., the artist will discuss his 50-year career in conversation with art historian Richard Schiff; this free, public "Meet the Artist" talk will take place in the Hirshhorn's third-floor Lerner Room.
A joint catalog will offer new scholarship on Lüpertz's development, including essays by the exhibition's curators, Evelyn C. Hankins (Hirshhorn) and Dorothy Kosinski (Phillips), in addition to contributions from scholars Richard Shiff and Peter Weibel and a special greeting by Peter Wittig, Ambassador of the Republic of Germany to the United States.     
As the national museum of contemporary art, the Hirshhorn showcases the ways artists respond to the world in which they live. Lüpertz is part of the Hirshhorn's 2017–18 schedule of diverse contemporary artists whose work reflects global conversations in history, politics and culture, including Yayoi Kusama, Theaster Gates and Mark Bradford.
About Markus Lüpertz
Lüpertz was born in 1941 in Liberec, Bohemia, in the current Czech Republic, and emigrated to West Germany at the age of 7. As a teenager he worked for one year in a coal mine and later earned a living building roads. Largely self-taught, he studied briefly at the academies in Krefeld and Düsseldorf before moving to Berlin in 1962. There, in 1964, Lüpertz co-founded Galerie Grossgörschen 35. Lüpertz has exhibited his work throughout Germany and Europe and is the recipient of numerous awards. He was the director of Kunstakademie Düsseldorf from 1987 to 2009. His major solo museum exhibitions include the Stedelijk Museum in Amsterdam and Kunstsammlung Nordhein-Westfalen, among many others. Lüpertz lives and works in Düsseldorf and Karlsruhe, Germany.
About the Hirshhorn
The Hirshhorn Museum and Sculpture Garden is the national museum of modern and contemporary art and a leading voice for 21st-century art and culture. Part of the Smithsonian, the Hirshhorn is located prominently on the National Mall in Washington, D.C. With nearly 12,000 paintings, sculptures, photographs, mixed-media installations, works on paper and new media works, its holdings encompass one of the most important collections of postwar American and European art in the world. The Hirshhorn presents diverse exhibitions and offers an array of public programs on the art of our time—free to all, 364 days a year. For more information, visit hirshhorn.si.edu.
# # #
SI-202-2017