Margaret Atwood and Elisabeth Moss Discuss New Hulu Series "The Handmaid's Tale" at Smithsonian Associates Event
February 22, 2017
News Release
Addthis Share Tools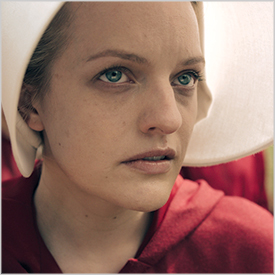 Smithsonian Associates presents an exclusive series preview of Hulu's The Handmaid's Tale Wednesday, April 19, at 7 p.m. in Baird Auditorium at the Smithsonian's National Museum of Natural History. In an evening that features film clips and a panel with Margaret Atwood, the book's author and series' consulting producer; Elisabeth Moss, star of the series; Bruce Miller, show creator, writer and executive producer; and Warren Littlefield, executive producer, the audience will get a sneak peek at the show, which debuts April 26, and learn about its making.
The series is based on Atwood's novel, The Handmaid's Tale, a chilling story of life in the totalitarian dystopia of Gilead, that has captured the imaginations of readers around the world since its publication in 1985. Facing environmental disasters and a plunging birthrate, Gilead (formerly the United States) is ruled by a twisted fundamentalism that treats women as property of the state. As one of the few remaining fertile women, Offred (Moss) is a Handmaid, one of a caste forced into sexual servitude as a last desperate attempt to repopulate the world. The series follows her fight to survive and to find the daughter that was taken from her.
Ticket prices for the Smithsonian Associates' presentation are $40 for general admission and $30 for Associate members. For tickets and information, the public may call (202) 633-3030 or visit www.smithsonianassociates.org.
# # #
SI-104-2017