Last Day to See the National Museum of American History's "Bon Appétit! Julia Child's Kitchen at the Smithsonian" Is Jan. 8
Exhibition to Reopen Summer 2012
January 6, 2012
News Release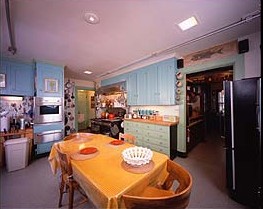 The last chance to see "Bon Appétit! Julia Child's Kitchen at the Smithsonian," the exhibition that allows a peek into Julia Child's legendary Cambridge, Mass., kitchen, is Sunday, Jan. 8. The museum will reopen the kitchen within a new exhibition focusing on food and wine in America. This exhibition is scheduled to open late summer 2012.
The museum must move the kitchen to prepare for upcoming renovations to its west exhibition wing. The public may visit the online exhibition at http://americanhistory.si.edu/juliachild.
When Child moved back to her home state of California in 2001, she donated the contents of her 14-by-20-foot home kitchen, including small utensils, personal cookbooks, the stainless steel kitchen sink and her six-burner Garland commercial range. The kitchen, which Child used as the set of three television shows and as the testing ground for many recipes featured in her cookbooks, is composed of more than 1,200 individual pieces. The museum staff packed and cataloged the entire kitchen, then reassembled it in the museum exactly as it was in Child's home.
About the Museum
The National Museum of American History collects, preserves and displays American heritage in the areas of social, political, cultural, scientific and military history. To learn more about the museum, check http://americanhistory.si.edu. For Smithsonian information, the public may call (202) 633-1000, (202) 633-5285 (TTY).
# # #
SI-10-2012