Kirk Johnson Named Director of Smithsonian's National Museum of Natural History
July 26, 2012
News Release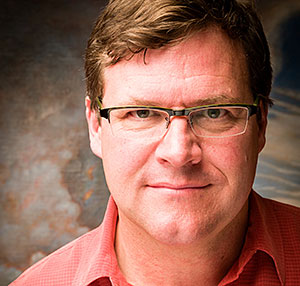 Kirk Johnson, chief curator and vice president of research and collections at the Denver Museum of Nature & Science, has been appointed the Sant Director of the National Museum of Natural History, effective Oct. 29.
As a vice president of the Denver Museum of Nature & Science, Johnson is part of a team that leads the museum and manages its $40 million annual budget. The museum, which receives 1.4 million visitors per year and has a staff of 400, launched a $170 million capital campaign in 2005.
"Kirk brings an established national and international reputation as a top scientist, educator and museum administrator to the National Museum of Natural History," said Wayne Clough, Secretary of the Smithsonian. "He is a perfect match to lead the museum—among the very best in the world—into the next decade."
Johnson will oversee more than 460 employees, an annual federal budget of $68 million (museum's federal budget in FY 2012) and a collection of more than 126 million specimens and artifacts—the largest collection at the Smithsonian. The Natural History Museum hosts an average of 7 million visitors a year. Its scientists publish about 500 scientific research contributions a year.
"With his extensive experience in research, collections and use of social media for public outreach, Kirk will greatly enhance all we do at the National Museum of Natural History," said Eva J. Pell, Smithsonian Under Secretary for Science. "I look forward to working with him."
As chief curator at the Denver museum, Johnson oversees a 70-person research and collections division (including curators, registrars, librarians, archivists, conservators, technicians, administrators and assistants) and manages its $3.5 million annual budget. He is responsible for the museum's 24 collections, and he led the completion of the museum's first comprehensive long-term collections and research plan. He has served as a curator of paleontology since he joined the museum in 1991.
From 2001 to 2006, Johnson was the chair of the museum's department of Earth sciences. Between 1991 and 1995, he was one of two scientists who led the development of "Prehistoric Journey," the museum's permanent exhibition about the history of life on Earth. From 1989 to 1990 he was a postdoctoral research associate in the department of botany at the University of Adelaide in Australia. He was a marine geologist with the U.S. Geological Survey in California from 1982 to 1983, and he has been a research associate at the Burke Museum of Natural History and Culture in Seattle since 1991.
"Natural history museums are incredible places where people have the opportunity to interact with scientists, scientific discovery and to experience the wonders of the world," said Johnson. "As a scientist and a communicator, I am thrilled to have the opportunity to lead the nation's natural history museum into the 21st century." Johnson's research includes the study of the geology and fossil plants of the Great Plains and Rocky Mountains from 34 to 145 million years ago. He also studies the Cretaceous-Tertiary (K-T) boundary extinction event and the origin of major ecological communities known as biomes. Between October 2010 and July 2011, he led an excavation in Snowmass Village, Colo., that recovered more than 5,400 bones of mammoths, mastodons and other ice age animals.
Johnson is on the steering committee for Earthtime, a community-based scientific initiative aimed at improving the resolution of geologic time, and he serves as the associate editor for Cretaceous Research. His professional memberships include the American Association of Museums, the Geological Society of America (fellow since 2002), the Botanical Society of America, the Paleontological Society and the International Organization of Palaeobotany. Johnson is the author of numerous scientific papers, and he has edited seven scientific volumes. He has written nine books, including his most recent, Digging Snowmastodon: Discovering an Ice Age World in the Colorado Rockies, which was published by the museum and the People's Press in 2012.
Johnson has a bachelor's degree in geology and fine arts from Amherst College, a master's degree in geology and paleobotany from the University of Pennsylvania and a doctorate in geology and paleobotany from Yale University.
Clough made the appointment based on recommendations made by a search committee chaired by Pell that included Natural History Museum board chair Kathryn Fuller; board member Paula Kerger; Smithsonian Board of Regents member David Rubenstein; National Zoo Director Dennis Kelly; museum staff members Kay Behrensmeyer, Carol Butler, Susan Fruchter, Michael Mason, Richard Potts and Richard Vari; National Zoo staff member Francisco Dallmeier; and Office of Human Resources Associate Director Greg Bettwy.
Johnson succeeds Cristián Samper, who is leaving the Smithsonian to become president and CEO of the Wildlife Conservation Society headquartered in New York City. During his tenure, Samper oversaw the renovations of several exhibitions, including the Behring Family Hall of Mammals (2003), the Sant Ocean Hall (2008) and the David H. Koch Hall of Human Origins (2010). He also upgraded collections storage facilities, developed new digital outreach efforts, established the Buck Fellowship Program to train the next generation of scientists, raised more than $150 million in gifts for strategic priorities and served as co-founder of the Encyclopedia of Life, a Web-based global partnership to provide online access to knowledge about life on Earth. Samper also served as Acting Secretary of the Smithsonian from 2007 to 2008.
Jonathan Coddington, associate director for research and collections, will serve as acting director of the museum until Johnson's arrival in October.
# # #
SI-347-2012