Kevin Costner, Jon Baird and Rick Ross Discuss New Illustrated Adventure Novel Series at Smithsonian Associates Event
October 1, 2015
News Release
Addthis Share Tools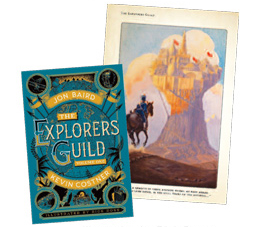 The Smithsonian Associates presents an evening with Academy-award winning director, producer and actor Kevin Costner, author/illustrator Jon Baird and artist Rick Ross Friday, Oct. 23, at 6:45 p.m. in Baird Auditorium at the Smithsonian's National Museum of Natural History. The team will discuss their new series of illustrated novels, The Explorer's Guild, that are a throwback to the golden age of adventure stories.
Costner combined his passion for history, adventure and bravura storytelling to create a series designed to leap from the pages of books into the realms of animation and then live-action theatrical films, produced by and starring Costner. The series revolves around a clandestine group of adventurers who travel the world in pursuit of answers to the world's perplexing mysteries. The first installment, A Passage to Shambhala, is set against the backdrop of World War I. With the fate of Western civilization in play, the Guild set off to find the golden city of Buddhist myth. Will they be able to save the day?
Co-creator Baird is the author and illustrator of the novels Day Job and Songs From Nowhere Near the Heart. He is a co-writer, with Costner, of the Horizon miniseries. Ross is an artist and filmmaker. He was the lead artist for the graphic novelization of Spike TV's 1000 Ways to Die and has created artwork for animated motion comics. He is the founder and publisher of the online graphic fiction anthology Agitainment.
Ticket prices for the Smithsonian Associates' presentation are $42 for general admission and $30 for Associate members. For tickets and information, the public may call (202) 633-3030 or visit www.smithsonianassociates.org. The Explorer's Guild Volume One: A Passage to Shambhala (Atria Books) is available for signing after the program.
The Smithsonian Associates—the largest museum-based education program in the world—produces vibrant educational and cultural programming inspired by the Smithsonian's research, collections and exhibitions. Each year more than 750 individual programs are presented to spark creativity and excite learning in people of all ages in the Washington, D.C., area and across the country. The Smithsonian Associates, which marks its 50th anniversary in 2015, brings the Smithsonian to life through seminars, performances, lectures, studio arts classes and local and regional study tours, as well as many engaging programs for children, including performances, museum sleepovers and summer day camps.
# # #
SI-441-2015