Imagine the Future With the Smithsonian and 2018's Biggest Thinkers
Experimental Long Conversation Convenes Dec. 7 for a Night of Ideas, Art and Food in America's First National Museum
October 31, 2018
News Release
Addthis Share Tools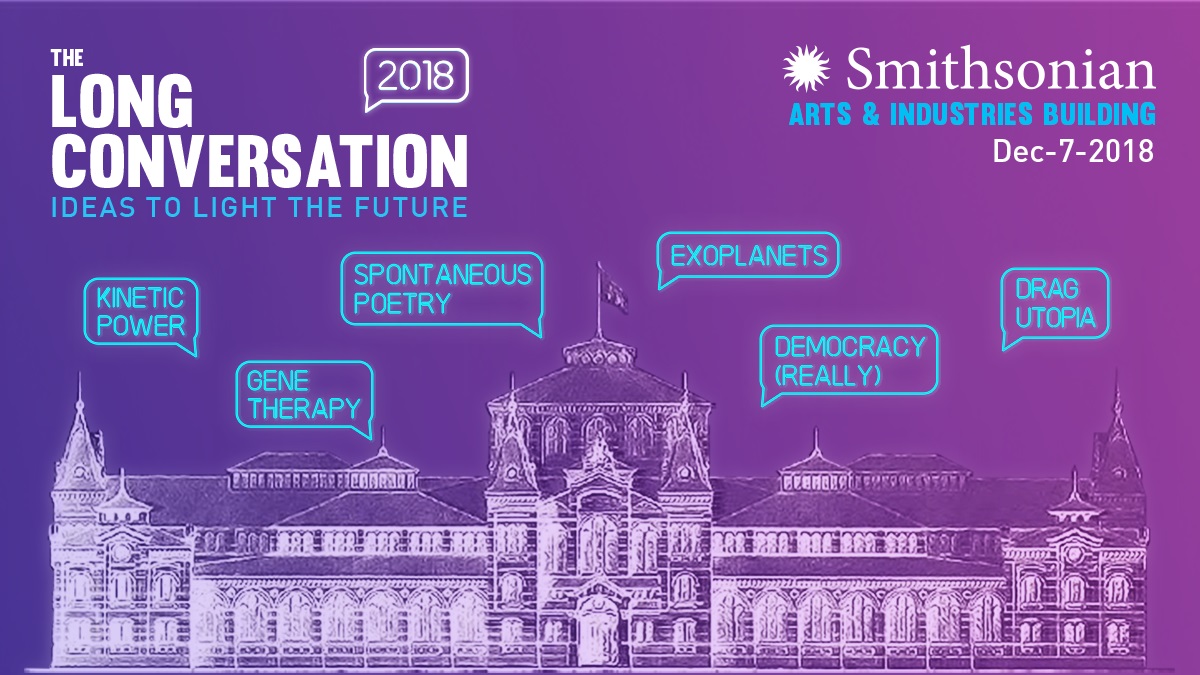 The Long Conversation, the Arts & Industries Building's signature event for imagining the future, returns to the National Mall Friday, Dec. 7, 2–10 p.m. This radically different Smithsonian experience brings together artists, scientists and the year's biggest luminaries for a rollicking creative marathon of conversations around one big question: What makes you hopeful about the future?
This year features 30 new conversationalists from wildly diverse backgrounds, from drag queens and DJs to leading cancer researchers and space explorers, including acclaimed actor Alfre Woodard, New York Times columnist David Brooks, leader of NASA's mission to Jupiter Scott Bolton, Daily Show correspondent and comedian Roy Wood Jr., RuPaul's Drag Race-winner Sasha Velour, philanthropist David Rubenstein and Smithsonian Secretary David Skorton.
"In a world where it's so easy to focus on what's going wrong, we think it's a radical and important idea to focus on what could go right," said Rachel Goslins, director of the Arts & Industries Building. "There are no moderators, no Powerpoint presentations, just authentic and spontaneous dialogue between the most interesting people we know with big ideas for the future. We started the Long Conversation last year, and in many ways it is a microcosm of both the history of the building, which has showcased innovative ideas since opening in 1881, and of its future as a space for creativity, experimentation and forward-thinking."
The Long Conversation's unique format is a relay of short, intimate, two-person dialogues unified by a common question. Conversationalists each bring one game-changing idea from their field that makes them hopeful for the future—a trend, an invention, a technological breakthrough, a movement. Every 15 minutes, one person rotates offstage and another comes on, creating a series of electrifying moments as tech CEOs meet recording artists, and poets meet clean-food farmers.
Art installations throughout the space will blend creativity and science, including 3-D brain waves by sculptor and neuroscientist Julia Buntaine Hoel, an immersive post-human environment by Baltimore-based Phaan Howng, a 15-foot kinetic light sculpture by Maryland duo McCormack and Figg and a photoreflective "selfie booth for the future" from Gabriel Mellan.
A gourmet pop-up café from James Beard Award-winner Spike Gjerde, chef of Rake's Progress at The Line Hotel, will offer locally sourced and sustainable cuisine for purchase, alongside exclusive cocktails from Washington, D.C.'s small-batch, woman-owned distillery Republic Restoratives.
The Long Conversation is the culmination of Smithsonian magazine's annual Ingenuity Festival, a series of events celebrating innovation in American life, and will feature several winners of the Smithsonian's 2018 Ingenuity Awards. Surprise performances from special guests will punctuate the night, previewing Smithsonian's first-ever Year of Music kicking off in 2019.
Free tickets will be released online Monday, Nov. 5, with entry times staggered by two-hour sessions. All conversations will be live-streamed online on Facebook.
More information can be found at si.edu/longconvo.
2018 Conversationalists
IZ Avila, five-time Grammy-winning DJ and producer; 'Beats by Dre' co-founder
Dr. Jean Bennett, molecular geneticist curing blindness through the first gene therapy approved in the U.S., F.M. Kirby Professor of Ophthalmology at the University of Pennsylvania
Scott Bolton, astrophysicist leading NASA's mission to Jupiter, Southwest Research Institute of Space Science
David Brooks, celebrated columnist for The New York Times, critically acclaimed author
Troy Carter, legendary talent manager for Lady Gaga, John Legend and Meghan Trainor; most recently Spotify's head of new music; venture capitalist and founder of Atom Factory
Liz Cottrell, leading volcanologist, geologist and curator at Smithsonian's National Museum of Natural History
Dr. Laura Esserman, breast cancer oncologist and pioneer in new forms of patient care, director of the Carol Franc Buck Breast Care Center, University of California, San Francisco
Bruce Friedrich, clean-meat innovator and co-founder and executive director of The Good Food Institute
Michael Govan, CEO and Wallis Annenberg director of the Los Angeles County Museum of Art, member of the Smithsonian Board of Regents
Jon Grinspan, democracy historian at the Smithsonian's National Museum of American History
Hawah Kasat, global community organizer and activist, co-founder and executive director of One Common Unity
Spike Gjerde, James Beard Award-winning chef and local food advocate, restaurateur of Rake's Progress at the Line Hotel
Danny Hillis, computer theorist and inventor, co-founder of Applied Invention and creator of the 10,000-year clock
Mercedes Lopez-Morales, astronomer searching for the next Earth at the Harvard-Smithsonian Center for Astrophysics
Cheech Marin, comedian and actor, Chicago art collector and founder of the Cheech Marin Center for Chicano Art, Culture, and Industry
Jessica Matthews, Nigerian American inventor harnessing kinetic energy through play; founder and CEO of Uncharted Power
Nick Pyenson, whale chaser and paleontologist at the Smithsonian's National Museum of Natural History
David Rubenstein, philanthropist and chair of the Smithsonian Board of Regents; co-founder and CEO of The Carlyle Group
Jacqueline Suskin, performance poet
Mily Treviño-Sauceda, grassroots organizer for women farmworkers who inspired Hollywood's #TimesUp movement, co-director of Alianza Nacional de Campesinas
Baratunde Thurston, futurist comedian and author of The New York Times bestseller How to Be Black
Sasha Velour, drag queen, designer, Fulbright Scholar, and winner of RuPaul's Drag Race season 9
C. Brian Williams, founder and executive director of Step Afrika!, the world's first professional step dance troupe
Naomi Wadler, sixth-grade activist and standout speaker for 2018's March for Our Lives rally
Malak Wazne, young documentary filmmaker and alumna of Smithsonian's Youth Advisory Council
Roy Wood Jr., comedian and "Daily Show" correspondent, host of Comedy Central's This is Not Happening
Alfre Woodard, multi-award-winning actor, producer and storyteller
About the Arts & Industries Building
The Smithsonian's Arts & Industries Building opened in 1881 as America's first National Museum. Called the "Palace of Invention" or the "Mother of Museums," it is the Smithsonian's second-oldest building on the National Mall. Designed as a grand experiment, AIB showcased the latest ideas that were about to change the world—Thomas Edison's lightbulb, Alexander Graham Bell's telephone, Apollo rockets—and incubated almost every other Smithsonian collection. Lying dormant since 2004, AIB is now being reenergized as the Smithsonian's home for future thinking and will pilot experimental programs and exhibitions for its eventual reopening.
# # #
SI-587-2018