On the Horizon: Guido van der Werve and Hiroshi Sugimoto
Works from the Permanent Collection Create Quiet Synergy
July 13, 2010
News Release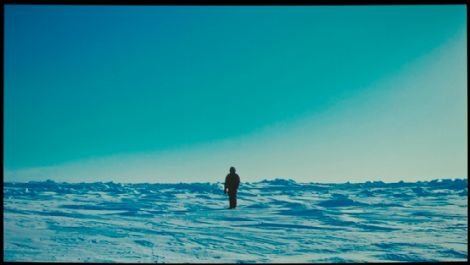 The Hirshhorn announces a new installation of work by Guido van der Werve (Dutch, b. Papendrecht, Netherlands, 1977) and Hiroshi Sugimoto (Japanese, b. Tokyo, 1948). On view at the Museum for the first time is Van der Werve's "Nummer Negen (#9) The Day I Didn't Turn with the World" (2007), a recent acquisition, which is paired with five works from Sugimoto's "Seascapes" series. Sugimoto's works are drawn from a grouping acquired for the Museum by The Glenstone Foundation on the occasion of the artist's 2005–2006 retrospective, co-organized by the Hirshhorn. Seen together, the pieces quietly create synergy, harmoniously exploring concepts of time, space and solitude, while highlighting the formal and conceptual interplay between cinema and photography.
"Nummer Negen" augments the Museum's holdings of performative film and video, which include significant works by Ana Mendieta (1948–1985) and Bruce Nauman (b. 1941). For this piece, Van der Werve undertook a special regimen of diet and exercise to prepare himself to stand at the North Pole for 24 hours. While he slowly turned clockwise, in opposition to the Earth's rotation, he was photographed every six seconds. More than 14,000 stills were compiled into a stop-motion animation, its time-lapse editing accentuating the shivering of the artist's silhouette against the seemingly endless landscape of snow and sky. The video is scored with piano music written and performed by the artist.
Adjacent to Van der Werve's video installation, a darkened gallery features examples of Sugimoto's "Seascapes." The artist composed each of these photographs with the same proportion of sea and sky, without any hint of land or human presence. Although the photos were taken at different points around the globe, their minimal rectangular fields suggest a timeless balance, the continuity of composition emphasizing the line where air and water meet. The artist used a large-format camera, black-and-white film and exposures of varying length to capture what is elusive to sight—the immutable persistence of the sea.
This installation brings together the work of two very different artists, underscoring themes of motion and stasis, presence and absence, and human existence in the face of the infinite.
About the Hirshhorn
The Hirshhorn Museum and Sculpture Garden, the Smithsonian Institution's museum of international modern and contemporary art, has nearly 12,000 paintings, sculptures, photographs, mixed-media installations, works on paper and new media works in its collection. The Hirshhorn presents diverse exhibitions and offers an array of public programs that explore the art of our time. Located at Independence Avenue and Seventh Street S.W., the Museum is open daily from 10 a.m. to 5:30 p.m. (except Dec. 25). Admission to the galleries and special programs is free. For more information about exhibitions and events, please visit hirshhorn.si.edu. To request accessibility services, please contact Kristy Maruca at marucak@si.edu or (202) 633-2796, preferably two weeks in advance.
# # #
SI-302-2010