"History in the Making: Renwick Craft Invitational 2011" Opens at the Renwick Gallery March 25
February 23, 2011
News Release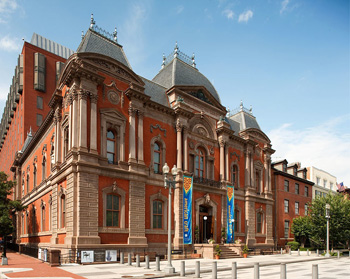 "History in the Making: Renwick Craft Invitational 2011" opens March 25 at the Renwick Gallery, the Smithsonian American Art Museum's branch museum for craft and decorative arts, and closes July 31. The exhibition features 70 works by ceramic artist Cliff Lee, furniture maker Matthias Pliessnig, glass artist Judith Schaechter and silversmith Ubaldo Vitali. Each artist is a master of his or her medium and creates artworks that combine historical techniques with contemporary forms.
The artists were chosen by Nicholas R. Bell, curator at the museum's Renwick Gallery; Ulysses Dietz, senior curator and curator of decorative arts at The Newark Museum; and Andrew Wagner, editor-in-chief of ReadyMade magazine. Bell is the curator of the exhibition. It is the fifth in the museum's biennial series, intended to celebrate artists deserving of wider national recognition.
"'History in the Making' captures the thrilling way crafts evoke the 'remembrance of things past,'" said Elizabeth Broun, The Margaret and Terry Stent Director of the Smithsonian American Art Museum. "These four artists have the traditions of their media embedded deeply in their minds and hands, so their work feels at once profoundly rooted and entirely fresh."
"Vitali, Lee, Schaechter and Pliessnig use varied histories of craftsmanship and creative expression as points of departure in the pursuit of original art," said Bell. "Drawing from diverse cultural histories and experiences, these artists explore the depth of the creative wellspring for contemporary craft in the United States. The objects in the exhibition reveal how the most dedicated and skilled individuals produce works of uncommon splendor."
Vitali (b. 1944, works in Maplewood, N.J.) is considered by some to be the greatest living silversmith in the United States. He is a fourth-generation silversmith, trained in the guild system of Rome, which ties him to the practices of previous generations. He also is a master conservator of antique silver and draws on his grasp of historical techniques to shape the contemporary pieces for which he is best known. His bravura works, such as "Tureen" (2001), combine undulating baroque forms and ornament with a distinctly modern spirit.
Lee (b. 1951, works in Stevens, Pa.) was raised in Taiwan, surrounded by China's rich ceramic past through porcelain collected by his parents and frequent visits to the National Palace Museum. Although trained as a neurosurgeon, his medical career was eventually overshadowed by his passion for clay. The knowledge and skills he developed as a doctor inform his work. Lee's skilled hands mold and carve impeccable vessels in homemade porcelain. His technical knowledge and understanding of chemistry have proven invaluable in re-creating previously lost Chinese glazes, such as the imperial yellow glaze that took 17 years to replicate.
Schaechter (b. 1961, works in Philadelphia) finds inspiration for her stained glass windows from disparate sources, including allegorical paintings, medieval tapestries, comic books, church windows, the American Civil War and punk rock. She almost single-handedly resurrected the art of stained glass in American studio craft by mastering the technical skills of a medium not previously used for personal narratives. Schaechter is known nationally and internationally as an innovator in the field.
Pliessnig (b. 1978, works in Philadelphia) uses traditional boat-building techniques to construct extraordinary furniture. His work blurs the lines between design, craft, sculpture and engineering. His organic forms are designed with 3-D modeling software and then assembled from steam-bent strips of white oak, melding ancient and futuristic technologies in the pursuit of comfort. A work in the exhibition, "Rivulet" (2009),has more than 7,000 points of contact, each joint locked with a tiny bamboo peg. Pliessnig has reinvigorated contemporary American furniture practice through his unexpected approach to design and dedication to craftsmanship.
The biennial exhibition series at the Renwick Gallery was established in 2000 to honor the creativity of craft artists working today. The first in the series, "Five Women in Craft," featured Myra Mimlitsch Gray, Mary Jackson, Janel Jacobson, Sondra Sherman and Consuelo Jiménez Underwood. Subsequent exhibitions were "Four Discoveries in Craft" in 2002, which showcased the work of James Koehler, Gyöngy Laky, Kristina Logan and Kim Rawdin; "From the Ground Up" in 2007, which featured the work of Paula Bartron, Jocelyn Châteauvert, Beth Lipman and Beth Cavener Stichter; and "Staged Stories" in 2009, which included Christyl Boger, Mark Newport, Mary Van Cline and SunKoo Yuh.
Publication
The exhibition catalog, published by the museum and Scala Publishers Ltd., includes a foreword by Broun, essays by Bell, Dietz and Wagner, and biographies for each artist. The book is available in the museum's store and online for $24.95 (softcover).
Public Programs
Several free public programs are planned in conjunction with the exhibition, including "Everything Old is New Again," a roundtable discussion led by Bell with the four artists featured in the exhibition, Saturday, March 26, at 10:30 a.m. in the McEvoy Auditorium at the museum's main building, located at Eighth and G streets N.W.
Other exhibition related programs all take place at the Renwick Gallery. Vitali talks about his work Sunday, April 17, at 1:30 p.m.; Bell discusses Cliff Lee's "Guan-ware Vase" as part of the series "American Craft Masterpieces," Wednesday, April 20, at noon; Fern Bleckner, deputy chief for operations, talks about historic techniques in a gallery talk, Thursday, May 12, at noon; Schaechter talks about her work Sunday, May 22, at 2 p.m.; Lee talks about his work Sunday, June 19, at 2 p.m.; and Pliessnig talks about his work Sunday, July 30, at 2 p.m. A Family Day will be scheduled during the summer. Complete program descriptions are available online at americanart.si.edu.
Credit and Dedication
The Ryna and Melvin Cohen Family Foundation Endowment provides generous support for "History in the Making: Renwick Craft Invitational 2011." The Cohen Family's generosity in creating this endowment makes possible this biennial series highlighting outstanding craft artists who are deserving of wider national recognition.
The 2011 Renwick Craft Invitational is dedicated to the memory of Melvin S. Cohen, who died Jan. 19, in recognition of his commitment to the arts, American craft and his community.
About the Renwick Gallery of the Smithsonian American Art Museum
The Smithsonian American Art Museum celebrates the vision and creativity of Americans with artworks in all media spanning more than three centuries. Its Renwick Gallery, located on Pennsylvania Avenue at 17th Street N.W., is open daily from 10 a.m. to 5:30 p.m., except Dec. 25. Admission is free. Museum information (recorded): (202) 633-7970. Smithsonian Information:
(202) 633-1000; (202) 633-5285 (TTY). Website: americanart.si.edu.
# # #
Note to editors: Selected high-resolution images for publicity only may be downloaded from americanart.si.edu/pr. E-mail AmericanArtInfo@si.edu for the password.
SI-86-2011