Hispanic Heritage Month Programs at the National Museum of the American Indian in New York Highlight Mesoamerica and the Caribbean
September 9, 2019
News Release
Addthis Share Tools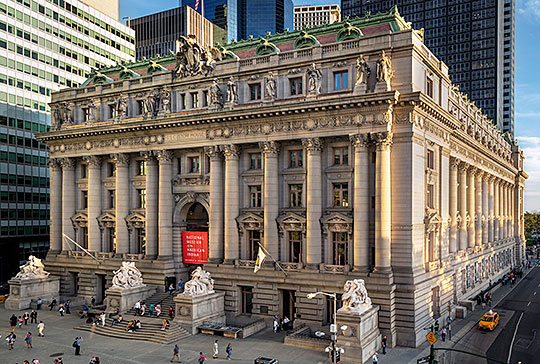 The Smithsonian's National Museum of the American Indian, George Gustav Heye Center in New York celebrates Hispanic Heritage Month with a special spotlight on the Indigenous peoples and cultures of the Caribbean and Mesoamerica. All events are free and open to the public.
Evening Program
Singer-songwriter Irka Mateo and DJ Max "Drlacxos" Cueto kick off the celebration with a Taíno Dance Party Saturday, Sept. 14, from 6–8 p.m. in the Diker Pavilion. DJ Cueto will perform two sets: 6–6:30 p.m. and 7:30–8 p.m.; Mateo will perform from 6:30–7:30 p.m.
imagiNATIONS Activity Center Programs
On the first and third Saturday of every month from 1–4 p.m., the museum hosts Exploring Art + Technology Labs in the imagiNATIONS Activity Center classroom. On Saturday, Sept. 21, the lab explores Indigenous calendar and timekeeping systems such as the Maya corn cycle, and visitors are invited to create personal calendars reflecting on annual celebrations and cycles. On Saturday, Oct. 5, participants can learn about diverse knowledge and traditions for planting and processing corn. This lab includes multisensory experiences such as masa making and tortilla tasting. The labs are drop-in and recommended for ages 9 and up. Registration of a group with eight or more participants can be made at NMAI-NY-education@si.edu or (212) 514-3710.
On Saturday, Oct. 12, at 1 p.m., the monthly Storybook Reading features Abuela's Weave by Omar S. Castaneda and Enrique O. Sanchez. After the reading, visitors can make a Day of the Dead charm bracelet to take home.
The museum recognizes Indigenous People's Day Monday, Oct. 14, with film screenings, art making and exhibition tours with Jorge Estévez (Taíno). Estévez will address common questions and myths associated with Columbus Day and share the history, culture and living legacies of the Taíno people. Screenings of the live-action puppet film Dak'Toká Taíno/ I Am Taíno in the Diker Pavilion will happen on the hour, beginning at 11 a.m. and ending with the 4 p.m. show. In the film, a grandmother talks with her granddaughter about their Taíno heritage in post-Hurricane Maria Puerto Rico. A discussion with director Alba Enid Garcia follows each screening.
Tours
Every Sunday at 1 p.m., museum ambassador Carlos Molina will lead a tour of the exhibition "Taíno: Native Heritage and Identity in the Caribbean | Taíno: herencia e identidad indígena en el Caribe." Visitors will learn about the rural roots of the Taíno movement and the legacy of Native peoples throughout the Spanish-speaking Caribbean islands and their U.S. diasporas. The tour is available in English and Spanish.
Online Resources
Those unable to attend events at the museum can find relevant resources online. The museum's YouTube channel features "Taíno: A Symposium in Conversation with the Movement," co-presented with the Smithsonian Latino Center. In this symposium, experts representing Indigenous studies, genetic science, anthropology, linguistics and other academic disciplines examined exhibition themes in dialogue with Taíno/Indigenous Caribbean community leaders and cultural workers.
The museum's educational initiative, Native Knowledge 360°, includes lessons and resources related to technology and culture of the Indigenous peoples of Latin America in English and Spanish. The website currently includes content about the Maya, Aymara, Inka and Quechua peoples and cultures.
The Smithsonian's National Museum of the American Indian
In partnership with Native peoples and their allies, the National Museum of the American Indian fosters a richer shared human experience through a more informed understanding of Native peoples. The museum strives toward equity and social justice for the Native peoples of the Western Hemisphere through education, inspiration and empowerment. The museum's George Gustav Heye Center is located at One Bowling Green in New York City. For additional information, including hours and directions, visit AmericanIndian.si.edu. Follow the museum via social media on Facebook, Twitter and Instagram.
# # #
SI-356-2019