Hirshhorn Announces First US Retrospective of German Artist Georg Baselitz in 20 Years
Exhibition Coincides With Artist's 80th Birthday
November 24, 2017
News Release
Addthis Share Tools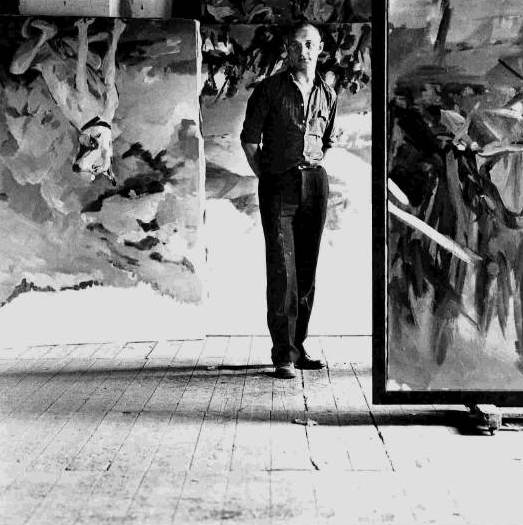 The Smithsonian's Hirshhorn Museum and Sculpture Garden will present "Baselitz: Six Decades," the first major U.S. full-career retrospective in more than 20 years of one of Germany's greatest living artists. Organized in partnership with the Fondation Beyeler to mark the artist's 80th birthday, the exhibition opens at the Beyeler in Basel, Switzerland, Jan. 21, before traveling to the Hirshhorn June 21–Sept. 16, 2018. The Hirshhorn hosted Baselitz's first-ever career retrospective in 1996, and this new exhibition builds on that milestone with an expanded look at his exceptional oeuvre, cementing Baselitz's reputation as one of the most original and inventive figurative artists of his generation.
"Baselitz: Six Decades" will comprise over 100 works highlighting every phase of Baselitz's six-decade career, including his iconic paintings, works on paper and wood and bronze sculptures. The exhibition marks the first chance for U.S. audiences to understand the full scope of Baselitz's powerful explorations of the human figure and, for the first time in any setting, the influence of American Abstract Expressionists on his formative early work, as well as his continued impact on contemporary American painting and sculpture.
"We are delighted to partner with the Fondation Beyeler to present Baselitz's first major retrospective in over two decades," said Hirshhorn Director Melissa Chiu. "As we work to highlight today's most exciting and challenging emerging artists, we are equally dedicated to revisiting key stages in an artist's practice. Throughout his career, Baselitz has pioneered the return of painting to figuration, and his creative genius combined with his message about the inherent strength of the everyday human condition make this exhibition particularly timely."
"Baselitz: Six Decades" will trace the foundational impact of Baselitz's career as he pushed the limits of painting and sculpture through lifelong artistic experimentation. Organized chronologically, the exhibition begins with paintings and works on paper from the late 1950s, when Baselitz was first influenced by the Art Informel—a postwar movement, which abandoned geometric abstraction in favor of a more intuitive form of expression—to which he contributed a unique figurative vocabulary.
The exhibition will include one of Baselitz's most notable works of this time, "The Naked Man" from 1962, in which the artist used a shocking image of a male figure to express the pervasive discontent with Germany's socialist politics, an image so controversial it was confiscated by authorities. Additional highlights will be the celebrated paintings from his iconic "Helden" (Heroes) and "Fracture" series (1965–1966), which underscore the strength of the German people following World War II. In addition, the exhibition will present Baselitz's groundbreaking upside-down paintings—an innovative practice that first brought Baselitz to international fame in the 1970s. "Baselitz: Six Decades" also pays close attention to his output over the past 20 years, which marked a notable shift in subject matter, color palette and technique.
About the Artist
Baselitz (b. 1938, Deutschbaselitz, Germany) came of age in post-war East Germany, attending art school in Communist East Berlin, where he studied the officially sanctioned form of social realism until he was expelled in 1957 for "sociopolitical immaturity." Baselitz then studied at the Staatliche Hochschule fϋr Bildende Kϋnste in West Berlin until 1962. While there, he began to experiment with the revived German Expressionism that had been denounced and banned by the Nazi Party, working in both painting and printmaking formats. In 1963, Baselitz had his first major exhibition at Galerie Werner & Katz, where several of his works were confiscated by German authorities on the ground of their lewd and obscene content. Shortly after this event, Baselitz began to work on a larger scale, embarking upon his famous "Helden" series. More recently, Baselitz has been working on a series of quiet portraits of he and his wife, Elke, painted with dark washes of blue and black, somber tones that point to a mediation on mortality and aging. Baselitz has exhibited in numerous major solo exhibitions, including those held at the Royal Academy of Arts, London (2007), Museo d'Arte Contemporanea Donna Regina, Naples (2008), Kunsthalle Baden-Baden (2009), Pinacoteca, São Paulo (2010), Albertina, Vienna (2013) and Haus der Kunst, Munich (2014).
About the Hirshhorn
The Hirshhorn Museum and Sculpture Garden is the national museum of modern and contemporary art and a leading voice for 21st-century art and culture. Part of the Smithsonian, the Hirshhorn is located prominently on the National Mall in Washington, D.C. With nearly 12,000 paintings, sculptures, photographs, mixed-media installations, works on paper and new media works, its holdings encompass one of the most important collections of postwar American and European art in the world. The Hirshhorn presents diverse exhibitions and offers an array of public programs on the art of our time—free to all, 364 days a year. For more information, visit hirshhorn.si.edu.
# # #
SI-654A-2017