Grand Canyon Adventure: River at Risk 3D Opens at the National Museum of Natural History's Johnson Imax Theater Nov. 12
October 19, 2010
News Release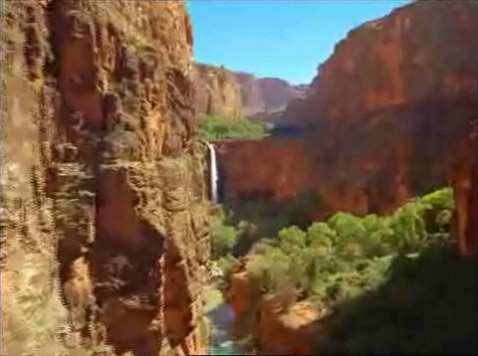 The Johnson Imax Theater presents its newest giant-screen film, Grand Canyon Adventure: River at Risk 3D, starting Nov. 12.
The 45-minute filmtakes audiences on a giant-screen 3-D cinematic journey down the Colorado River with world-renowned river advocate Robert F. Kennedy Jr. and author, anthropologist, and explorer Wade Davis to witness the majestic beauty of the canyon and uncover the fragile state of one of the nation's most iconic bodies of water.
Kennedy and Davis, their daughters Kick and Tara, and guide Shana Watahomigie explore the challenges to preserving the supply of clean, fresh water. The United Nations Environment Programme estimates that 20 percent of the world's population lacks steady access to safe drinking water. The film presents realistic solutions to improving access to clean water in an uplifting and stimulating format.
Grand Canyon Adventure 3D is a visually stunning film that lends itself to the grand scale of the Johnson Imax Theater's six-story screen. Audiences will feel as though they are braving the rapids in a raft and careening off a waterfall in a kayak while in the nation's most majestic canyon.
Narrated by Academy Award winner Robert Redford and featuring original music by the Grammy Award winning Dave Matthews Band, Grand Canyon Adventure 3D is the fourth feature in MacGillivray Freeman Films' Oscar nominated aquatic-themed film series.  
The Johnson Imax Theater is located on the first floor of the National Museum of Natural History at 10th Street and Constitution Avenue N.W. The theater's 90-by-60 foot screen is the largest in Washington, D.C. and was recently given the "certified giant screen" designation by the Giant Screen Cinema Association. 
The film opens Nov. 12 and will be shown several times daily. Individual tickets will be available for purchase Oct. 29 and may be reserved up to two weeks in advance. Groups of 10 or more may reserve tickets now. The public may visit any Smithsonian Theaters box office, call toll-free (866) 868-7774, TTY (202) 633-8850 or visit www.si.edu/imax for information or to purchase tickets.
# # #
SI-455-2010