"The goSmithsonian Trek" to Begin June 24
Smart Phone Scavenger Hunt Will Highlight "Must-See" Artifacts in Nine Museums
June 16, 2010
News Release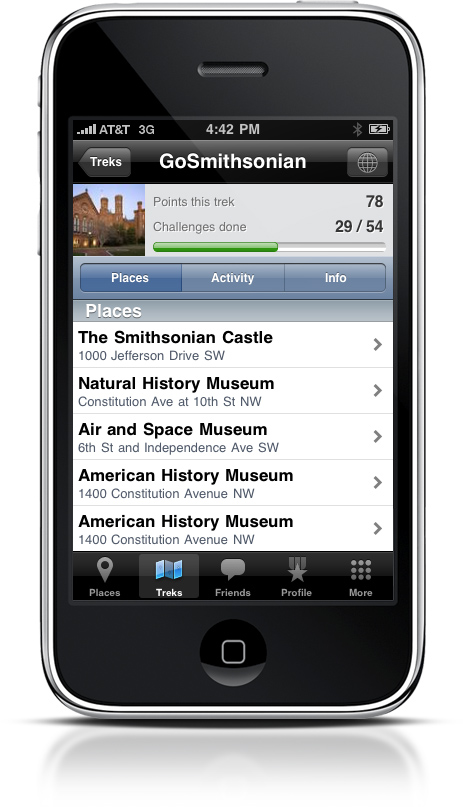 Beginning June 24, Smithsonian visitors will be able to participate in a smart phone scavenger hunt that will take them on a "Trek" through the Institution.
"The goSmithsonian Trek" is an interactive game in which museum visitors must decode clues to find favorite artifacts in nine Smithsonian museums. The game, powered by the Boston-based SCVNGR, can be played for free from any smart phone by downloading the "SCVNGR" application from the iPhone App Store or Android Market. The game runs through July 24.
Players begin in the Smithsonian Castle. After solving the first clues, the game sends visitors to 8 museums—the National Museum of American History, the National Museum of Natural History, the National Air and Space Museum, the National Museum of African Art, the National Museum of the American Indian, the Freer Gallery of Art, the Arthur M. Sackler Gallery and the Hirshhorn Museum and Sculpture Garden. Along the way, visitors will receive clues, questions and riddles about objects in each of the museums, the answers to which can only be found in the museums. Two winners will receive an Apple iPad.
"This is a fun, fact-filled game that will allow players to experience the Smithsonian in a whole new way," said Beth Py-Lieberman, editor of the goSmithsonian visitors' guide. "We think it will entertain not only first-time visitors to the Smithsonian, but also those who have been to the museums before."
For more information about the game and how to play, or to read the complete contest rules, visit www.goSmithsonian.com/scvngr.
The website goSmithsonian.com organizes information about all Smithsonian museums, the National Zoo and the downtown Washington area. Visitors can use the site to navigate the city's rich collection of museums and landmarks. Printable floor plans and maps of the city and the surrounding area are available. Personalized itineraries and schedules can be created using a comprehensive calendar of events.
# # #
SI-267A-2010