Full Calendar of Programs for American Indian Heritage Month
Concert, Tribal Festival and Program Honoring Native American Veterans Among the Many Family-Friendly Offerings for the Heritage Month
November 2, 2017
News Release
Addthis Share Tools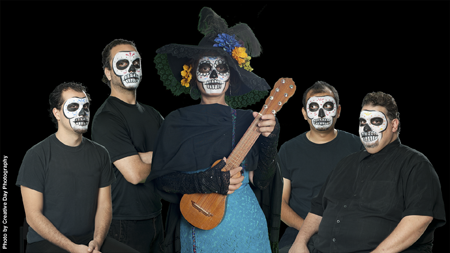 November is American Indian Heritage Month, and the Smithsonian's National Museum of the American Indian in Washington, D.C., and its George Gustave Heye Center in New York City have a full calendar of programs to celebrate traditions and innovations in American Indian communities. From light- and sound-based art to events honoring Native veterans, all events are free and open to the public.
In Washington, D.C.
On Saturday, Nov. 4, at 2 p.m., the Sones de México Ensemble will perform a classic repertoire of Mexican folk genres, including huapango, gustos, chilenas, son jarocho and more. This program is a special collaboration to bring together the remembrance of the Day of the Dead with the contemporary focus of Native American Heritage Month. A Concert for Tomorrow's Ancestors is a musical tribute inspired by Native ancestors and influenced by the present-day social movements of the indigenous peoples of the Americas. Presented in collaboration with the Smithsonian Latino Center.
Thursday, Nov. 16, through Saturday, Nov. 18, the Muscogee Creek Nation presents Mvskoke Etvlv: Muscogee Creek Festival, a celebration of its tribal history, heritage and culture. The festival includes music, stomp dancing, hands-on activities and a marketplace showcasing jewelry, traditional recipes and more.
The last major program, Family Fun Day, takes place Friday, Nov. 24. The Friday after Thanksgiving is American Indian Heritage Day, which the museum will celebrate with various interactive offerings. Visitors can make star quilts out of paper, go on a scavenger hunt in the exhibition "Our Universes," watch dance performances by Navajo hoop dancers and learn more about Native Knowledge 360 Degree, the museum's latest and most comprehensive education initiative.
In New York
"Transformer: Native Art in Light and Sound" opens to the public Nov. 10. The exhibition showcases the work of artists who use light, digital projection and experimental media to reflect on their places in traditional and dominant cultures. The artists are Jordan Bennett (Mi'kmaq), Raven Chacon (Diné), Jon Corbett (Métis), Marcella Ernest (Ojibwe), Stephen Foster (Haida), Nicholas Galanin (Tlingit), Julie Nagam (Anishnawbe/Métis), Marianne Nicolson (Kwakwa̱ka̱'wakw), Keli Mashburn (Osage) and Kevin McKenzie (Cree/Métis). That evening there will be a curator's talk featuring associate curator Kathleen Ash-Milby (Dine) and David Garneau (Metis).
A special short-term display of the museum's traveling banner exhibition "Patriot Nations: Native Americans in Our Nation's Armed Forces" will be on display in the rotunda Nov. 9–15 to coincide with the Veterans Day program and the announcement of the opening of the National Native American Veterans Memorial. Both programs are described in further detail below.
Veterans Day: Honoring Native Veterans
Both museum locations will host programs honoring Native American veterans on Veterans Day, Saturday, Nov. 11. The event at the museum in Washington will feature the Smithsonian's Honor Guard, and patriotic songs performed by Charly Lowry (Lumbee) of the band Dark Water Rising. In New York, the events are scheduled for 11 a.m.–4 p.m. and will also feature a Color Guard and presentations by the Warriors of AniKituhwa. These programs are made possible by the support of Bank of America.
National Native American Veterans Memorial Design Competition
The first stage of the international design competition for the National Native American Veterans Memorial will open Veterans Day, Nov. 11. The competition is open to all: students, architects, artists, designers and anyone else who wants to can submit a design. The design will be selected through a two-stage process by a blue-ribbon jury of Native and non-Native artists, designers, scholars and veterans. Don Statsny, architect, urban planner and community facilitator, will oversee the competition.
This project is made possible by the support of the Eastern Band of Cherokee Indians; Bank of America; Northrop Grumman; the Citizen Potawatomi Nation; the San Manuel Band of Mission Indians; Hobbs, Straus, Dean & Walker LLP; General Motors; Lee Ann and Marshall Hunt; the Shakopee Mdewakanton Sioux Community; and the Sullivan Insurance Agency of Oklahoma.
For more information about the memorial, visit www.AmericanIndian.si.edu/NNAVM.
Native Knowledge 360 Degree Education Initiative
Native Knowledge 360 Degree provides educators and students with new perspectives on Native American history and cultures. Most Americans have only been exposed to part of the story, as told from a single perspective through the lenses of popular media and textbooks. Native Knowledge 360 Degree provides educational materials that incorporate Native narratives, more comprehensive histories and accurate information, and offers a view that includes not only unvarnished history but also the richness and vibrancy of Native peoples and cultures today. Visit the website at http://nmai.si.edu/nk360/.
Native Art Market
The museum's annual Native Art Market features one-of-a-kind traditional and contemporary items for purchase directly from artisans in Washington and New York City. More than 34 Native artists from North and South America will participate in the weekend market, offering a wide selection of handcrafted items, including jewelry, beadwork, pottery, prints and sculpture. The full list of artists is available on the museum's website.
The National Museum of the American Indian is committed to advancing knowledge and understanding of the Native cultures of the Western Hemisphere—past, present and future—through partnership with Native people and others. Located on the National Mall at Fourth Street and Independence Avenue S.W., the museum in Washington, DC is open each day from 10 a.m. to 5:30 p.m. (closed Dec. 25). It is accessible from L'Enfant Plaza Metrorail station via the Maryland Avenue/Smithsonian Museums exit. The museum's George Gustav Heye Center is located at One Bowling Green in New York City. For additional information, including hours and directions, visit AmericanIndian.si.edu. Follow the museum via social media on Facebook, Twitter (Washington and New York City) and Instagram. To learn more about the museum's mission, visit AmericanIndian.si.edu.
# # #
SI-592-2017