Flying Monsters 3D Launches at the National Museum of Natural History
May 10, 2012
News Release
Addthis Share Tools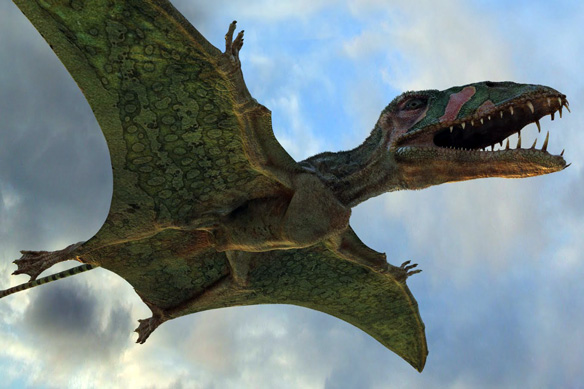 Smithsonian Theaters presents its newest giant-screen film, Flying Monsters 3D. This 21-minute film is scheduled to open at the Smithsonian's National Museum of Natural History's Johnson IMAX Theater May 25.
Dinosaurs began their domination of Earth 220 million years ago. But another group of reptiles was about to make an extraordinary leap: Pterosaurs were taking control of the skies. The story of how and why these mysterious creatures took to the air is more fantastical than any fiction—and one of the greatest mysteries in paleontology. How did lizards the size of giraffes defy gravity and soar through prehistoric skies? Viewers can unravel one of science's more enduring mysteries and witness how the marvel of pterosaur flight has evolutionary echoes that resonate even today.
Featuring state-of-the-art 3-D CGI technology, Flying Monsters 3D showcases pioneering scientific techniques that reveal new details about pterosaurs. From discovering pterosaur embryos that show they might have flown from birth to figuring out how a creature the size of a giraffe could possibly fly, the film resolves mysteries that have intrigued scientists for more than two centuries. From award-winning Atlantic Productions, in association with Sky 3D, and distributed by National Geographic Entertainment, Flying Monsters 3D is narrated by veteran filmmaker and renowned naturalist Sir David Attenborough.
Individual tickets for all regularly scheduled public screenings of Flying Monsters 3D are on sale now and may be reserved and purchased up to two weeks in advance. Groups of 10 or more may reserve tickets now for any date during the film's expected run. The public may visit any Smithsonian Theaters box office, call toll-free (866) 868-7774 or visit www.si.edu/IMAX for information or to purchase tickets.
The Johnson IMAX Theater is located on the first floor of the National Museum of Natural History at 10th Street and Constitution Avenue N.W. The theater's 90-by-60-foot screen is the largest in Washington, D.C.
# # #
SI-224-2012