First Major Retrospective of Mohawk Artist Shelley Niro's Work To Go on View at the National Museum of the American Indian in New York
Exhibition Confronts the Challenges of Being Indigenous and Female in the United States and Canada
May 22, 2023
News Release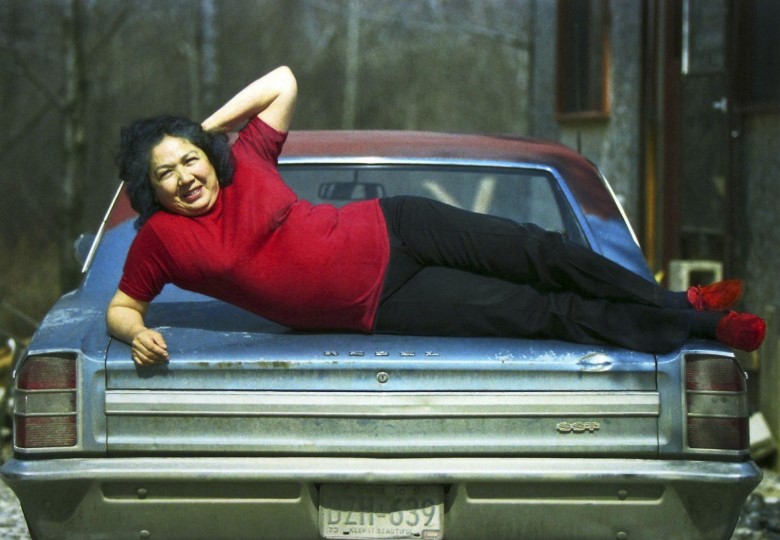 The Smithsonian's National Museum of the American Indian in New York will host "Shelley Niro: 500 Year Itch," the first major retrospective of work by the multimedia artist Shelley Niro (Six Nations Reserve, Bay of Quinte Mohawk, Turtle Clan, b. 1954). For more than 50 years, Niro has been creating art building upon Kanyen'kehá:ka (Mohawk) philosophies, deep understandings of history and a woman-centered worldview. The exhibition will be open May 27 through Jan. 1, 2024.
Accessible, humorous and peppered with references to popular culture, Niro's art delves into the timeless cultural knowledge and generational histories of her Six Nations Kanyen'kehá:ka community to provide purpose and healing. Niro employs a wide variety of art practices in her work, including paintings, photographs, mixed-media works and films. The exhibition is divided into four sections titled: Memory, Matriarchy, Actors and Relations. Each provides vantage points from which Niro probes ideas central to her experience and identity as a Mohawk woman, such as the story of Sky Woman, the gender roles and stereotypes imposed on her culture by patriarchal settler culture and the persistence of Haudenosaunee matrilineal culture.
The exhibition is curated by David W. Penney, associate director of museum scholarship at the National Museum of the American Indian; Melissa Bennett, senior curator of contemporary art at the Art Gallery of Hamilton; and Greg Hill, multidisciplinary artist, curator and art consultant.
"Shelley Niro employs humor and wit to probe the joy, sorrow and contradictions of Indigenous existence, and she delivers hard truths with a smile," said Cynthia Chavez Lamar (San Felipe Pueblo, Hopi, Tewa and Navajo), director of the National Museum of the American Indian. "Her inclusion of Native people, including family members, in much of her work, allows us to see Indigeneity in its complexity while also addressing themes of empowerment, matrilineal kinship and dispossession. The museum is very pleased to celebrate Niro's art through this exhibition."
Media Preview
A media preview is scheduled for Thursday, May 25, 9–11 a.m. To attend, member of the media should send an email to nmaipressoffice@si.edu.  
Program
On Saturday, June 17, at 1 p.m., the museum will host a special screening of Niro's latest feature-length film, Café Daughter (Canada, 2023). The film is based on a play by Kenneth T. Williams about retired Canadian Senator Lillian Dyck, the first Aboriginal senator and first Chinese senator. It tells the story of Yvette Wong, a young Chinese-Cree girl who tries to find her place in a small Saskatchewan town in the 1960s. The screening will be followed by a conversation with Niro.
Catalog
The accompanying exhibition catalog is published by the Art Gallery of Hamilton and the National Museum of the American Indian. It brings together 215 reproductions from Niro's expansive oeuvre, including work published for the first time. Also included in the career retrospective are three major essays about Niro's work by the exhibition's curators Bennett, Hill and Penney, as well as texts from seven guest artists, scholars and curators. 
Exhibition Tour 
After the presentation at the National Museum of the American Indian, an expanded version of the exhibition will embark on a multiyear tour organized by the Art Gallery of Hamilton. Upcoming Canadian tour dates:
Art Gallery of Hamilton, Hamilton Ontario; Feb. 10–May 26, 2024 
National Gallery of Canada, Ottawa, Ontario; June 14–Aug. 18, 2024 
Vancouver Art Gallery, Vancouver, British Columbia; Sept. 21, 2024–Feb. 2, 2025
Remai Modern, Saskatoon, Saskatchewan; spring 2025 
Acknowledgements
Organized and circulated by the Art Gallery of Hamilton with the National Museum of the American Indian and with curatorial support from the National Gallery of Canada. Major support for the project is provided by the Canada Council for the Arts, the Terra Foundation for American Art, The Andy Warhol Foundation for the Visual Arts, and the Smithsonian American Women's History Initiative Pool. This program is supported, in part, by public funds from the New York City Department of Cultural Affairs, in partnership with the City Council.
About the National Museum of the American Indian
In partnership with Native peoples and their allies, the National Museum of the American Indian fosters a richer shared human experience through a more informed understanding of Native peoples. The museum strives toward equity and social justice for the Native peoples of the Western Hemisphere through education, inspiration and empowerment. Through two locations, it features exhibitions and programs in New York City and the National Mall in Washington, D.C. For additional information, including hours and directions, visit AmericanIndian.si.edu. Follow the museum via social media on Facebook, Twitter and Instagram.
About the Art Gallery of Hamilton
Founded in 1914, the Art Gallery of Hamilton is the oldest and largest public art gallery in southwestern Ontario. Its permanent collection, which is focused on historical Canadian, 19th-century European, and International and Contemporary art, numbers more than 10,000 works and is recognized as one of Canada's finest. The AGH is a vital creative hub and centre of lifelong learning that enables people of all ages to enrich their lives by gaining a deeper understanding of art. To learn more about the AGH, visit the gallery online at artgalleryofhamilton.com, or connect on social media on Facebook, Twitter, Instagram and TikTok.
# # #
SI-175-2023