"Fabric of Survival: The Art of Esther Nisenthal Krinitz" to Open in Smithsonian's Ripley Center Concourse Gallery
November 10, 2011
News Release
Addthis Share Tools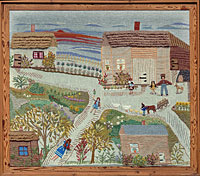 In October 1942, 15-year old Esther Nisenthal Krinitz's family and other Jewish families were ordered by the Nazis to leave their homes in Mniszek, Poland, and report to a nearby train station for deportation. Instead of going to the station, Krinitz and her younger sister Mania said goodbye to their family and went into hiding. For more than two years, they evaded capture by the Gestapo by pretending to be Catholic farmhands. When the war finally ended, Krinitz and her sister made a heartbreaking discovery—while they had survived, their parents, siblings and millions of other Jews had not.
For years, Krinitz had shared the stories of her survival with her daughters. In 1977, at the age of 50, Krinitz decided to show her daughters what her home and family looked like. Over the next 20 years, she created a series of fabric panels that told her story in strong, vivid images. The 36 panels, created using embroidery and fabric collage, tell Krinitz's story, from her pre-war childhood in Poland to her emigration to the United States in 1949. On the bottom of each panel, Krinitz stitched the narrative of her story.
These 36 panels became "Fabric of Survival: The Art of Esther Nisenthal Krinitz," an exhibition that tells the autobiographical story—in both words and images—of Krinitz and her sister's harrowing ordeal during the Holocaust. It will be on view in the Concourse Gallery of the S. Dillon Ripley Center from Nov. 11 to Jan. 29, 2012.
The exhibition is sponsored by Art and Remembrance, a non-profit educational organization founded by Krinitz's daughters.
# # #
SI-495-2011