Exhibition Exploring History of Photography in America Opens at Smithsonian American Art Museum June 28
June 26, 2013
News Release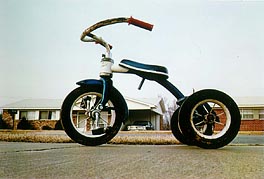 "A Democracy of Images: Photographs from the Smithsonian American Art Museum" showcases 113 photographs selected from the Smithsonian American Art Museum's permanent collection. The exhibition, which celebrates the 30th anniversary of the establishment of the museum's photography collection, examines photography's evolution in the United States from a documentary medium to a full-fledged artistic genre and showcases the numerous ways in which it has captured the American experience. The exhibition's title is inspired by American poet Walt Whitman's belief that photography provided America with a new, democratic art form that matched the spirit of the young country.
"A Democracy of Images: Photographs from the Smithsonian American Art Museum" is on view at the museum's main building in Washington, D.C., from June 28 through Jan. 5, 2014. The exhibition is organized by Merry Foresta, guest curator and independent consultant for the arts. Foresta was the museum's curator of photography from 1983 to 1999.
"The images in this exhibition represent some of the finest examples in the Smithsonian American Art Museum's collection of American photography, a pioneering collection begun more than 30 years ago," said Elizabeth Broun, The Margaret and Terry Stent Director of the Smithsonian American Art Museum.
 "Photography has always been a quintessentially democratic activity, one that is rooted in the people and places of everyday life," said Foresta. "It allowed ordinary people to make and own images in a way that had not been possible before."
From the moment photography arrived in the United States in 1840, photographers became engaged with the life of the emerging nation, the activity of new urban centers and the possibilities of unprecedented access to the vast Western frontier. From the 19th to the 20th century, photography not only captured the country's changing cultural and physical landscape but also developed its own language and layers of meaning.    
The exhibition is organized around four major themes that have defined American photography: "American Characters" examines the ways in which photographs of individuals, places and objects become a catalog of our collective memory and have contributed to the ever-evolving idea of the America character. "Spiritual Frontier" investigates early ideas of a vast, inexhaustible wilderness that symbolized American greatness. "America Inhabited" traces the nation's rapid industrialization and urbanization through images of speed, change, progress, immigration and contemporary rural, urban and suburban landscapes. "Imagination at Work" demonstrates how photography's role of spontaneous witness gradually gave way to contrived arrangement and artistic invention.
The images on display range from early daguerreotypes to contemporary digital works. The exhibition includes works by Edward S. Curtis, Timothy H. O'Sullivan, Bernice Abbott, Diane Arbus, Roy DeCarava, Walker Evans, Irving Penn and Trevor Paglen, among others, as well as vernacular works by unknown artists. A number of recent acquisitions are featured, including works by Ellen Carey, Mitch Epstein, Muriel Hasbun, Alfredo Jaar, Annie Leibovitz, Deborah Luster and Sally Mann.
Landscape photography, formal and vernacular portraits, documentary-style works from the New York Photo League and images from surveying expeditions sent west after the Civil War are among the photographs on view. These images explore how photographs have been used to record and catalog, to impart knowledge, to project social commentary and as instruments of self-expression.  
"Whether they are meant to present an image of objective reality, to explore a physical or psychological landscape, or are a canvas for artistic experimentation, these photographs express elements of our shared history and experiences as Americans," said Foresta. 
Connecting Online
A complementary website designed for viewing on tablets includes photographs on view in the exhibition, an expanded selection of works from the museum's collection and a timeline of American photography. It is available through tablet stations in the exhibition galleries, online and on mobile devices at americanart.si.edu/photographs.
Public Programs
A series of public programs will accompany the exhibition. Foresta will present a talk in the museum's McEvoy Auditorium to mark the opening of the exhibition Friday, June 28, at 7 p.m. "Photo Family Day," featuring educational activities for children and families, will be held Saturday, July 13, from 11:30 a.m. to 3 p.m. in the museum's Kogod Courtyard. Lisa Hostetler, the museum's McEvoy Family Curator of Photography, will present a gallery talk Tuesday, Aug. 13, at 6 p.m. More information is available on the museum's online calendar at americanart.si.edu/calendar/. Additional programs scheduled for the fall will be posted online.
Educational Initiatives
Professional development workshops for teachers (fee: $200) that explore new approaches to using visual images and primary source documents as teaching tools in the classroom will be offered Monday, July 22, through Wednesday, July 24, from 9:30 a.m. to
4 p.m. Visit americanart.si.edu/education/dev/ for details. Registration is required.
Credit
"A Democracy of Images: Photographs from the Smithsonian American Art Museum" is made possible with generous support from: Saundra B. Lane, Lisa and John Pritzker, The Crown Equipment Exhibitions Endowment, The Margery and Edgar Masinter Exhibitions Fund and the Bernie Stadiem Endowment Fund.
About the Smithsonian American Art Museum
The Smithsonian American Art Museum celebrates the vision and creativity of Americans with artworks in all media spanning more than four centuries. Its National Historic Landmark building is located at Eighth and F streets N.W., above the Gallery Place/Chinatown Metrorail station. Museum hours are 11:30 a.m. to 7 p.m. daily (closed Dec. 25). Admission is free. Follow the museum on Twitter, Facebook, Flickr, iTunes, ArtBabble, Pinterest and YouTube. Museum information (recorded): (202) 633-7970. Smithsonian Information:
(202) 633-1000. Website: americanart.si.edu.
# # #
Note to Editors: Selected high-resolution images for publicity only may be downloaded from americanart.si.edu/pr. Email americanartpressoffice@si.edu for the password
SI-209A-2013