Dunes Reveal Biodiversity Secrets
September 25, 2014
News Release
Addthis Share Tools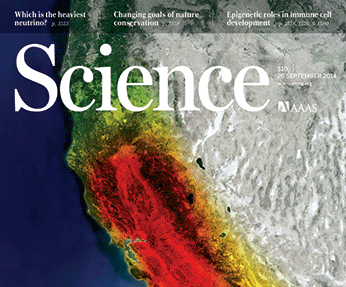 Ancient, acidic and nutrient-depleted dunes in Western Australia are not an obvious place to answer a question that has vexed tropical biologists for decades. But the Jurien Bay dunes proved to be the perfect site to unravel why plant diversity varies from place to place. Smithsonian Tropical Research Institute scientist Benjamin Turner and colleagues from the University of Western Australia published findings in the Sept. 26 edition of Science showing that environmental filtering—but not a host of other theories—determines local plant diversity in one of Earth's biodiversity hotspots.
Turner and colleagues examined plant communities and soil development across a sequence of dunes ranging in age from a few decades to more than 2 million years. The dunes form as sand piles up along the coastline of Western Australia during periods of high sea level. The youngest dunes contain abundant soil nutrients but are home to relatively few plant species, whereas the oldest dunes have some of the most infertile soils in the world yet support many species of plants.
The differences in diversity of plants on the dunes are much better explained by environmental filtering—the exclusion of species from the regional flora that are poorly adapted to local conditions—than by alternative ideas related to competition for resources.
"Ecologists have long sought to understand what explains variation in species diversity among sites," said Helene Muller-Landau, STRI staff scientist. "This elegant study shows that variation in plant species diversity among dunes of different ages, and thus different soils, is explained mainly by variation in the size of the pool of species adapted to these differing conditions." Biogeographical and historical factors, like the total area in the region with similar conditions today and in the past, are primary, while factors such as competition for soil resources are much less important in explaining variation in species diversity.
"A number of mechanisms have been proposed to explain plant diversity along resource gradients, but they have not previously been tested simultaneously," Turner said. "The Jurien Bay chronosequence allowed us to do this, and gave a clear result—that local plant diversity is explained primarily by environmental filtering from the regional flora."
Jurien Bay is a rare example of a long-term chronosequence of soils in a species-rich ecosystem, making it an ideal location to test biodiversity theory.
"A challenge now is to examine this process along chronosequences in other species-rich ecosystems," Turner said. "Unfortunately, there are as yet no long-term soil chronosequences with intact vegetation known under diverse lowland tropical forest."
Turner expects the findings to spark a flurry of debate, but emphasizes that the research does not seek to explain the maintenance of biodiversity within individual communities, only how it varies among communities. Theories such as negative density dependence—that natural enemies maintain diversity in species-rich plant communities—are not challenged by this work, he said.
"It's important to recognize that resource competition or other mechanisms can still maintain diversity," Turner said. "But in terms of explaining why plant diversity varies from place to place, our results indicate that environmental filtering is the overriding explanation. "
"I suspect that the answers will be different for different ecosystems in different places," Muller-Landau said. "Here in Panama, and throughout the tropics, wet forests tend to have much higher species diversity than dry forests. This pattern is generally explained in terms of differences in ecological conditions, especially wet forests being more conducive to pathogen attack. But we're not sure if this is the correct explanation. A study like this would help us to sort that out."
# # #
Laliberté, E., Zemunik, G., Turner, B.L. (2014) Environmental filtering explains variation in plant diversity along resource gradients. Science 345 (6204; 26th September).
SI-475-2014