Director Ava DuVernay and Composer Quincy Jones Lead November Programming at the Smithsonian's National Museum of African American History and Culture
November 7, 2017
News Release
Addthis Share Tools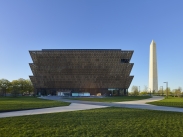 The National Museum of African American History and Culture's November public programming features 2017 Smithsonian American Ingenuity Award-winners, Selma director Ava DuVernay and legendary musician and composer Quincy Jones, and special guest Selma lead actor David Oyelowo.
From Nov. 3 to Nov. 12, the museum is hosting the inaugural Community Curation Program in Baltimore at Impact Hub Baltimore at 10 E. North Ave. The Community Curation Program is a new initiative supported by the Robert Frederick Smith Fund for Digitization and Curation of African American History that bridges the generational divide in African American communities by making accessible online services that support the digitization and preservation of photographs, films and video memories, which the public is encouraged to bring for digitizing by the museum's Digi-Team. Attendees must register for digitizing services at http://bit.ly/2lGunzQ.
On Friday, Nov. 10, from 3 to 5 p.m., the museum presents the film Remembering World War I —"Paris Noir: African Americans in the City of Light." It explores the intellectual and cultural impact between African American and French people in literature, music and the arts. Following the screening, the museum's curator of music and performing arts Dwandalyn Reece will facilitate a discussion with filmmakers David and Joanne Burke; Julia Browner, founder of Walking the Spirit, Black Paris and Beyond; and Columbia University Professor Brent Edwards. Registration is preferred: http://bit.ly/2lEJvh5.
On Monday, Nov. 20, from 7 to 8:30 p.m., the museum will present Obama: An Intimate Portrait with former White House photographer Pete Souza in the Oprah Winfrey Theater. Souza has collected more than 300 photographs chronicling the Obama presidency for his new book Obama: An Intimate Portrait. These photographs, some of which have never been published, document the most momentous hours of Obama's terms in office, including historic images of him and his advisors, moments with his family, encounters with children and dealings with international leaders and cultural figures. Copies of the book will be available for sale and signing courtesy of Smithsonian Enterprises.
DuVernay, the 2017 Smithsonian American Ingenuity Award winner, and special guest Oyelowo, who starred as Martin Luther King in Selma, will headline Through the African American Lens: A Conversation Between Ava DuVernay and David Oyelowo Wednesday, Nov. 29, at 1 p.m. in the Oprah Winfrey Theater. DuVernay, who also directed 13 and created the TV series Queen Sugar, and Oyelowo will explore topics ranging from the cinematic interpretations of historic and cultural milestones to the entrepreneurship, creativity and strength of African American film within the larger filmmaking community. Registration is required at http://bit.ly/2lEnKxJ.
The 2017 Smithsonian American Ingenuity Award winner, legendary composer Jones, will join the museum for On Art and Creativity a Conversation Between Quincy Jones and Dwandalyn Reece Nov. 30 at 2 p.m. in the Oprah Winfrey Theater. Jones will talk about his incomparable career as a composer, arranger and producer in the television, film and recording industries with Reece. Registration is required at http://bit.ly/2zoSSra.
November programs conclude with a screening of acclaimed director Dee Rees' new film MUDBOUND Thursday, Nov. 30, from 7 to 10 p.m., in the Oprah Winfrey Theater. Based on a book by Hillary Jordan, the film illustrates the lives of white and black families in rural Mississippi as they confront the brutal realities of prejudice, farming and friendship in a divided World War II era. Following the film, guests can take part in a conversation moderated by Rhea L. Combs, supervisory curator of film and photography, with Rees and members of the cast. The screening is part of the Earl W. and Amanda Stafford Center for African American Media Arts Cinema + Conversation series and is co-presented by Netflix.
About the National Museum of African American History and Culture                 
The National Museum of African American History and Culture opened Sept. 24, 2016, on the National Mall in Washington, D.C. Occupying a prominent location next to the Washington Monument, the nearly 400,000-square-foot museum is the nation's largest and most comprehensive cultural destination devoted exclusively to exploring, documenting and showcasing the African American story and its impact on American and world history. For more information about the museum, visit nmaahc.si.edu, follow @NMAAHC on Twitter, Facebook, Instagram and Snapchat—or call Smithsonian information at (202) 633-1000.
# # #
SI-627-2017