Cooper Hewitt To Present Monographic Exhibition on Designer and Weaver Dorothy Liebes
"A Dark, A Light, A Bright: The Designs of Dorothy Liebes" On View July 7 Through Feb. 4, 2024
January 5, 2023
News Release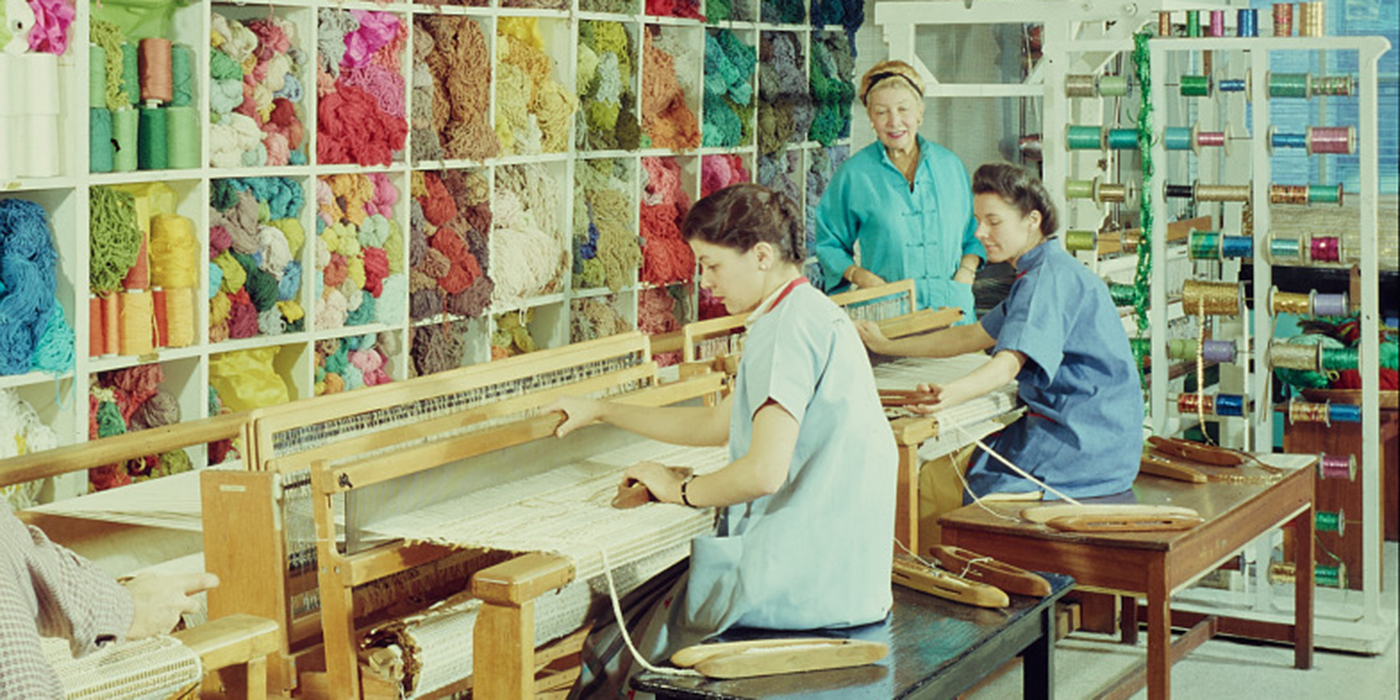 This summer, Cooper Hewitt, Smithsonian Design Museum will present the first monographic exhibition in more than 50 years on designer and weaver Dorothy Liebes (1897–1972). Among the most influential designers of the 20th century, Liebes shaped American tastes in areas from interiors and transportation to industrial design, fashion and film. On view July 7 through Feb. 4, 2024, "A Dark, A Light, A Bright: The Designs of Dorothy Liebes" will feature more than 125 works, including textiles, textile samples, fashion, furniture, documents and photographs.
"A Dark, A Light, A Bright: The Designs of Dorothy Liebes" is organized by Susan Brown, associate curator and acting head of textiles at Cooper Hewitt, and Alexa Griffith Winton, manager of content and curriculum at Cooper Hewitt.
"Through her experimental studio practice, Liebes pioneered a new role for the textile designer as a partner to industry," Brown said. "This exhibition will reveal the scope of her impact on the colors and textures of modern fashions and furnishings from the 1930s through the 1960s."
"Liebes had unparalleled influence on what modern design in American meant through her work as a designer, consultant, educator and mentor," Winton said. "We are thrilled to share the full spectrum of her achievements with new audiences and to add her contributions back into the history of 20th-century design."
From the 1930s through the 1960s, Liebes collaborated with some of the most prominent architects and designers of the time, including Frank Lloyd Wright, Henry Dreyfuss, Donald Deskey, Raymond Loewy and Samuel Marx, on commissions ranging from Doris Duke's Honolulu home Shangri-la to the United Nations Delegates' Dining Room. Fashion designers, including Pauline Trigère, Adrian and Bonnie Cashin, also used her fabrics, yielding some of the most distinctively American fashions of the mid-20th century. Her luxurious handwoven fabrics combined vivid color, lush textures, unexpected materials and a glint of metallic—a style that grew so prevalent it became known as the "Liebes Look." This exhibition's title is a nod to her recipe for creating a successful color scheme for the home or in fashion: "a dark, a light, a bright."
Despite widespread recognition during Liebes' lifetime, the impact of her long and productive career has been largely overlooked in contemporary scholarship. The Dorothy Liebes Papers at the Smithsonian's Archives of American Art—first digitized and published online in September 2021—reveal the scope of Liebes' collaborations with architects and industrial designers, her position as a respected design authority, her role as an international ambassador for modern textiles and her commitment to the experimental design practice that was the hallmark of the Dorothy Liebes Studio. 
Organized in five sections, "A Dark, A Light, A Bright" opens with an introduction to Liebes and important early works, including the prize-winning Schiaparelli panel for the 1937 Paris Exposition and objects related to the 1939 Golden Gate Exposition where Liebes formulated and articulated her vision for the role of handcraft in modern design. A five-minute documentary film, along with a wall graphic that maps key projects and professional achievements, illustrates the broad range of her collaborative work.
The next section, The Modern Interior, will feature examples of the handwoven fabrics that made Liebes a sought-after collaborator by architects and interior designers. Drapery panels such as a gold and leather design for Adrian's famed Hollywood salon and a 1947 looped fringe panel for Duke's Shangri-la showcase Liebes' distinctive approach to color, texture and reflectivity. Films that featured her glamorous textiles, like the Barbara Stanwyck nightclub noir Eastside, Westside (1947), effectively demonstrate the close interaction between textiles, movement and light. 
In The Liebes Look, projects like the First Class Observation Lounge aboard the SS United States and American Airlines flagship 747 reveal her business acumen in combining handwoven and power-loomed fabrics to create dramatic—and highly visible—public spaces within budget. The exhibition will also examine Liebes' contributions to interiors such as the Persian Room at the Plaza Hotel, the Marco Polo Club at the Waldorf Astoria and the Usonian Exhibition House, which were widely publicized at the time, but later subsumed under the names of the male architects who headlined the projects (Dreyfuss, Deskey and Wright, respectively). Examples of her collaborations with fashion designers Clare Potter and Cashin will be featured throughout the exhibition to explore the cross-fertilization of fashion and interior design. 
Liebes' commitment to making her designs accessible at a wide range of price points will be shown in the section Better and Better for Less and Less. On view will be consumer goods such as the 1957 Chrysler Plymouth Fury upholstery fabric and her line for United Wallpaper, Liebes Weaves. As a consultant to major U.S. brands like Lurex and DuPont Textile Fibers, Liebes shaped the development of synthetic materials in the post-war period and encouraged their acceptance by designers and consumers.  
The final section, The Idea Factory, will evoke the studio's atmosphere of creativity and experimentation and will feature Liebes' personal loom and a selection of her "Idea Fabrics"—handwoven samples where she explored new materials, color combinations and textures—from Cooper Hewitt's permanent collection. This section will also acknowledge the contributions of a diverse group of studio weavers whose talents were critical to Liebes' success. 
PUBLICATION
The exhibition is accompanied by the publication, A Dark, A Light, A Bright: The Designs of Dorothy Liebes, edited by Brown and Winton (Yale University Press in association with Cooper Hewitt, 2023).
ACKNOWLEDGMENTS
Exhibition and graphic design by Isometric Studio. Book design by Estudio Herrera.
SUPPORT
"A Dark, A Light, A Bright: The Designs of Dorothy Liebes" is made possible with major support from The Coby Foundation, The Decorative Arts Trust, the Smithsonian American Women's History Initiative and the Terra Foundation for American Art.
Generous support is provided by the Lily Auchincloss Foundation.
This project received federal support from the Smithsonian Collections Care and Preservation Fund, administered by the National Collections Program and the Smithsonian Collections Advisory Committee. Support is also provided by Elizabeth Whelan, The Josef and Anni Albers Foundation, the Lenore G. Tawney Foundation, Mergentime Family Archive and the Samuel H. Kress Foundation, administered by the Foundation for Advancement in Conservation.
Additional support for the publication is provided by the Andrew Mellon Foundation Publications Fund and Furthermore: a program of the J.M. Kaplan Fund.
ABOUT COOPER HEWITT, SMITHSONIAN DESIGN MUSEUM
Cooper Hewitt is America's design museum. Inclusive, innovative and experimental, the museum's dynamic exhibitions, education programs, master's program, publications and online resources inspire, educate and empower people through design. An integral part of the Smithsonian Institution—the world's largest museum, education and research complex—Cooper Hewitt is located on New York City's Museum Mile in the historic, landmark Carnegie Mansion. Steward of one of the world's most diverse and comprehensive design collections—over 215,000 objects that range from an ancient Egyptian faience cup dating to about 1100 BC to contemporary 3D-printed objects and digital code—Cooper Hewitt welcomes everyone to discover the importance of design and its power to change the world. 
For more information, visit www.cooperhewitt.org or follow @cooperhewitt on Instagram, Facebook, Twitter and YouTube.
# # #
SI-418-2022