Cooper-Hewitt Launches "Get Set in Style" Facebook Application in Celebration of the "Set in Style: The Jewelry of Van Cleef & Arpels" Exhibition
June 8, 2011
News Release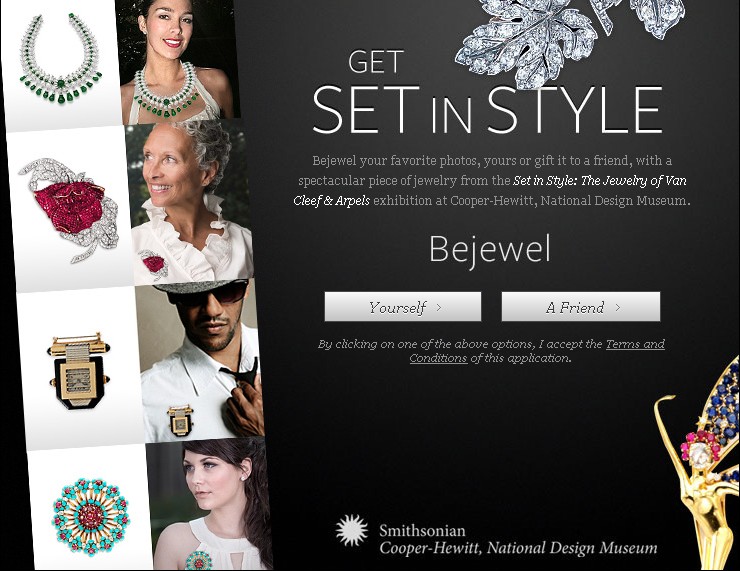 The Smithsonian's Cooper-Hewitt, National Design Museum today launched a Facebook application that allows users to virtually try on more than 25 objects from the "Set in Style: The Jewelry of Van Cleef & Arpels" exhibition, on view at the museum through July 4. Developed in collaboration with the digital agency Kettle, the "Get Set in Style" Facebook app is the first of its kind for the Smithsonian Institution.
"Cooper-Hewitt continually seeks new avenues to expand its community and fulfill its national mandate to raise awareness about design's important role in daily life," said Cooper-Hewitt Associate Director Caroline Baumann. "The 'Get Set in Style' app is a fun and innovative way for the museum to reach new audiences and spread the word about jewelry design."
By logging on to http://www.facebook.com/cooperhewitt, users can access the "Get Set in Style" app and choose to bejewel their own or a friend's photo with a work from the exhibition. Among the 28 works available in the app are necklaces, brooches, earrings and even a tiara worn by Her Serene Highness Princess Grace of Monaco. Once a photo and object have been selected, users can zoom in and out on the photo to ensure a perfect fit for the jewelry and share the final image with friends by posting to their Facebook newsfeed and wall. The app also features a "jewelry box," which stores any bejeweled image the user creates, and offers additional information about the exhibition objects.
As an incentive to further engage the user in the exhibition, Cooper-Hewitt has devised a badge system, where the user can collect "pins" by creating additional photos—one photo earns a pearl pin, three photos earn a sapphire pin and six photos earn a diamond pin.
"Set in Style: The Jewelry of Van Cleef & Arpels" is made possible by Van Cleef & Arpels.
Additional support is provided by Sofitel Luxury Hotels.
Media sponsorship is provided by New York magazine.
About "Set in Style: The Jewelry of Van Cleef & Arpels"
Since its opening on the Place Vendôme in Paris in 1906, Van Cleef & Arpels has played a leading role in style and design innovation. Its timeless pieces have been worn by style icons, including the Duchess of Windsor, Her Serene Highness Princess Grace of Monaco and Elizabeth Taylor. This exhibition explores the historical significance of the firm's contributions to jewelry design in the 20th century, including the establishment of Van Cleef & Arpels in New York with the advent of World War II. On view are more than 350 works, including jewels, timepieces, fashion accessories and objets d'art by Van Cleef & Arpels, many of which were created exclusively for the American market. The exhibition examines the work through the lenses of innovation, transformation, nature as inspiration, exoticism, fashion and personalities, and includes design drawings from the Van Cleef & Arpels archives.
About Kettle
Based in New York, Kettle is an award-winning boutique digital agency focused on digital product development, including user experience and interface design, art direction and technical production for Web and mobile apps. Kettle's clients include the Estée Lauder companies, LVMH, YouTube and many others.  
About the Smithsonian's Cooper-Hewitt, National Design Museum
Cooper-Hewitt is the only museum in the nation devoted exclusively to historic and contemporary design. Founded in 1897, the museum has been a branch of the Smithsonian since 1967. The museum presents compelling perspectives on the impact of design on daily life through active educational programs, exhibitions and publications.
The museum is located at 2 East 91st Street at Fifth Avenue in New York City. Hours are Monday through Thursday, 10 a.m. to 5 p.m.; Friday through Sunday, 10 a.m. to 6 p.m. The museum is closed on Thanksgiving Day and Christmas Day. Public transit routes include the 4, 5 and 6 subways (86th or 96th Street stations) and the Fifth and Madison Avenue buses. General admission, $15; senior citizens and students ages 12 and older, $10. Cooper-Hewitt and Smithsonian members and children younger than age 12 are admitted free. For further information, please call (212) 849-8400 or visit http://www.cooperhewitt.org. The museum is fully accessible.   
# # #
SI-230-2011