C.Maxx Stevens Exhibition Opens at Smithsonian's National Museum of the American Indian in New York Nov. 10
October 3, 2012
News Release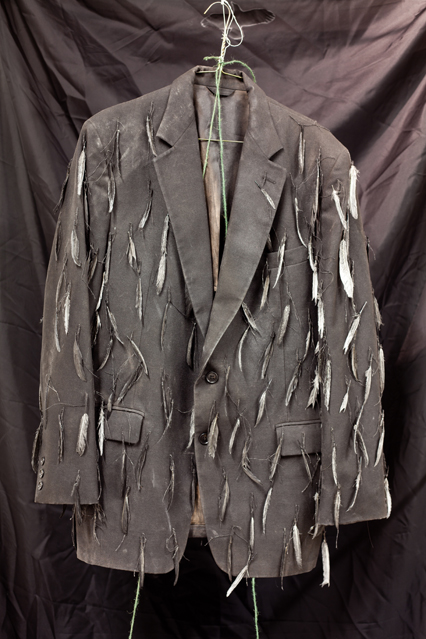 C.Maxx Stevens (Seminole/Muscogee Nation of Oklahoma) is a visual storyteller whose deeply personal, eclectic constructions tell stories about places and people from her past. "C.Maxx Stevens: House of Memory" features 19 works, including sculpture, installation and prints that address memory through cultural and personal symbols. Working with "found objects" and ephemeral materials such as used and discarded dollhouses, fragile and faded photographs, paper, horse hair, old clothing and detritus collected at junk shops and garage sales, her art has a dark, gritty quality that is both haunting and familiar. The exhibition opens Nov. 10 at the George Gustav Heye Center of the National Museum of the American Indian in New York City. It will continue through June 16, 2013.
Stevens' artwork continually references her relationship with her family, her childhood in a multitribal community in Plainview, Kan., and the formation of her artistic and cultural identity. "House of Memory" is a demonstration of her continuing process of rebuilding and, in some cases, reinventing her personal memories and illustrating the complexities of contemporary Native life.
"Stevens challenges mainstream thought about Native culture," said Kevin Gover (Pawnee), director of the National Museum of the American Indian. "Her work creates intimate environments—both physical and psychological to illustrate the Native experience."
"Stevens' work resonates with pathos and beauty, despite being assembled with used and forgotten materials," said Kathleen Ash-Milby (Navajo), exhibition curator.
Stevens' work was last shown in New York at the museum in 1998 when she participated in the renowned group exhibition, "Reservation X: The Power of Place in Aboriginal Contemporary Art" organized by the Canadian Museum of Civilization.
"We are delighted to welcome C.Maxx Stevens back," said John Haworth (Cherokee), director at the museum's New York location. "Her sculptures and installations present a unique and thought-provoking interpretation of issues of Native identity."
Stevens' recent solo exhibitions include "Last Supper" at the Museum of Contemporary Native Arts in Santa Fe, N.M. (2011); "Figures and Circles" at the C.N. Gorman Museum at the University of California, Davis, Calif. (2005); and "can't see the forest through the trees" Installation, Boise Art Museum, Boise, Mont. (2002). She has participated in various group exhibitions, including "50 Places Print Exhibition" at the Myers School of Art, University of Akron, and the Renaissance Gallery, North Dakota State University (2012); and "Animal Connection," Proyecto ´ace, Dialogue Space, Buenos Aires, Argentina (2009). She received her Bachelor of Fine Arts from Wichita State University (1979) and her Master of Fine Arts from Indiana University (1987). Stevens' received the 2010 Colorado Art Ranch Residency in Salida, Colo., and was honored with an Eiteljorg Fellowship for Native American Fine Art in 2005.
The artist will lead a discussion of her work Thursday, Nov. 8, at 6 p.m. in the museum's Diker Pavilion. The lecture is free. A free audio guide featuring additional commentary about the work by the artist will be included in the exhibition. The guide will also be available in the iTunes store, keyword: NMAI-NY.
The Smithsonian's National Museum of the American Indian has two locations—the George Gustav Heye Center in the Alexander Hamilton U.S. Custom House at One Bowling Green in New York City and on the National Mall in Washington, D.C. The museum is free and open every day (except Dec. 25) from 10 a.m. to 5 p.m., and Thursdays (in New York only) until 8 p.m. For information, visit www.americanindian.si.edu.
# # #
SI-435-2012