Ceramics Provide a View into the Dynamic Life and History of Seven Central American Countries
Exhibition Highlights a World-renowned Collection of Rarely Seen Objects
March 8, 2013
News Release
Addthis Share Tools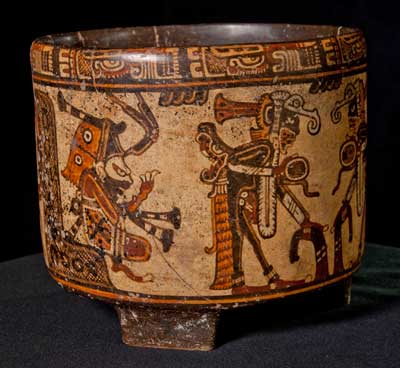 The Smithsonian's National Museum of the American Indian and the Smithsonian Latino Center in Washington, D.C., present "Cerámica de los Ancestros: Central America's Past Revealed," a new major bilingual exhibition opening March 29. This exhibition illuminates Central America's vibrant ancestral heritage. For thousands of years, Central America has been home to complex civilizations, each with unique, sophisticated ways of life, value systems and arts. The ceramics these diverse communities left behind, combined with recent archaeological discoveries, help tell the stories of these cultures and their achievements. The exhibition examines seven regions representing distinct Central American cultural areas that are today part of Belize, Costa Rica, El Salvador, Guatemala, Honduras, Nicaragua and Panama. The exhibition will be open through Feb. 1, 2015, in the third level W. Richard West Jr. Contemporary Arts Gallery.
"This is our first major exhibition that examines our remarkable Central American collection, which is world class based on its sheer size and the fact that these are whole and intact objects," said Kevin Gover (Pawnee), director of the Smithsonian's National Museum of the American Indian. "It also marks the first time that we have created a bilingual exhibition that will increase our scholarship and outreach to an entirely new audience."
"This exhibition is an invaluable opportunity to share an incredible Smithsonian collection with Washington's largest Latino population—los centroamericanos," said Latino Center Director Eduardo Díaz. "We are inviting them to discover their cultural legacy within the walls of the nation's museum."
Based on more than two years of research on the museum's Central American ceramics collections sponsored by the Smithsonian Latino Center, curator Ann McMullen and guest curator Alexander Villa Benitez of George Mason University have selected more than 160 objects from the museum's collection of more than 12,000 ceramic pieces from the region, augmenting this selection with significant examples of work in gold, jade, copper, marble, shell and stone. Together, these objects span the period from 1000 B.C. to the present and illustrate the richness, complexity and dynamic qualities of Central American civilizations that were connected to peoples in South America, Mesoamerica and the Caribbean through social and trade networks that shared knowledge, technology, artworks and systems of status and political organization.
The exhibition is accompanied by an interactive website that includes 3-D images of select objects and a landmark publication, Revealing Ancestral Central America edited by Rosemary A. Joyce, along with a bilingual children's activity book and family guide. A full schedule of educational and public programs will include a symposium in September 2013, featuring leading voices on the interpretation and recovery of the region's rich indigenous heritage, along with hands-on demonstrations, films, concerts and extended programming throughout the run of the exhibition.
"Cerámica de los Ancestros" represents a pioneering effort to promote a better understanding of the early lives of Central America's Native peoples and engage new Latino audiences, especially los centroamericanos, who predominate in the Latino community of the greater Washington, D.C., area and consider these civilizations as part of their national and cultural heritage.
For more information and program schedules, visit www.AmericanIndian.si.edu.
# # #
SI-83A-2013