Celebrate Persian New Year at the Freer and Sackler Galleries March 4
February 21, 2012
News Release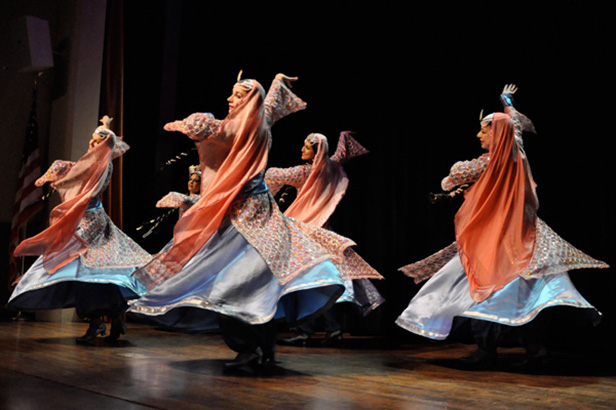 Visitors can dance, play and feast their way into the Persian New Year at the Smithsonian's Freer and Sackler galleries' fourth annual Nowruz celebration, Sunday, March 4, 11 a.m.–5 p.m. This year's program features free entertainment and activities for all ages as well as delicious traditional food, all centered around newly installed galleries devoted to the arts of ancient Iran.
Visitors can look forward to a new line-up of performers. Vocalist Monika Jalili brings to life cherished Iranian songs from the 1940s to the 1970s, along with beloved folk songs in Persian, Azeri and other Iranian languages. Jalili and her ensemble on violin, guitar, oud and percussion will perform in the Freer's Meyer Auditorium at 2 p.m. and 5 p.m. Dressed in colorful costumes, the Nomad Dancers will perform and teach traditional Persian danceat noon, 2 p.m., and 4 p.m.  
Other programs include "fire" jumping and a variety of hands-on activities, such as making paper-flower arrangements, greeting cards, crowns, masks and puppets; Nowruz memory photo booths provide an opportunity to capture the event; chess and backgammon offer an opportunity to challenge the masters; and a text-messaging scavenger hunt tests visitors' knowledge. Xanthe Gresham will retell stories from ancient Iran, and contemporary Persian dance beats by Radio Javan, along with traditional Persian food for sale from Moby Dick House of Kabob, and Shiraz Market, add more excitement to the day.
In celebration of the Arthur M. Sackler Gallery's 25th anniversary, "Feast Your Eyes: A Taste for Luxury in Ancient Iran," will be on view in the galleries between the two museums. The exhibition features the Freer and Sackler's extraordinary collection of luxury metalwork from ancient Iran. Considered one of the largest and finest holdings of its kind, the collection comprises works dating to the rule of the Achaemenid kings (550–330 BCE) to the early Islamic period.
"Nowruz: A Persian New Year" is made possible by a grant from Jahangir and Eleanor Amuzegar.
For more information, visit www.asia.si.edu/events.
Tickets
All activities are free with the exception of food sales. Free tickets are required for the Jalili concert-performance at 2 p.m. and 5 p.m. in the Meyer Auditorium. Up to four tickets per person can be reserved in advance through Ticketmaster beginning Monday, Feb. 20, at 10 a.m. A limited number of tickets will be distributed on the day of performance beginning at 1 p.m. and 4 p.m. before show time, on a first-come, first-served basis.
The Arthur M. Sackler Gallery, located at 1050 Independence Avenue S.W., and the adjacent Freer Gallery of Art, located at 12th Street and Independence Avenue S.W., are on the National Mall in Washington, D.C. Hours are 10 a.m. to 5:30 p.m. every day, except Dec. 25, and admission is free. The galleries are located near the Smithsonian Metrorail station on the Blue and Orange lines. For more information about the Freer and Sackler galleries and their exhibitions, programs and other public events, including other special programs to celebrate the 25th anniversary of the Sackler Gallery in 2012, visit asia.si.edu. For general Smithsonian information call (202) 633-1000.
# # #
SI-76A-2012