Celebrate American Indian Heritage Month at the Smithsonian's National Museum of the American Indian
October 15, 2012
News Release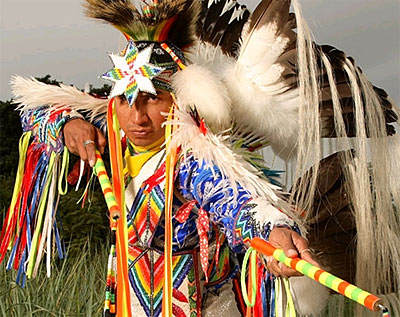 The Smithsonian's National Museum of the American Indian celebrates American Indian Heritage Month throughout November with a series of performances, lectures, exhibitions, family activities and tours at various museums. All programs are free unless otherwise indicated. For a full calendar of events, visit www.smithsonianeducation.org/heritage.
Feature Event
This event has been postponed due to travel complications posed by Hurricane Sandy. A rescheduled date will be announced soon.
The museum will present "Racist Stereotypes and Cultural Appropriation in American Sports," a series of panel discussions Thursday, Nov. 1, on the mythology and psychology of stereotypes in American sports. The symposium features commentators, scholars, authors and representatives from sports organizations, including the NCAA. Speakers will examine efforts to retire and revive "Native American" sports references and engage the public in a community conversation about the Washington, D.C., professional football team's name and logo. The symposium will take place in the museum's Rasmuson Theater from 10 a.m. to 5:45 p.m. This event will be available via live webcast here. For more information, visit www.AmericanIndian.si.edu/connect/symposia/.
Festivals
From Thursday, Nov. 15, through Saturday, Nov. 17, the museum will host the Muscogee (Creek) Nation to celebrate the tribe's history and heritage with a three-day festival. "Native Festival: Mvskoke Etvlwv" will feature daily performances, presentations and storytelling from members of the Muscogee Nation Honor Guard in honor of Veterans Day. The festival, which takes place from 10:30 a.m. to 4:30 p.m. in locations throughout the museum, will also include booths showcasing Muscogee arts and crafts, the Muscogee language, tribal cooking and Muscogee (Creek) Nation tribal programs and services. For more information on the Muscogee Nation, visit www.MuscogeeNation-nsn.gov/.
Performances
World Champion Fancy Dancer Larry Yazzie and the Native Pride Dancers will perform traditional Buffalo, Eagle and Round Dances Friday, Nov. 9, at 11:30 a.m. and 1:30 p.m. in the museum's Potomac Atrium. The performances will feature authentic regalia, rhythmic drumming and traditional songs from the Northern Plains tribes.
Films
The museum will screen the award-winning Native film Mesnak (2011, 96 min.) Friday, Nov. 2, as part of the museum's ongoing Dinner and a Movie series. The film follows a young actor searching for his Native history and culture on the desolate reserve community of Kinogamish. The screening will be followed by a Q&A with director Yves Sioui Durand (Huron-Wendot) and producer Ian Boyd. Cuisine from the museum's Mitsitam Cafe is available for purchase from 5 to 6:30 p.m. Seats in the Rasmuson Theater are limited, registration is available here.
Lectures
On Thursday, Nov. 15, from 10:30 a.m. to noon in the Rasmuson Theater, the museum presents "Nixon and the American Indian: The Movement to Self-Determination," a panel discussion that explores how President Richard M. Nixon dramatically changed the federal government's Native policy. Panelists include Kevin Gover, director of the National Museum of the American Indian; Reid Peyton Chambers, former U.S. Department of the Interior associate solicitor; Lee W. Huebner, Nixon White House department director of research and writing; Bobbie Kilberg, domestic council staff assistant; and Wallace Johnson, former assistant attorney general for Lands and Natural Resources. Co-sponsored with the Richard Nixon Foundation and the National Archives, this symposium will be available via live webcast here.
Family Activities
The museum will host Nancy Maryboy (Cherokee) and David Begay (Navajo) and their 16-foot-tall Skyscan dome for a unique exploration of the skies, Navajo-style. Visitors can learn about how Navajo constellations relate to hunting and planting cycles, ways of living in harmony with Mother Earth and Father Sky and how Navajo Coyote stories can speak to the origins of the universe. Updated museum locations and show times are available at here.
In celebration of Native American Heritage day, commemorative buttons will be given to all visitors Nov. 23 from 10 a.m. to 5:30 p.m. throughout the museum.
Tours
Every Friday from 12 to 1 p.m., visitors can go behind the scenes of the exhibition "A Song for the Horse Nation" with museum conservators and mount makers to learn about object preparation and exhibition practices. These tours meet in the "A Song for the Horse Nation" gallery located on the museum's third level.
The museum's Interpreter's Choice Tour takes place every Saturday at 3 p.m. Cultural Interpreters (Native docents) lead a 60-minute tour of their favorite museum highlights. Tours begin in the Potomac Atrium. The museum also offers a Highlights Tour daily at 1:30 p.m. The tour offers a general overview of the building and its landscape design, as well as the museum's history and current exhibitions. Visitors meet in the Potomac Atrium. Hands-on activities in the museum's imagiNATIONS Family Activity Center on the third level are offered every Saturday from 10:30 a.m. to 12:30 p.m.
Exhibitions
The National Museum of the American Indian's presents "Arctic Journeys/Ancient Memories: The Sculpture of Abraham Anghik Ruben," an exhibition featuring the art of the Inuvialuit artist that portrays exploration, migration and displacement through voyages across time and place, and into the spiritual realm. In these recent sculptures, Ruben contrasts the ancient lives of two northern peoples— Norse adventurers and Inuit (Inuvialuit) whale hunters—guiding us to a new perspective on the complex history of the North American Arctic, a history shaped by movement, contact and change. This exhibition is presented in conjunction with the 18th Inuit Studies Conference, Oct. 24–28, in Washington, D.C. "Arctic Journeys/Ancient Memories" runs through Jan. 2, 2013.
On view through Jan. 7, 2013, visitors can tour "A Song for the Horse Nation," an exhibition that presents the epic story of the horse's influence on American Indian tribes, beginning with the return of horses to the Western Hemisphere by Christopher Columbus to the present day. Through an array of 122 historic objects, artwork, photographs, songs and personal accounts, the exhibition traces how horses changed the lives of Native people: from the way they traveled, hunted and waged war to how they celebrated generosity, exhibited bravery and conducted ceremonies. It shows how horse trading among tribes was the conduit for the extensive spread of mustangs in the Plains and Plateau regions of the United States, as well as how horses became the inspiration for new artistic expressions and rich traditions that continue to this day. This critically acclaimed exhibition first opened at the museum's George Gustav Heye Center in New York Nov. 14, 2009, and was on display until July 10, 2011. The Washington version doubles its exhibition space to 9,500 square feet and features 15 new objects, including a hand-painted, 19th-century Sioux tipi depicting battle and horse raiding scenes. Other highlights include a life-size horse-mannequin in spectacular, fully beaded regalia and Geronimo's and Chief Joseph's rifles.
For more information on exhibitions and public programs, visit the museum's website at www.AmericanIndian.si.edu.
# # #
SI-457A-2012