Celebrate African American History Month With the Culinary Powerhouses That Inspire Sweet Home Café
February 8, 2018
News Release
Addthis Share Tools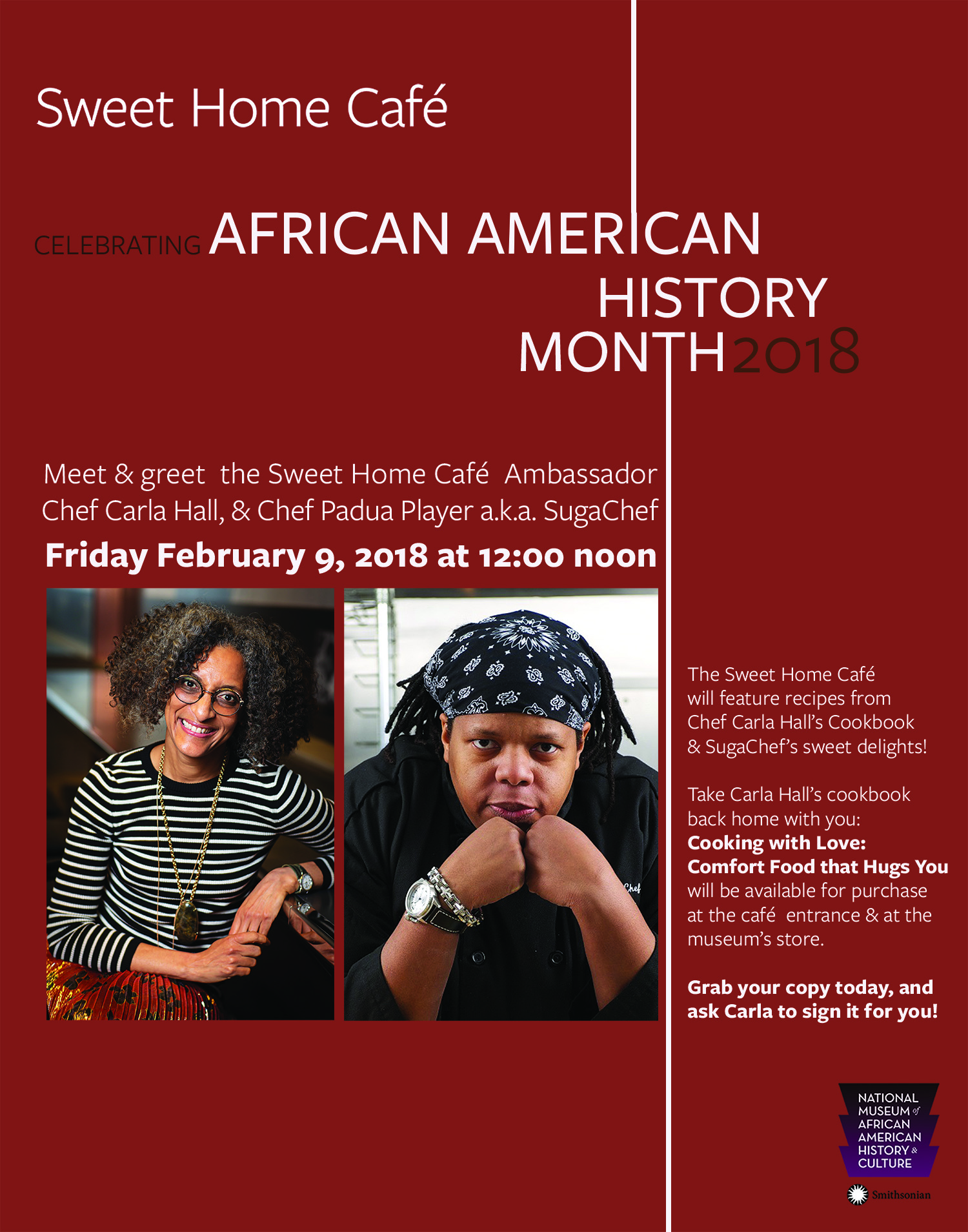 In celebration of African American History Month, Sweet Home Café at the Smithsonian's National Museum of African American History and Culture has created a special menu and will welcome special guest chefs throughout February. Carla Hall, the museum's culinary ambassador, headlines the cast of African American culinary powerhouses who will bring African American heritage to the museum's table this month.
From Zephyr Wrights' chili con queso with skillet cornbread to Leah Chase's stewed chicken in brown gravy, the special menu honors African American culinary legends seen in the museum's fourth-floor foodways exhibit. The menu is available throughout the month of February. Visitors can learn more about featured chefs and their recipes on the museum's blog. The museum's Sweet Home Café, a 2017 James Beard Award semifinalist, is a joint venture between Restaurant Associates and the Thompson Hospitality group.
In addition to the special menu, the museum will host programs with African American chefs for visitors inside the museum. On Friday, Feb. 9, from 11:30 a.m. to 3 p.m., renowned pastry chef "Suga Chef" Padua Player will join Hall for the first Sweet Home Café: Chef's Station—a special greeting event. Hall's cookbook, Cooking With Love: Comfort Food That Hugs You, will be available for sale and signing during the event, and the Chef's station will feature recipes from her cookbook.
For the second Sweet Home Café: Chef's Station, Chef Aaron Andrews and Chef Robert Rivera of Thompson Hospitality will share their passion for the culinary arts and answer diners' questions Friday, Feb. 16, from 11:30 a.m. to 3 p.m.
The last Sweet Home Café: Chef's Station will be held Friday, Feb. 23, from 11:30 a.m. to 3 p.m. Chef Rodney Frazer and Chef Susan Frankson of the Brownsville Community Culinary Center in Brooklyn, N.Y., will discuss how their program offers healthy, accessible cuisine in their neighborhood and trains and inspires emerging food-service industry workers.
A museum pass is required to enter Sweet Home Café. Visitors are encouraged to come to the museum on weekdays at 1 p.m. to obtain a same-day walk-up pass, get lunch at the café and stay for an afternoon at the museum. The museum's entry options are available at www.nmaahc.si.edu.
About the National Museum of African American History and Culture                 
The National Museum of African American History and Culture opened Sept. 24, 2016, on the National Mall in Washington, D.C. Occupying a prominent location next to the Washington Monument, the nearly 400,000-square-foot museum is the nation's largest and most comprehensive cultural destination devoted exclusively to exploring, documenting and showcasing the African American story and its impact on American and world history. For more information about the museum, visit nmaahc.si.edu, follow @NMAAHC on Twitter, Facebook, Instagram and Snapchat—or call Smithsonian information at (202) 633-1000.
# # #
SI-118-2018