Born to Be Wild 3D Opens at the National Museum of Natural History's Johnson Imax Theater April 8
April 5, 2011
News Release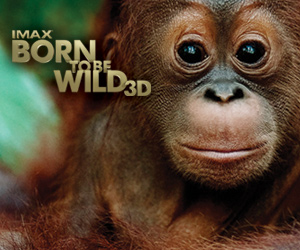 Smithsonian Theaters presents its newest giant-screen film, Born to Be Wild 3D, starting April 8 at the National Museum of Natural History's Johnson Imax Theater.
The film showcases the efforts of two extraordinary women who have dedicated their lives to the rescue, rehabilitation and ultimate release of orphaned elephants and orangutans into their native habitats in an uplifting story of second chances.
Dame Daphne Sheldrick has been caring for elephants whose mothers have been killed by ivory poachers in the Kenyan savannah for more than 50 years. She is the first human to successfully hand-rear young elephants and has successfully raised more than 82 of the young mammals.
Biruté Mary Galdikas is a primatologist who has spent more than 40 years studying and rearing young orangutans that were orphaned as a result of deforestation.
Both women, along with their teams of caregivers, act as surrogate parents to the young orphans, nurturing them as they develop into healthy adults. Once the animals reach an age where they can survive on their own, they are re-introduced into their natural habitats.
Narrated by Academy Award winner Morgan Freeman, the Born to Be Wild 3D is produced by Warner Bros. Pictures and Imax Corp.   
The 45-minute, G-rated film opens April 8 and will be shown several times daily through May 26. Individual tickets are now available for purchase and may be reserved up to two weeks in advance. Groups of 10 or more may reserve tickets now for any date during the film's run. The public may visit any Smithsonian Theaters box office, call toll-free (866) 868-7774, TTY (202) 633-8850 or visit www.si.edu/imax for information or to purchase tickets.
The Johnson Imax Theater is located on the first floor of the National Museum of Natural History at 10th Street and Constitution Avenue N.W. The theater's 90-by-60-foot screen is the largest in Washington, D.C.
# # #
SI-154-2011