Blowdarts, Stomp Dances and Gospel at the National Museum of the American Indian's Muscogee Creek Nation Festival
November 14, 2017
News Release
Addthis Share Tools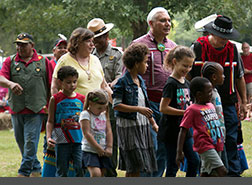 The Muscogee Creek Nation, located in Oklahoma, brings traditions old and new to the Smithsonian's National Museum of the American Indian, Nov. 16–18. The three-day event will celebrate the Muscogee Creek Nation's tribal history, heritage and culture with performances, music and other cultural demonstrations.
"This will be the third time we have a presence there," said Chief James R. Floyd of the Muscogee Creek Nation of Oklahoma. "It will be my first time to attend the Etvlwv Festival and to be a part, as principal chief, will be an experience. The purpose is to display all aspects of Mvskoke life, people and culture. The celebration of our past and present is the reason we are excited; it gives us a presence on the national stage for at least those three days to showcase to people all over the world."
The three-day festival will offer several interactive programs visitors, including stomp dances and blowdarts. The imagiNATIONS Activity Center will host a storyteller; tickets to the storytelling are required and will be available on a first come, first served basis. The celebration will also have a variety of musical performances, including flute playing, a live DJ and a Creek Hymnal singing.
The National Museum of the American Indian is committed to advancing knowledge and understanding of the Native cultures of the Western Hemisphere—past, present and future—through partnership with Native people and others. Located on the National Mall at Fourth Street and Independence Avenue S.W., the museum is open each day from 10 a.m. to 5:30 p.m. (closed Dec. 25). It is accessible from L'Enfant Plaza Metrorail station via the Maryland Avenue/Smithsonian Museums exit. Follow the museum via social media on Facebook, Twitter and Instagram. To learn more about the museum's mission, visit AmericanIndian.si.edu.
# # #
SI-648-2017