Bill's Design Talks 2012 Series Spotlights Leaders across the Design Industry
Opens with Tribute to the Late Eva Zeisel
January 24, 2012
News Release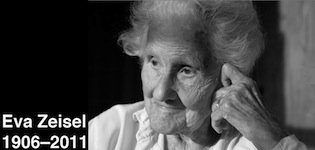 Bill's Design Talks, a vibrant conversation and presentation series moderated by Cooper-Hewitt director Bill Moggridge, resumes in February and continues through June at the Jerome L. Greene Performance Space at New York Public Radio.
"We want to bring the most interesting designers to our audience in the Greene Space and online to find out what they do, what they think and who they are," said Moggridge.
Among the featured guests in 2012 will be art critic Jed Perl, Robert Wong of Google Creative Lab, product designer Scott Wilson of Minimal and landscape architect Walter Hood. All programs will be webcast live at www.cooperhewitt.org/live, allowing viewers from across the world to learn from some of the brightest design minds in the industry. Bill's Design Talks series is made possible in part by the Adobe Foundation.
Jed Perl, art critic for The New Republic, will be the featured speaker in a program celebrating the late Eva Zeisel's life and legacy, Feb. 9 at 6:30 p.m. The 105-year-old designer who passed away in December 2011 had an extraordinary career, spanning nine decades and producing highly recognizable domestic items that changed the way Americans set their tables and furnished their homes. Designers James Klein and David Reid, who collaborated closely with Zeisel on a series of ceramics and prints, will also join the discussion.
Wong will speak about his work and life as Creative Director of Google Creative Lab in New York, Feb. 23 at 6:30 p.m. At Google Creative Lab, Wong leads a team that constantly finds new ways to communicate Google's innovations to end users.
Program Registration
All programs will be held at The Greene Space, 44 Charlton Street, New York. Advance registration is required at www.cooperhewitt.org/calendar. General admission, $17; senior citizens, $10. Cooper-Hewitt members and students are admitted free, with registration. Members of the press can RSVP to CooperHewittPress@si.edu. For further information, call (212) 849-8353.
About the Series
The Bill's Design Talks series began in spring 2010 and has featured Chad Hurley of YouTube, Michael Bierut of Pentagram, Michael Graves and Acumen Fund's Founder and CEO Jacqueline Novogratz, among others. To view previous webcasts from the Bill's Design Talks series, visit www.youtube.com/cooperhewitt.
About the Smithsonian's Cooper-Hewitt, National Design Museum
Founded in 1897, Cooper-Hewitt is the only museum in the nation devoted exclusively to historic and contemporary design. The museum presents compelling perspectives on the impact of design on daily life through active educational programs, exhibitions and publications.
Cooper-Hewitt's main facility, housed in the Carnegie Mansion, is undergoing renovation as part of a $64 million capital campaign that includes enlarged and enhanced facilities for exhibitions, collections display, education programming and the National Design Library, and an increased endowment. During the renovation, Cooper-Hewitt's usual schedule of exhibitions, education programs and events will be staged at various off-site locations, including the Enid and Lester Morse Historic Design Lecture Series at the University Club and the "Graphic Design: Now in Production" exhibition at Governors Island next summer.
# # #
SI-23-2012