"Become a Pilot" Day at Smithsonian's National Air and Space Museum Expected To Feature "Solar Impulse"
Prototype Aircraft Flies Day and Night Powered by Solar Power
May 31, 2013
News Release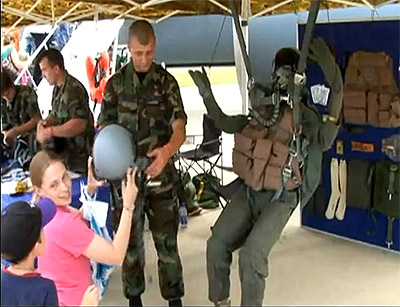 The "Become a Pilot" family day and aviation display, held annually at the National Air and Space Museum's Steven F. Udvar-Hazy Center in Chantilly, Va., is expected to feature a star attraction this year: Solar Impulse. The innovative aircraft, now on a pioneering tour—"Solar Impulse Across America"—is anticipated to land at nearby Washington Dulles International Airport in time to be on public display Saturday, June 15, the day of the event, and the following day, Sunday, June 16. Public viewing will be from 10 a.m. until 5:30 p.m. both days. Due to weather conditions, the aircraft's arrival may be delayed, but updates will be posted on the Solar Impulse's and museum's websites and through social media.
Founded in Switzerland by Bertrand Piccard, a psychiatrist, explorer and aeronaut who made the first non-stop around-the-world balloon flight, and André Borschberg, an engineer by education, entrepreneur and pilot, the Solar Impulse project focuses on flying without fuel by using renewable solar power to demonstrate the huge potential of clean technologies. The HB-SIA prototype airplane, which has the wingspan of a jumbo jet but is as light as a small car, is the first aircraft to fly day and night powered solely by the sun. It has set five world records, including a historical 26-hour non-stop flight. While it is on public display on the grounds of the Udvar-Hazy Center, members of the Solar Impulse team will be on hand to explain the aircraft and its technology.
In addition to Solar Impulse, visitors will also have the opportunity to explore more than 50 aircraft ranging from a newly restored DC-3 to powered parachutes. There will be gliders, sport-pilot qualified aircraft, vintage aircraft, helicopters and vintage cars paired by era with the airplanes. Pilots will be on hand to meet visitors and talk about how and why they fly. Other activities include:
•         Wing-walking demonstration       •    Hands-on activities
•         Kite demonstrations                  •    Book signings
•         Parachute packing                    •    Presentations
•         Tours                                     •    Story times
 The museum is inviting 15 of its social media followers to take part in a "Become a Pilot Social." The group will get the behind-the-scenes experience of watching aircraft arrive before the event opens to the public. Participants will meet pilots and museum experts and receive a guided tour. Registration is open from noon EDT Wednesday, May 29, to noon EDT Saturday, June 1. The official hashtag for the event is #PilotDay13. More information is available at http://becomeapilot.si.edu/social/.
The "Become a Pilot" family day is free and open to the public; parking is $15. The participation of visiting aircraft, including Solar Impulse, in this event is weather contingent. Should inclement weather prevent aircraft from taking part, family-day activities inside the center will still occur. More information, including a list of participating aircraft, is available at http://becomeapilot.si.edu/.
 This event is made possible by the support of the AFCEA, Booz Allen Hamilton and WTOP Radio with additional support from other sponsors.
The National Air and Space Museum building on the National Mall in Washington, D.C., is located at Sixth Street and Independence Avenue S.W. The museum's Steven F. Udvar-Hazy Center is located in Chantilly, Va., near Washington Dulles International Airport. Both facilities are open daily from 10 a.m. until 5:30 p.m. (closed Dec. 25). Admission is free, but there is a $15 fee for parking at the Udvar-Hazy Center.
# # #
SI-223-2013