Award-Winning Navajo Chef Freddie Bitsoie Joins the National Museum of the American Indian As Mitsitam's Executive Chef
Award-Winning Navajo Chef Freddie Bitsoie Joins the National Museum of the American Indian As Mitsitam's Executive Chef
October 31, 2016
News Release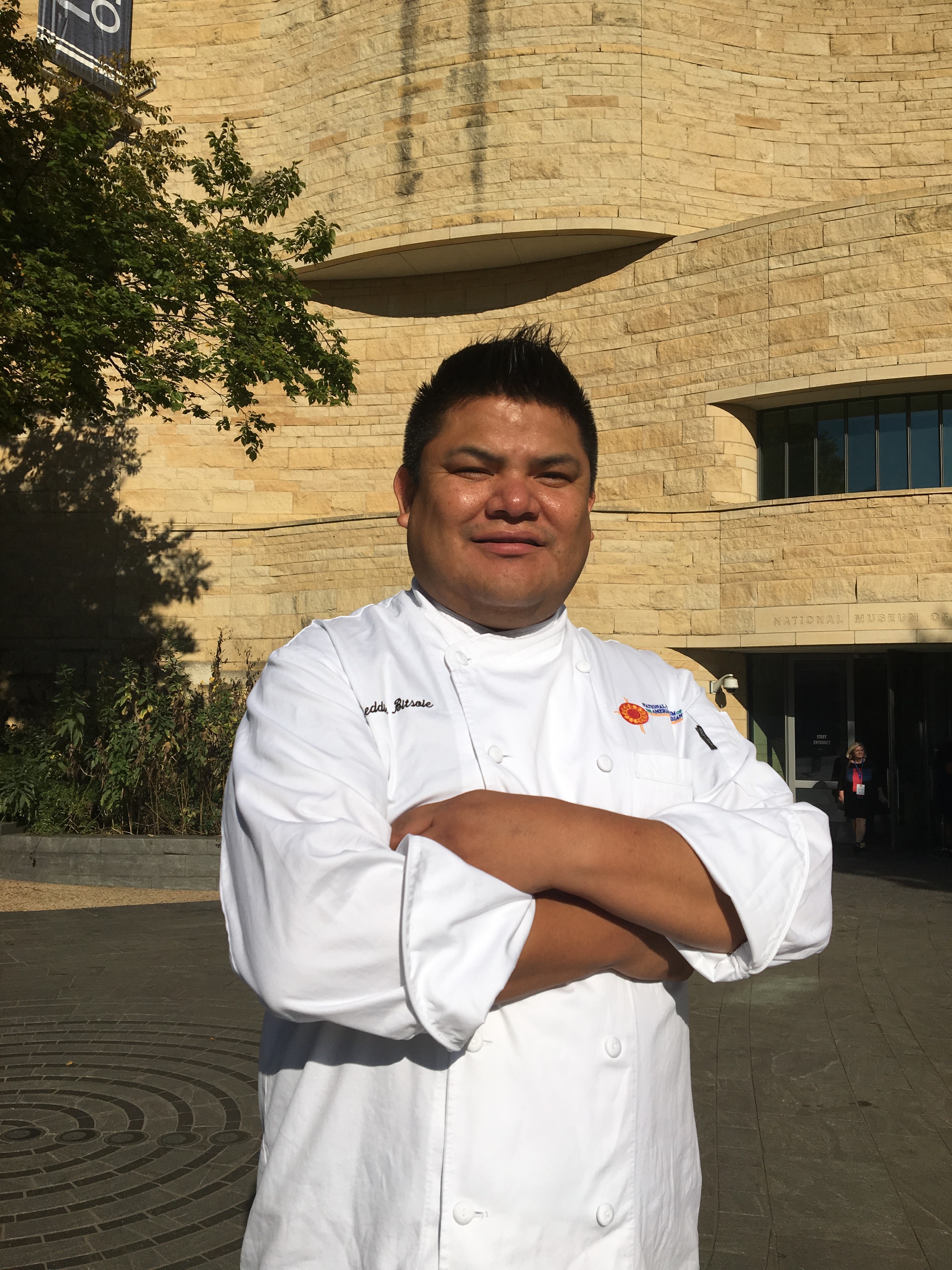 The Smithsonian National Museum of the American Indian welcomes award-winning chef Freddie Bitsoie (Navajo) as executive chef of Mitsitam Café. Bitsoie, who was previously executive chef at the Fire Rock Casino in Church Rock, N.M., comes to Mitsitam with 10 years of experience fusing his classical culinary training with knowledge of Native American foods and ingredients.
Among other honors and accolades, Bitsoie was the winner of the museum's Living Earth Festival Native Chef Cooking Competition in 2013, and he was named "a rising star in the constellation of young chefs" by Native Peoples magazine in 2011. He was featured on an episode of PBS's Lidia Celebrates America and is working on his own show, Rezervations Not Required, which will highlight indigenous cuisines of the world.
In addition to his culinary training, Bitsoie has a background in cultural anthropology and art history. "In college, my professor pointed out that every paper I wrote was related to food. One day, I looked around my kitchen and asked myself, how many people my age have a fully stocked kitchen and an empty living room? That's when I left school to get some cooking experience, and I spent that next year making the best $8 of my life learning to be a chef."
For him, foods are carriers of ancestral knowledge that show the bounty of tribal homelands and reflect the history Native Americans have been through, from the mixing of ingredients that happened as part of voluntary trade to the restrictions faced because of forced migration and other policies. The question he always asks himself to stay honest in his cooking is "how can my grandmother relate to this dish?" This fall, his answer includes Northern Atlantic clam soup with sunchokes and leeks, the ancestral version of New England's beloved clam chowder; roasted beets with seaweed, inspired by the Pacific Northwest; and a Mesoamerican bean soup with green chilies.  
For more details about the museum, visit AmericanIndian.si.edu. Follow the museum via social media on Facebook, its Twitter accounts for Washington and New York and Instagram.
# # #
SI-567-2016