Author Judy Blume Receives the 2011 John P. McGovern Award
November 14, 2011
News Release
Addthis Share Tools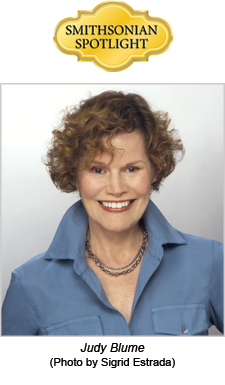 The Smithsonian Associates announces author Judy Blume as the recipient of the 2011 John P. McGovern Award for behavioral sciences. Blume will reflect on her career and discuss today's children and the challenges of the American family, as seen through the lens of her work, with NPR arts correspondent Lynn Neary, Monday, Nov. 28, at 7 p.m. in the Smithsonian's S. Dillon Ripley Center (1100 Jefferson Drive S.W.).
Since the publication of her first book, The One in the Middle Is the Green Kangaroo, in 1969, Blume has become one of the most popular writers of fiction for children and young adults. In books such as Are You There God? It's Me Margaret, Blubber and Just as Long as We're Together her characters grapple with real-life issues, difficulties and emotions relating to growing up and coming of age. A longtime champion of children's education and advocate of intellectual freedom, Blume is founder of The Kids Fund, a charitable and education foundation. She serves on the boards of several literary organizations, including the Author's Guild and the Society of Children's Book Writers and Illustrators. She has also worked with the National Coalition Against Censorship to protect the freedom to read.
Blume and Neary's discussion is highlighted by the presentation of the John P. McGovern Award in recognition of Blume's contributions toward supporting children and the American family. The prize and medal come from an endowment by the late John P. McGovern, a world-renowned allergist and humanitarian, who made a gift to the Smithsonian for this purpose in 1988. Past recipients include James P. Comer, Joan Ganz Cooney, Andre M. Weil, Eric Carle, Alvin F. Poussaint and Marian Wright Edelman.
Tickets for the presentation are $23 for general admission and $18 for Associate members. For tickets and further information, call (202) 633-3030 or visit www.smithsonianassociates.org.
# # #
SI-494-2011