Artistry and Ecology Collide in New Site-Specific Installation at Smithsonian's Sackler Gallery
Rina Banerjee's Enticing "A world Lost" Debuts July 13
June 17, 2013
News Release
Addthis Share Tools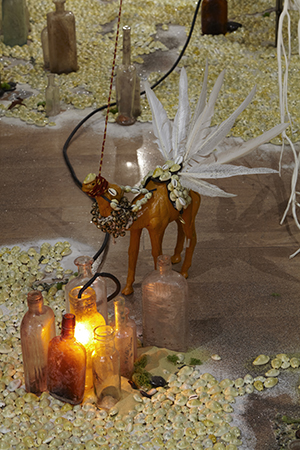 Indian artist Rina Banerjee's latest installation, created specifically for the pavilion of the Smithsonian's Arthur M. Sackler Gallery, takes major Asian river systems as the inspiration for an intricately fabricated world of collected objects that is both fanciful and sinister. On view July 13–June 8, 2014, the installation is part of the Sackler's contemporary art series, "Perspectives." Visitors are invited to view the artist at work July 9–12, in advance of the opening.
Beneath a large suspended dome and an "origin plateau" of black horns, rivers of glass bottles will descend and snake across the pavilion floor. Through this geography, Banerjee reimagines major rivers such as the Yangtze and Ganges to evoke their power to both give life and destroy it.  Incorporating signature elements of her work—rich fabric, shells, bones, glass vials and plastic objects—she invites the viewer into a glistening and tactile environment, where sharp edges and fragile materials suggest foreboding.
The work's provocative full title—"A world Lost: after the original island fractured, after populations migrated, after pollution revealed itself, after corals exterminated, after water evaporated, after animals dissipated…after Columbus found it"—encourages visitors to contemplate the global movement of people and goods, and the environmental losses and cultural changes that result.
"Banerjee weaves a fairytale encounter with a place at once playful, dangerous and endangered—like the river itself," said Carol Huh, assistant curator of contemporary Asian art at the Freer Gallery of Art and Arthur M. Sackler Gallery. "Her work is rich in associations, from the traveler's desire to collect strange and wondrous objects, to the environmental issues that impact society today."
Accompanying public programs will include gallery talks with Banerjee and Huh, as well as "Fabricating Fantasies from Throwaways," an ImaginAsia workshop for kids and families.
Born in 1963 in Kolkata, India, Banerjee is currently based in New York City. With academic degrees in polymer science and fine arts, she pays particular attention in her work to both organic and fabricated materials, such as hand-dyed feathers, home-grown banana leaves, trinkets from tourist markets, decorative housewares and Indian textiles. Her sculptures and installations have been widely exhibited, including at the Whitney Museum of American Art, Australia's Queensland Art Gallery and the Musée Guimet in Paris. Banerjee's work is also on view through Nov. 24 in "Glasstress 2013" in Venice, a collateral event to the 55th Venice Biennale.
"Perspectives: Rina Banerjee" is organized by the Freer|Sackler as part of the "Perspectives" exhibition series that began in 2003 and has presented works by internationally recognized contemporary artists, such as Ai Weiwei, Yayoi Kusama, Do-ho Suh, Anish Kapoor, Hiroshi Sugimoto, Simryn Gill, Cai Guo Qiang and Y.Z. Kami.
The Arthur M. Sackler Gallery, located at 1050 Independence Avenue S.W., and the adjacent Freer Gallery of Art, located at 12th Street and Independence Avenue S.W., are on the National Mall in Washington, D.C. Hours are 10 a.m. to 5:30 p.m. every day (closed Dec. 25), and admission is free. The galleries are located near the Smithsonian Metrorail station on the Blue and Orange lines. For more information about the Freer and Sackler galleries and their exhibitions, programs and other events, the public may visit www.asia.si.edu. For general Smithsonian information, the public may call (202) 633-1000.
# # #
SI-232-2013