Archives of American Art Marks Kraushaar Galleries' 125th Anniversary
August 27, 2010
News Release
Addthis Share Tools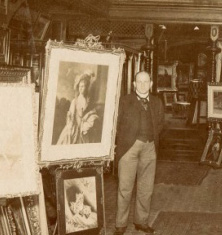 This September, Kraushaar Galleries, a leading dealer in American art of the first half of the 20th century, will celebrate its 125th year, a record of longevity that dates back to the 19th century and is shared by only three other New York galleries. Concurrent with this celebration year, the Archives of American Art will open "Kraushaar Galleries, Celebrating 125 Years."Curated by Betsy Fahlman, this exhibition contains original letters, invoices, ledgers and other archival material culled from the voluminous gallery records held at the Archives. The exhibition will be on display Sept. 7–Dec. 7 in the Archives' New York Research Center located on the lobby level of the UBS building at 1285 Avenue of the Americas. It is open to the public from 9:30 a.m. to 5 p.m. Monday through Friday. Admission is free.
 "The Archives of American Art is delighted to join Kraushaar Galleries in celebrating this landmark anniversary," said John Smith, director of the Archives. "Since the initial donation of the galleries' records to the Archives in 1959, they have been a rich and important resource for scholars, and this exhibition will reveal how influential the gallery has been in shaping the landscape of American art."
"The life of the Kraushaar Galleries has spanned revolutions in politics and art, the emergence of American painting in international awareness and an expanding interest in art of many different forms and media," said Carole M. Pesner, co-director of Kraushaar Galleries.
The Smithsonian's Archives of American Art is the world's pre-eminent resource dedicated to collecting and preserving the papers and primary records of the visual arts in America. A finding aid for the Kraushaar Galleries records, 1885–1968 (held by the Archives) is available at www.aaa.si.edu/collections/findingaids/kraugall.htm.
# # #
SI-376-2010