Archives of American Art Contributes Photo Collection to Wikimedia Commons
October 5, 2011
News Release
Addthis Share Tools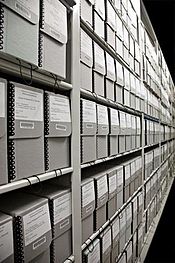 The Archives of American Art has contributed 285 digitized photographs from the Federal Art Project's Photographic Division Collection to Wikimedia Commons. Most of the photographs date between 1935 and 1942, the active years of the Federal Art Project, which was part of the Work Progress Administration's Federal Project Number One. Digitized images from the Federal Art Project's Photographic Division Collection have been made previously available on the Archives' website, but this is the first time that high-resolution scans have been made available for unrestricted use by the public.
"We welcome this opportunity to contribute a collection of free-use images to one of the world's most popular websites," said Liza Kirwin, acting director of the Archives. "By placing these images in the Wikimedia Commons we hope to foster online learning and discovery and to promote an open exchange of ideas about the history of American art. We are delighted to be the Smithsonian's first contributor to Wikimedia."
Sarah Stierch, who served as the Archives' Wikipedian in Residence this summer, said that she "hopes that this contribution from the Archives will be the first of many from the Smithsonian."
The WPA was established in May 1935 as a work-relief program for the millions of individuals left unemployed during the Depression. Under the Federal Art Project, separate photographic divisions were set up in several states, most notably in New York City. In addition to documenting the work and activities of artists employed on the program, photographers documented the activities of other projects under Federal Project Number One, including the Federal Theater and Music Projects. Photographers also worked on creative assignments for exhibitions, photo murals, etc.
Wikimedia Commons is a media file repository making available public domain and freely licensed educational content for unrestricted use. It acts as a common repository for various projects of the Wikimedia Foundation, including its collaboratively edited encyclopedia, www.wikipedia.org. The Smithsonian's Archives of American Art is the world's pre-eminent resource dedicated to collecting and preserving the papers and primary records of the visual arts in America. For more information, visit the Archives website at www.aaa.si.edu.
# # #
SI-424-2011