Archives of American Art Celebrates the Holiday Season with Handmade Cards
November 21, 2013
News Release
Addthis Share Tools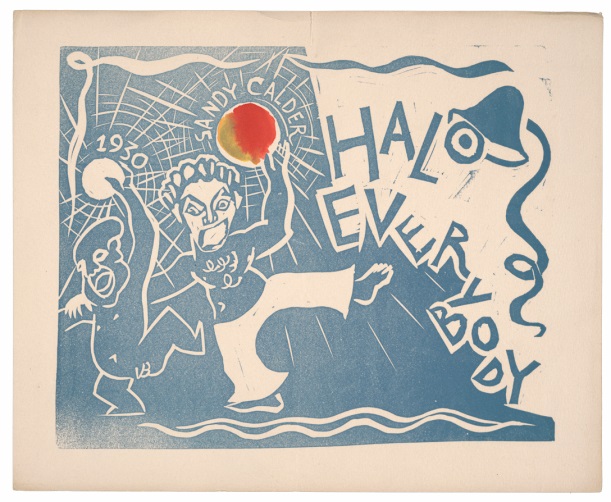 As the holiday season gets underway, the Smithsonian's Archives of American Art will present a private look into the personal holiday correspondence that renowned American artists have sent to friends, family and associates. "Handmade Holiday Cards from the Archives of American Art," which will be on view Nov. 27 to Jan. 5, 2014, will feature 60 one-of-a-kind cards in the Lawrence A. Fleischman Gallery at the Smithsonian's Donald W. Reynolds Center for American Art and Portraiture.
The Archives' collections contain hundreds of handmade holiday cards. These small-scale artworks are as diverse as American art itself, spanning several decades and numerous styles and movements.
The cards include a broad range of singular artworks or limited-edition print series by artists such as Josef Albers, Milton Avery, Alexander Calder, Helen Frankenthaler, Robert Indiana, John Lennon and Yoko Ono, Robert Motherwell and Ad Reinhardt. From whimsical watercolors and quirky collages, to cheerful prints and drawings, the cards confirm the irrepressible artistry of their senders and evoke the gift-giving spirit of the holiday season.
"This exhibition is a visual feast for art lovers and craft enthusiasts alike, and we hope this collection serves to inspire visitors as they create their own season's greetings this year," said Kate Haw, director of the Archives of American Art.
On Dec. 1, from 1 to 5 p.m. in the Donald W. Reynolds Center's multipurpose room, the Archives will give visitors the chance to create holiday cards. Artist Ed Bisese, who makes his annual holiday card, will describe his process and then guide participants in creating mail-ready works of art. This event is free and open to the public. Space is limited and first-come, first-served.
A fully illustrated book by Curator of Manuscripts Mary Savig, Handmade Holiday Cards from 20th-Century Artists, accompanies the exhibition. The book explores and contextualizes the role of holiday cards in American culture and the lives of the card makers and recipients. Also included in the book is a removable, limited-edition holiday card designed by craft expert Faythe Levine. The book can be purchased in the Smithsonian American Art Museum bookstore (hardcover, $24.95).
About the Archives of American Art
The Archives of American Art is the world's pre-eminent resource dedicated to collecting and preserving the papers and primary records of the visual arts in America. The collection includes 20 million personal papers, photos, sketchbooks, diaries and films and audio recordings of artists, dealers, collectors and curators from the 19th century to the present. The Archives has been a leader in implementing new technologies to provide wider access of these valuable documents around the world.  
The Smithsonian's Donald W. Reynolds Center for American Art and Portraiture is located at Eighth and F streets N.W. in Washington, D.C., and is open daily from 11:30 a.m. to 7 p.m. For more information, visit the Archives website.
# # #
SI-468A-2013