"AirCraft: The Jet as Art" Opens at the Smithsonian's National Air and Space Museum
November 2, 2011
News Release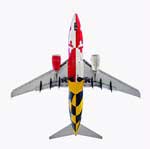 "AirCraft: The Jet as Art" opens at the National Air and Space Museum Nov. 25 and will be on display for one year. The exhibition will feature 33 super-sized photographic archival-pigment prints that transform aviation technology into fine art.
A photographer and pilot, Jeffrey Milstein captures speeding aircraft as they are about to land and creates crisp images that highlight the design, color and symmetry of his subjects. Milstein uses photographic post-processing techniques and neutral backgrounds to focus attention on the elegance, colors and form of each aircraft. The aircraft with their spread wings evoke the human form or that of birds or insects.
"Milstein's photographs of frozen moments evoke speed, technology and the excitement of flight," said Carolyn Russo, curator of the exhibition. "The enormity of the images seems to pull you into the air, as though you are going along for the ride. Collectively, Milstein's jets are a photographic typology and part of an important trend in contemporary photography."
Jeffrey Milstein will be in the gallery from 1 to 4 p.m. Friday, Nov. 25, signing the AirCraft: the Jet as Art book published by Harry N. Abrams.
The National Air and Space Museum building on the National Mall in Washington, D.C., is located at Sixth Street and Independence Avenue S.W. The museum's Steven F. Udvar-Hazy Center is located in Chantilly, Va., near Washington Dulles International Airport. Both facilities are open daily from 10 a.m. until 5:30 p.m. (closed Dec. 25). Admission is free, but there is a $15 fee for parking at the Udvar-Hazy Center.
# # #
SI-479-2011