Abraham Lincoln's Legacy Explored in Free Smithsonian Film Series This December
National Museum of the American Indian Offers Daily Film Screenings about Lincoln's Influence on Indian Country
November 28, 2012
News Release
Addthis Share Tools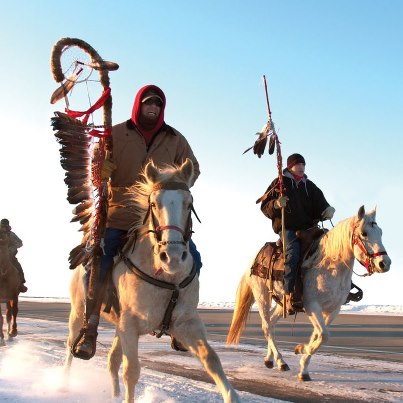 To commemorate the sesquicentennial of the Civil War, the Smithsonian's National Museum of the American Indian in Washington, D.C., will launch a monthlong film series this December, "Lincoln's Indian Legacy." Throughout the month, two documentary films exploring President Abraham Lincoln's policies toward Native American communities will screen daily (except Wednesdays) in the museum's Rasmuson Theater.
The 12:30 p.m. daily screening, Canes of Power (2012, 52 min., USA), offers a glimpse into the connection forged between Lincoln, the U.S. government and the Native American Pueblos of New Mexico. Directed by Pam Pierce and Nick Durrie, the film begins in 1864, when Lincoln presented silver-headed canes to each of New Mexico's 19 Pueblos as enduring symbols of sovereignty. Today these canes remain potent symbols of continuing sovereignty. This film offers a glimpse into the connection between Lincoln and the Pueblos, and the authority the Lincoln Canes continue to hold.
The 3:30 p.m. daily screening, Dakota 38 (2011, 68 min., USA), follows Jim Miller, a Native spiritual leader and Vietnam veteran, and a group of fellow riders as they retrace the 330-mile route from Lower Brule, S.D., to Mankato, Minn., the site of the largest mass execution in U.S. history, ordered by Lincoln Dec. 26, 1862, when 38 Dakota people were hanged.
On Sunday, Dec. 16, Silas Hagerty, the director of Dakota 38, along with two of the film's participants, Miller and Alberta Iron Cloud, will lead a Q&A session with the audience following the 3:30 p.m. screening. All programs are free and open to the public. Check the museum's calendar at www.AmericanIndian.si.edu for updates. The Rasmuson Theater is closed on Wednesdays.
# # #
SI-523-2012