2013 Smithsonian Folklife Festival Seeks Volunteers
May 9, 2013
News Release
Addthis Share Tools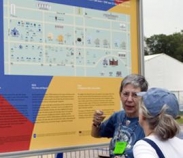 The Smithsonian Center for Folklife and Cultural Heritage needs capable and enthusiastic volunteers before, during and after the annual Smithsonian Folklife Festival, which will be held on the National Mall Wednesday, June 26, through Sunday, June 30, and Wednesday, July 3, through Sunday, July 7.
The "Hungarian Heritage: Roots to Revival" program will feature more than 100 participants from this 1,000-year-old country. Artists, dancers, craftspeople and cooks will share and celebrate the customs and traditions from every part of the country, giving visitors the opportunity to experience the rich and authentic traditions of the Magyars, the primary ethnic group of Hungary.
Volunteers supporting "One World, Many Voices: Endangered Languages and Cultural Heritage" will help the program's musicians, storytellers, singers, dancers, poets, culinary experts and craftspeople share how language embodies cultural knowledge, identity, values, technologies and arts with Festival visitors.
The "The Will to Adorn: African American Diversity, Style, and Identity" program examines the history and culture of the aesthetics of African Americans. Certified American Sign Language interpreters and people who speak Russian, Spanish and Hungarian are especially needed. More information on all the volunteer opportunities and an application are available at www.festival.si.edu or contact Becky Squire, volunteer coordinator, at CFCH-Volunteer@si.edu or (202) 633-6480.
# # #
SI-183-2013