Three-Day Festival Celebrates the Museum's Grand Opening
"Freedom Sounds: A Community Celebration"
September 16, 2016
News Release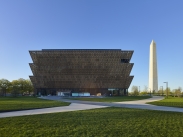 "Freedom Sounds: A Community Celebration," a free three-day festival, will mark the opening of the Smithsonian's National Museum of African American History and Culture Friday, Sept. 23, through Sunday, Sept. 25. Daily programming on Friday and Sunday will run 12–5 p.m., highlighting music traditions such as jazz, R&B, gospel, folk, classical, New Orleans brass band, Afro-Latin jazz and hip-hop. Programming on Saturday will begin at 1 p.m. Each day has a theme: Friday is "Homecoming," Saturday is "Celebration" and Sunday is "Call and Response."
"The themes of the festival highlight the social power of African American music as a communicator of cultural values, challenges, aspirations and creative expression," said Mark Puryear, a Smithsonian Folklife Festival program curator and co-curator of the festival.
The festival's activities will include music and dance performances, spoken word, oral-history activities and two evening concerts. A drum circle, storytelling, interactive workshops and a mural wall by artist Cey Adams offer opportunities to explore and celebrate the museum's rich content and stories.
For a complete schedule of events, visit http://www.folklife.si.edu/freedom-sounds/smithsonian.
Evening Concerts
Evening concerts will be presented 6–9 p.m. Saturday, Sept. 24, and Sunday, Sept. 25. There is no evening concert Friday, Sept. 23.
The Saturday-evening concert lineup features:
Living Colour
Public Enemy
The Roots
The Sunday-evening concert includes:
Experience Unlimited (EU)
Meshell Ndegeocello
Angelique Kidjo
Festival Participants
Other festival participants include the Stax Music Academy, Len Chandler, Josh White Jr., Dom Flemons, Rising Star Fife and Drum Band, Preservation Hall Jazz Band, the Original Liberty Jazz Band, Medoune Gueye, Jean Carne, the McIntosh County Shouters, Bobi Cespedes, Paito y los Gaiteros de Punta Brava, Morgan State University Choir, the Dixie Hummingbirds, the Freedom Singers, Sonia Sanchez, Robert Randolph, Sweet Honey in the Rock, 9th Wonder, Stanley Clarke, Louise Toppin, the National Hand Dance Association, the National Association of Black Storytellers Inc. and Urban Artistry.
Food Concessions
Southern BBQ and Soul Food
Gulf Coast Kitchen Po' Boys and More
Kenyan Curries and Caribbean Jerk
"Freedom Sounds" will be located on the Washington Monument grounds between 15th Street, N.W. directly across from the National Museum of African American History and Culture and 17th Street N.W. The site entrances are at 17th Street and Constitution Avenue N.W. and 17th Street S.W. near Independence Avenue (visible from the World War II Memorial). The public will be required to go through bag checks to enter the festival grounds. On Saturday, access to select areas of the festival grounds will require magnetometer screening. Accessibility and special services such as ASL-interpretation and large-print copies of the daily schedule will be available at locations throughout the site. For more information on road closures, visit nmaahc.si.edu/visit/faq. The festival site includes a large performance stage, smaller multi-use stages, a drum circle, a social-media tent and food and refreshment concessions.
"Freedom Sounds: A Community Celebration" is coproduced by the Smithsonian Folklife Festival. Sponsors include Bank of America, Kaiser, Prudential, Target and Toyota, who provided funding for the grand-opening weekend. Special program support is provided by the Embassy of Colombia in Washington, D.C., and the Embassy of the United States in Colombia. 
# # #
NOTE TO EDITORS: Media covering the festival must check in at the Media tent and pick up credentials. The Media tent is located closest to the 17th Street and Constitution Avenue N.W. entrance. It will open each day one hour before the opening of the festival. For evening concerts, media must check in by 9 p.m.
SI-438A-2016