10 Native American Artists Challenge Boundaries of Tradition at National Museum of the American Indian's Heye Center
Contemporary Native Media Art Exhibition Opens November 2017 in New York City
August 8, 2017
News Release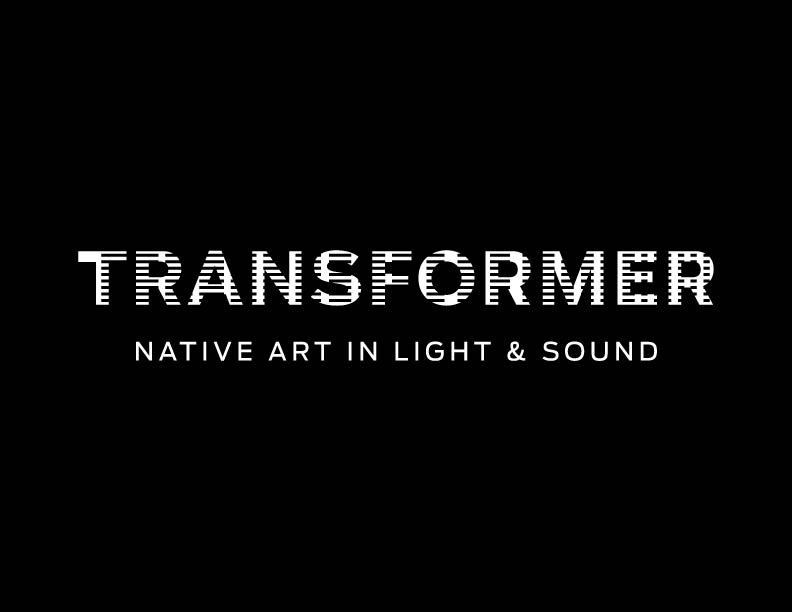 The works of "Transformer: Native Art in Light and Sound" are electric, both literally and figuratively, providing timely expressions of indigenous worldviews. Contemporary indigenous art often reflects tradition, but it is commonly misinterpreted to exist solely as part of the past. This exhibition demonstrates the continuing adaptability of tradition to find a place within today's society. "Transformer" features 10 artists and nine installations that employ a variety of media, including light, digital projection, innovative sound technology and more, to provide thought-provoking and unforgettable experiences composed for the digital age.
The exhibition will be open Friday, Nov. 10, through Jan. 6, 2019, in the East Gallery of the Smithsonian's National Museum of the American Indian, George Gustav Heye Center in New York. A press preview will take place Tuesday, Nov. 7, from 10 a.m. to noon. For more information or to attend, email NMAIPressOffice@si.edu.
The artists showcased in "Transformer" are Jordan Bennett (Mi'kmaq), Raven Chacon (Diné), Jon Corbett (Métis), Marcella Ernest (Ojibwe), Stephen Foster (Haida), Nicholas Galanin (Tlingit/Unangax̂ [Aleut]), Keli Mashburn (Osage), Kevin McKenzie (Cree Métis), Julie Nagam (Anishnawbe/Métis) and Marianne Nicolson (Kwakwa̱ka̱'wakw).
"Native artists are challenging long-held ideas about whether art can be both Native and contemporary," said Kevin Gover (Pawnee), director of the National Museum of the American Indian. "What speaks loudly in 'Transformer' is the idea that nontraditional media and modern form can be embraced by Native artists to build upon traditional indigenous expression. The artists don't lose touch with their heritage, yet they set the stage for future adaptation."
Each of the nine installations is independent of the other, alike only in their use of technology to convey narrative and belief. Chacon's "Still Life, #3" (2015) uses sound and light to tell the Diné creation story, while Bennett's "Aosamia'jij—Too Much Too Little" (2017) uses similar media to examine early 20th-century anthropological images of a Mi'kmaq member set against audio recordings of descendants and the soundscape of their community.
Works in video are prominent in "Transformer." Galanin's "Tsu Heidei Shugaxtutaan (We will again open this container of wisdom that has been left in our care), 1 and 2" (2006) is a two-part video featuring a non-Native contemporary dancer improvising a dance to a traditional Tlingit song, while the second half features a traditional Tlingit dancer performing a Raven dance to a soundtrack of electronic music. Nagam offers an immersive experience with video projections of a forest in "Our future is in the land: if we listen to it" (2017), an exploration of notions of interconnectedness. In "Ga.ni.tha" (2013) by Ernest, a filmmaker, and Mashburn, a photographer, a two-channel video highlights chaos and disorder as a source of power and purpose imaged through wildfire in the Oklahoma grasslands.
Video is also a component of the works by Corbett and Foster. Corbett uses a sophisticated software program in "Four Generations" (2015) to create four digital portraits using pixels in a spiral composition as a modern form of traditional bead art, also connoting indigenous concepts of time. In Foster's "Raven Brings the Light" (2011), a video projection with audio plays within a commercial nylon tent and mimics shadow play to reference the Haida story of how Raven brought daylight to the world.
Nicolson's "The Harbinger of Catastrophe" (2017) is composed of light shining through a glass box contoured to look like a traditional carved-and-painted bentwood box. As shadowed patterns rise and fall against the walls of the room around it, the work refers to the human race's tenuous relationship with the environment and vulnerability to global warming and floods. In "Father, Son, Holy Ghost" (2015) by McKenzie, three polyurethane bison skulls hang separately, each lined with hot pink neon; the work offers commentary on the co-existence of Christianity and tribal spirituality.
For more information about the works of "Transformer," consult the exhibition fact sheet.
Kathleen Ash-Milby (Diné), museum associate curator, and David Garneau (Métis), associate professor of visual arts at the University of Regina in Saskatchewan, Canada, are the co-curators of the exhibition. Essays authored by Ash-Milby and Garneau will accompany the exhibition in a free illustrated booklet, available onsite and digitally.
"Transformer: Native Art in Light and Sound" and related programming are made possible through the generous support of the members of the New York Board of Directors of the National Museum of the American Indian, Ameriprise Financial, and Con Edison.
Curator's Conversation
Visitors are invited to join an opening "Curator's Conversation," with Ash-Milby and Garneau, scheduled for Thursday, Nov. 9, at 6 p.m. Admission is free.
Special Installation
"Manifestipi" (2016) is a multimedia installation consisting of several futuristic tipis that communicate with each other through color, sound and light. A ghostly soundscape and video projection envelop the tipi structures, evoking the ever-intangible past, present and future. It is conceived by the ITWÉ Collective, a trans-disciplinary art collective dedicated to research, creation, production and education in the field of Aboriginal digital culture, based in Winnipeg and Montréal and composed of Sébastien Aubin (Cree/Métis), Kevin Lee Burton (Swampy Cree) and Caroline Monnet (Anishnabe/French). "Manifestipi" will be on view Saturday, Feb. 3, 2018, through Sunday, March 25, 2018, in the museum's Diker Pavilion for Native Arts and Cultures.
Tinker Labs
Inspired by the artists and artwork in "Transformer," visitors can explore the intersection of art, science and technology through hands-on, experimental activities in a tinkering and workshop environment. "Tinker Lab: Exploring Art + Technology" projects change each month and focus on a different artist and their work in the exhibition. The program begins in January 2018 and runs through June 2018 on the first and third Saturdays of the month. Admission is free, but an RSVP will be required; recommend for ages 9 and up. For exact dates and registration, visit http://nmai.si.edu/explore/education/.
The Smithsonian's National Museum of the American Indian
The National Museum of the American Indian, George Gustav Heye Center is located in the Alexander Hamilton U.S. Custom House at One Bowling Green in New York City. For additional information, including hours and directions, visit AmericanIndian.si.edu. Follow the museum via social media on Facebook, Twitter and Instagram.
# # #
SI-430A-2017