National Museum of the American Indian Repatriates Ancestral Remains to Four Indigenous Communities and Confederations in Ecuador
June 29, 2023
News Release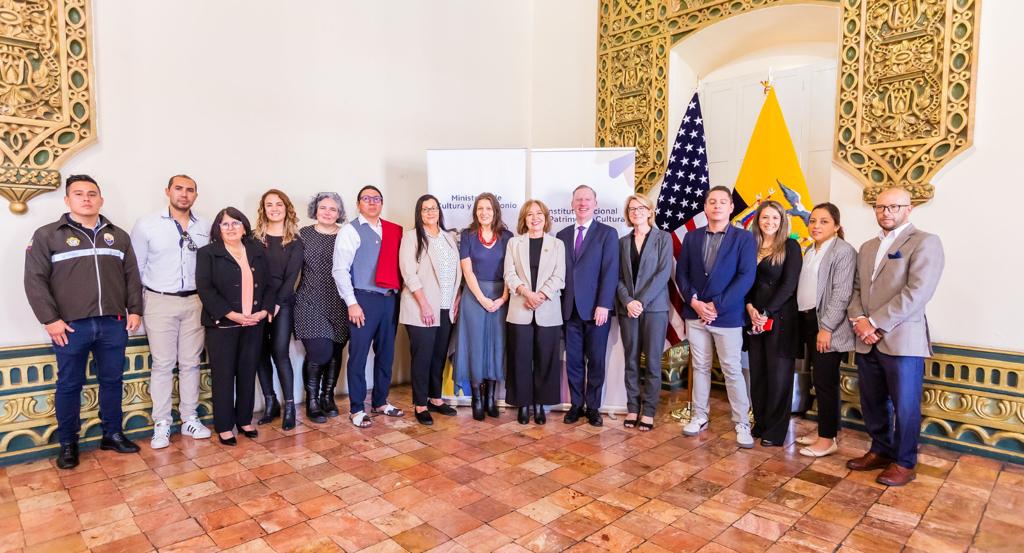 The Smithsonian's National Museum of the American Indian repatriated ancestral remains to Indigenous communities represented by the Confederation of Pueblo Kayambi in Pichincha Province, Federation of Chachi Centers in Esmeraldas and Comuna Sequita and Comuna Pepa de Huso in Manabí in Ecuador. The repatriation took place May 23 and 24.
The initial work for this repatriation began in 2015 and culminated in multiple community consultations and the signing of a memorandum of agreement between the museum and the Ministry of Culture and Heritage of Ecuador in 2019. The pandemic temporarily halted the planned repatriation in 2020.
Prior to their repatriation, museum staff escorted the ancestral remains to the National Institute of Cultural Patrimony to be officially registered, a technical requirement for all archaeological items entering the country. This event was attended by Ecuador's Minister of Culture and Heritage María Elena Machuca, the Executive Director of the National Institute of Cultural Patrimony María Catalina Tello, U.S. Ambassador Michael J. Fitzpatrick and representatives from the museum's repatriation office.
"We are here today, first and foremost, because of an important pillar of the National Museum of the American Indian's founding philosophy: the repatriation of ancestral remains is a basic human right," said Jackie Swift, the museum's repatriation manager. "With this repatriation, the museum corrects a historical wrong and reaffirms its commitment to continue working with Indigenous communities and their governments until all ancestral remains under the museum's stewardship are returned."
On Tuesday, May 23, President of the Confederation of Pueblo Kayambi Dennis Iveth De La Cruz Inlago accepted ancestral remains on behalf of the Kayambi community of La Chimba in Pichincha Province.
"It is of great importance that our ancestors, our Indigenous brothers and sisters, rest in their territory," De La Cruz Inlago said. "We do not believe that the remains of a Kayambi should be in a strange world, far from their home and their loved ones."
On Wednesday, May 24, a collaborative ceremony hosted by Modesto Carillo, president of Comuna Sequita, and Cristóbal Anchundia, president of Comuna Pepa de Huso, took place in Manta to commemorate the day for the remaining three communities. 
"Being a part of this reception is for us of great importance, and it's of great importance that you know that these remains will be in good hands," Carillo said. "We say this as representatives [of the Comunas]….[W]e are going to make every effort to ensure that these remains are cared for in the best possible way so that we can preserve our cultural heritage."
Carillo and Anchundia welcomed the Chachi representatives to their community to share this historic day as Ecuadorian brothers. The Federation of Chachi Centers of Esmeraldas was represented by Lugardo Añapa and its Director of Education and Culture Edson Vinicio Torres.
Working in the spirit of the National Museum of the American Indian Act, the museum regards the repatriation of human remains and associated funerary objects to their lineal descendants and/or communities of origin as a high priority, regardless of geography or sociopolitical borders. The museum also recognizes that diplomacy, collaboration and partnership with Indigenous communities and their governments are essential to fulfilling its mission. To date, the museum has conducted more than 30 international repatriations; the first was with Ecuador in 1995.  
About the National Museum of the American Indian
In partnership with Native peoples and their allies, the National Museum of the American Indian fosters a richer shared human experience through a more informed understanding of Native peoples. The museum strives toward equity and social justice for the Native peoples of the Western Hemisphere through education, inspiration, and empowerment. Through two locations, it features exhibitions and programs in New York City and the National Mall in Washington, D.C. For additional information, including hours and directions, visit AmericanIndian.si.edu. Follow the museum via social media on Facebook, Twitter and Instagram.
# # #
SI-203-2023
Note to editors: Images are available here.