"Musical Thinking: New Video Art and Sonic Strategies" Opens June 16 at the Smithsonian American Art Museum
Exhibition Celebrates Recent Major Acquisitions to the Museum's Collection
February 16, 2023
News Release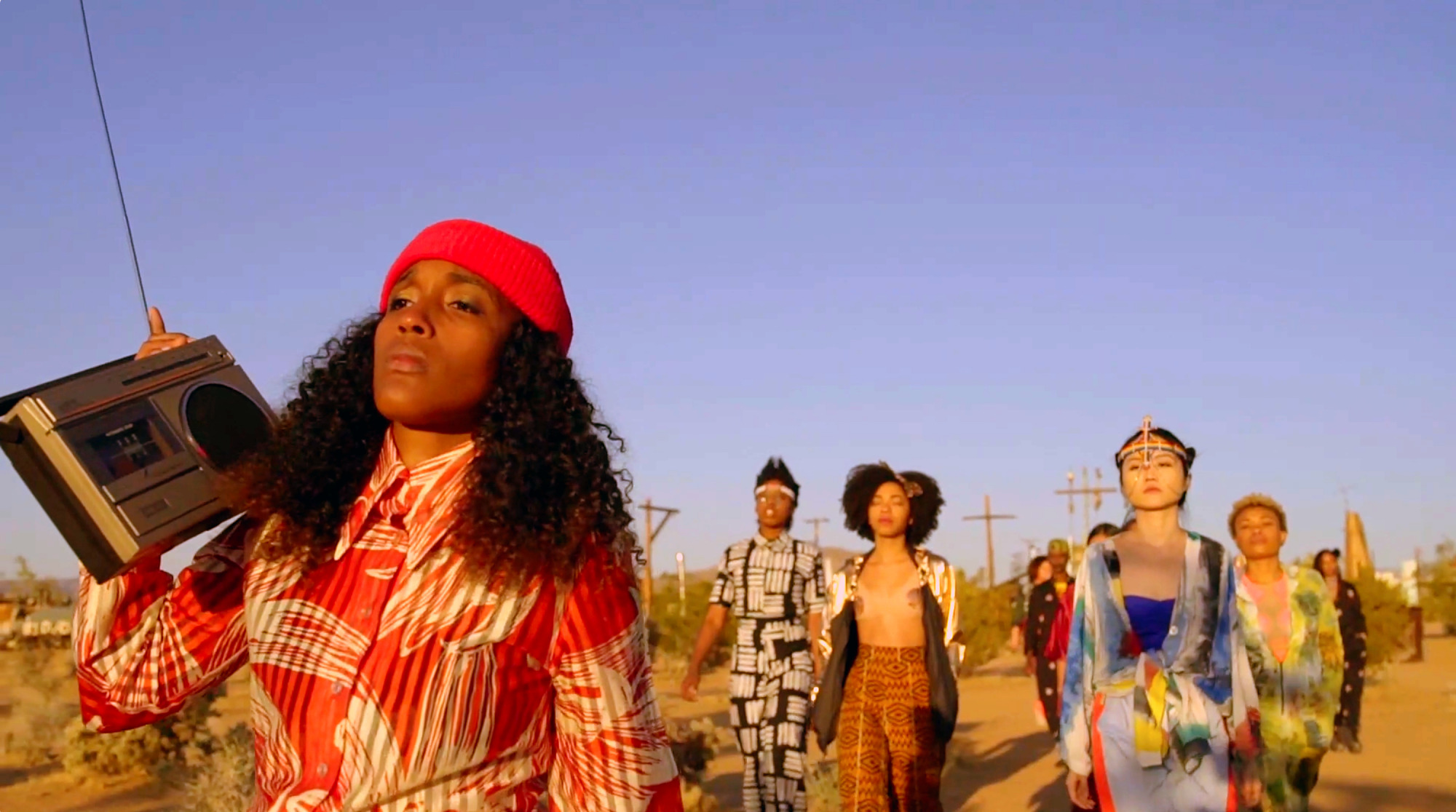 This release has been updated to reflect the new opening date of June 23.
"Musical Thinking: New Video Art and Sonic Strategies" explores the powerful resonances between recent video art and popular music through the work of some of today's leading contemporary artists. By bringing musical strategies and insights into their time-based media artworks, the featured award-winning creators powerfully address personal as well as shared aspects of life in the United States. 
The exhibition is on view from June 23 through Jan. 29, 2024, at the museum's main building in Washington, D.C., and is expected to travel. The exhibition is organized by Saisha Grayson, curator of time-based media at the Smithsonian American Art Museum, with support from Anne Hyland, curatorial assistant.
"Musical Thinking" celebrates major new acquisitions to the Smithsonian American Art Museum's media art collection. With 29 artworks by 10 artists, it pairs recently added video works by ADÁL, Raven Chacon, Mariam Ghani, Martine Gutierrez, Arthur Jafa, Erin Ellen Kelly, Christine Sun Kim, Liz Magic Laser, Simone Leigh and Cauleen Smith with related photographs, sculptures, prints and immersive installations by the same creators on loan from museums, private collections and the artists. The artists in the exhibition employ the strategies of musical creation—scores, improvisation and interpretation—as well as its styles, structures and lyrics. Rather than treating soundtracks as secondary, the musical choices in the featured videos are key to their meaning and impact.
The museum's collection of time-based media illuminates the intersections of American art, popular culture and technological experimentation as they evolve throughout the 20th and 21st centuries. The artists in "Musical Thinking" turn to early spirituals, jazz and mid-century musicals, movie soundtracks and hip-hop to deeply consider the traditions, methods and purpose of music in daily life. Connecting innovative forms, past and present, they emphasize that the story of the United States has always been complex, multivocal and set to music.
The exhibition emphasizes the multisensory and social aspects of music with holistic inclusive design throughout. The museum collaborated with Motion Light Labs at Gallaudet University in Washington D.C., to develop layered experiences particularly accessible for Deaf and hard-of-hearing audiences, and available to all visitors. Benches in black box galleries conduct enhanced vibrations to allow physical appreciation of the unique soundtrack in each video. Audio notes on the wall or open captions below the projection are included for each installation. QR codes under the main artist labels offer a choice to access videos with American Sign Language translation for the interpretive texts or written verbal descriptions of that section for those who use screen readers. At each entrance, visitors can find sensory maps to navigate an exhibition with varying intensities of light, sound and subject matter.
A publication, written by Grayson, accompanies the exhibition. In two essays, Grayson explores intersections and influences of video and sound, focusing on recently made works by some of the most important voices in contemporary art today, and on the theme of musical thinking in the museum's time-based media collection.
Credit
"Musical Thinking: New Video Art and Sonic Strategies" is organized by the Smithsonian American Art Museum. Generous support has been provided by the Elizabeth Firestone Graham Foundation, the Smithsonian Accessibility Innovation Fund, Lucille and Richard Spagnuolo and the SJ Weiler Fund.
About the Smithsonian American Art Museum
The Smithsonian American Art Museum is the flagship museum in the United States for American art and craft. It is home to one of the most significant and inclusive collections of American art in the world. The museum's main building, located at Eighth and G streets N.W., is open daily from 11:30 a.m. to 7 p.m. The museum's Renwick Gallery, a branch museum dedicated to contemporary craft, is located on Pennsylvania Avenue at 17th Street N.W. and is open daily from 10 a.m. to 5:30 p.m. Check online for current hours and admission information. Admission is free. Follow the museum on Facebook, Instagram, Twitter and YouTube. Smithsonian information: (202) 633-1000. Museum information (recorded): (202) 633-7970. Website: americanart.si.edu.
# # #
SI-33A-2023