"Artist Soldiers" Exhibition Opens at National Air and Space Museum
New Exhibition Observes World War I Centenary
April 5, 2017
News Release
Addthis Share Tools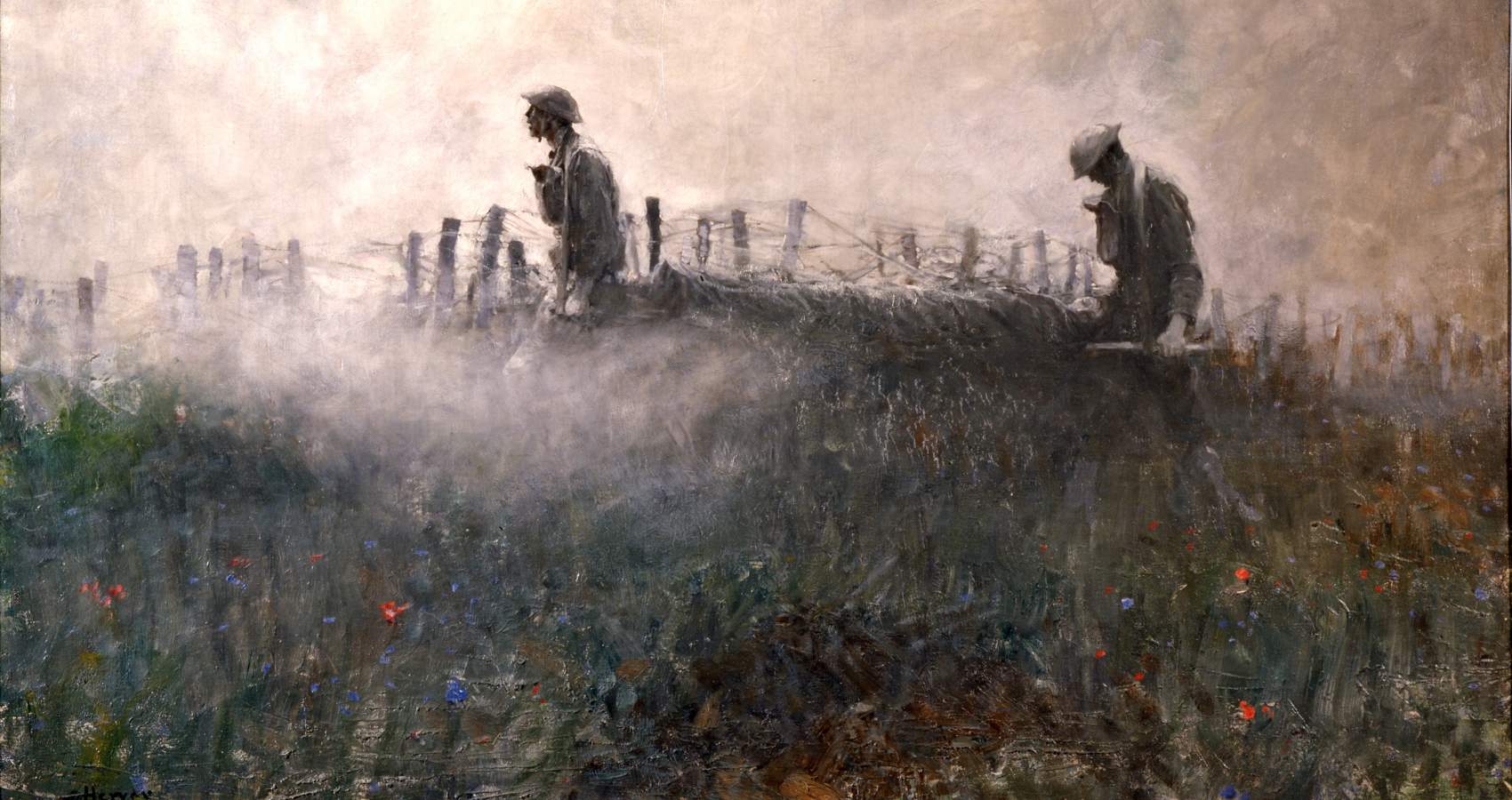 "Artist Soldiers: Artistic Expression in the First World War" will open at the Smithsonian's National Air and Space Museum in Washington, D.C., April 6. Through the perspectives of professional artists who were recruited by the U.S. Army and of soldiers who created artwork, "Artist Soldiers" examines the emergence in WWI of war art that captured the moment realistically by firsthand participants. The opening of this collaborative exhibition with the Smithsonian's National Museum of American History marks the 100th anniversary of the United States' entry into war April 6, 1917.
Before WWI, art that depicted war largely focused on heroic military leaders and romanticized battles—long after the fact and far from the battlefield. Eight professional illustrators, commissioned as U.S. Army officers, were embedded with the American Expeditionary Forces (AEF) in France in early 1918. Their mission was to capture the wide-ranging activities of American soldiers, including combat, with the intent of shaping popular understanding at home of the war experience of the AEF. They sketched and painted more than 700 pieces that depicted combat, military technology, daily life and the human cost of war. After the war ended, this collection of artwork was transferred from the War Department to the Smithsonian and is now held by the National Museum of American History. "Artist Soldiers" displays a significant number of works from the AEF collection, 54 pieces total, for the first time since the post-war decade.
The self-expression of individual soldiers is presented through a collection of 29 stunning photographs of underground stone carvings left by soldiers by photographer, artist and explorer, Jeff Gusky. Formerly stone quarries, these spaces served as underground sanctuaries from the war raging above. With hammer and chisel, soldiers left their meaningful and moving marks in the limestone walls.  There are portraits, patriotic symbols, messages of longing for loved ones, humor, expressions of religious faith, even elaborate chapels carved into the stone. The underground spaces that preserve this soldier artwork have been largely hidden from public view since the war. Gusky, working closely with local French landowners dedicated to preserving this forgotten aspect of the war, reveals this underground world for the first time through a series of mesmerizing art photographs.
"In a very compelling and human way, the exhibition reminds us that individuals, each with unique personal experiences and perspectives, underlie all great historical events," said Peter Jakab, exhibition curator and the Air and Space Museum's chief curator. "A lesson that speaks to our own time as well as illuminating the past."
Also exhibited are artifacts depicted in the artwork, such as a wheelchair used during WWI, a gas mask and a field telephone. Examples of "trench art," objects created by soldiers from military equipment, such as artillery shells and bullets that were fashioned into decorative pieces, are also on display. A sample of Belgian war lace, produced as part of a relief effort needed because of the blockade of German supply routes through Belgium, isolating the Belgian people, is also included.
For more information about "Artist Soldiers," visit: https://airandspace.si.edu/exhibitions/artist-soldiers.
"Hollywood Goes to War: World War I on the Big Screen," a yearlong film series that will explore the most visually striking and engaging dramas about WWI, continues April 7 with The Fighting 69th. For more information and to reserve free tickets, the public can visit https://airandspace.si.edu/hollywood.
The National Air and Space Museum building on the National Mall in Washington, D.C., is located at Sixth Street and Independence Avenue S.W. The museum's Steven F. Udvar-Hazy Center is located in Chantilly, Va., near Washington Dulles International Airport. Attendance at both buildings combined was 9 million in 2016, making it the most-visited museum in America. Both buildings are open from 10 a.m. until 5:30 p.m. every day (closed Dec. 25). The museum's mobile app, GO FLIGHT, allows visitors to connect with the collection and its stories beyond the museum's walls.
# # #
SI-97-2017