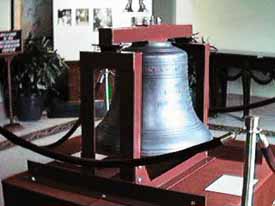 The Smithsonian bell pictured left was cast on Sept. 21, 1995.
Information or research assistance regarding bells is frequently requested from the Smithsonian Institution. The following information has been prepared to assist those interested in this topic.
(* indicates titles suitable for juvenile reading)
Anthony, Dorothy Malone. The World of Bells. Des Moines, IA: Wallace-Homestead Book Company, 1971+, 5 v.
*Cockett, Mary. Bells in Our Lives. Newton Abbot, Devon, England: David and Charles, 1973. Good for beginning collectors or juveniles.
*Coleman, Satis Narrona Barton. Bells, Their History, Legends, Making and Uses. Westport, CT: Greenwood Press, 1971. Reprint of 1928 edition.
*Fletcher, Helen Jill. First Book of Bells. New York: Watts, 1959.
Gelman, Sidney. A Guide to the Bells of the Orient. Natrona Heights, PA: Bell Tower, 1968.
*Hill, Elizabeth Starr. Bells. New York: Holt, Rinehart and Winston, 1970. Traces use and symbolism of bells through the ages from bronze bells of Babylon to modern doorbells.
Kramer, Justin. Cast in America. Los Angeles: J. Kramer, 1975.
Morris, Ernest. Bells of All Nations. London: Robert Hale, Ltd., 1951.
_____. Legend o' the Bells: Being a Collection of Legends, Traditions, Folk Tales, Myths, etc., Centered Around the Bells of All Lands. Folcroft, PA: Folcroft Library Editions, 1974. Reprint of 1935 edition.
*Sloane, Eric. The Sound of Bells. Garden City, NY: Doubleday, 1966. Includes bells for locomotives, dinner, cows, dogs, sheep, horse teams, town criers, sleighs, roadway measures, scarecrows, burglars; also bell wheels and belfries.
Spear, Nathaniel. A Treasury of Archaeological Bells. New York: Hastings House Publishers, 1978.
Springer, L. Elsinore. That Vanishing Sound. New York: Crown Publishers, 1976. Cultural significance of bells as instruments.
_____. The Collector's Book of Bells. New York: Crown Publishers, Inc., 1972. Includes price guide to antique bells and a chapter on bells as toys.
Staacke, Fred. Camels in Texas and Their Bells. Natrona Heights, PA: The Bell Tower, 1973. Good documentary for collectors.
*Yolan, Jane H. Ring Out! A Book of Bells. New York: Seabury Press, 1974. Presents development and uses of bells and their effect on man over the centuries through a combination of folk tales and facts; good index and bibliography.
Articles on bells, supplementing the above works, may be found in collectors' magazines such as Antiques and Hobbies, and under the appropriate headings in The Art Index and The Readers' Guide to Periodical Literature.
Further information may be obtained from The American Bell Association, P.O. Box 19443, Indianapolis, IN 46219.
Prepared by the Division Social History, Domestic Life Collections,
in cooperation with Public Inquiry Services,
Smithsonian Institution
PIMS/DOM4/rev.9/97